Celebrate Teachers? Google Honors Educators as Trump, DeVos Overhaul Public Schools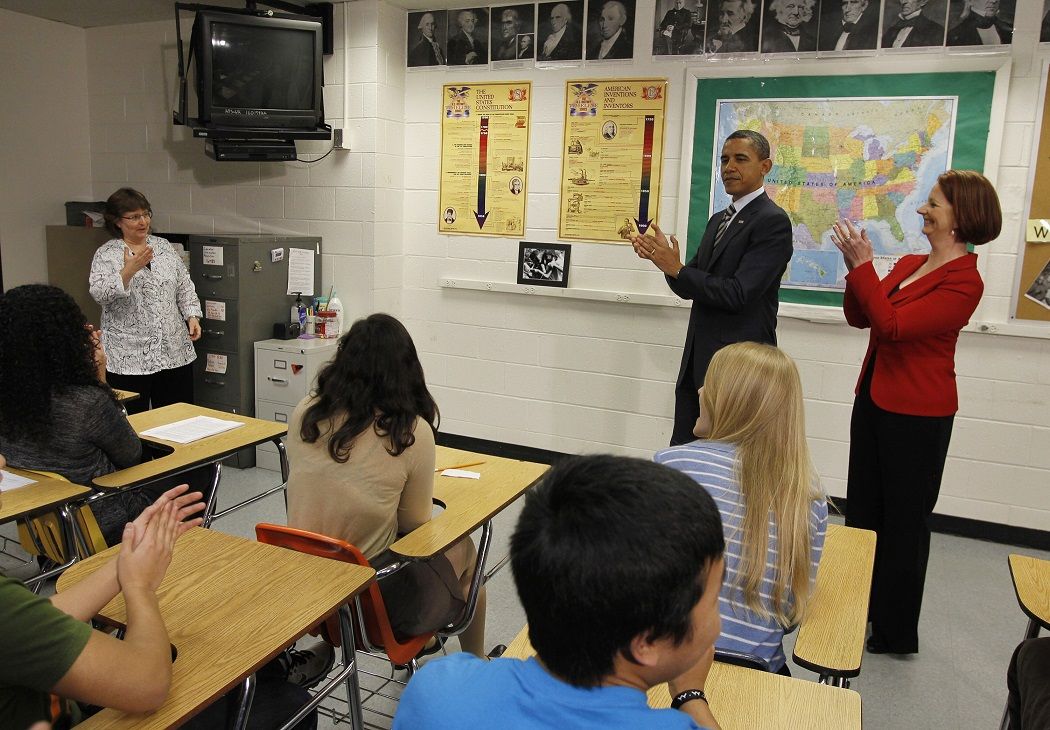 In 1953, Eleanor Roosevelt convinced Congress to formally observe National Teacher Day. Now, six decades later, the holiday is so big even Google recognizes it—but educators themselves are facing more challenges than ever.
"On this day we take a moment to appreciate those who dedicate their lives to encouraging our intellectual development, be it through mathematics, ecology, astronomy, chemistry, biology or any other subject we may explore," Google wrote on the webpage for Tuesday's doodle, which went live as the hashtag #NationalTeachersDay trended on Twitter. "Teachers nurture our intelligence, creativity and critical thinking skills. They help shape us and guide our development. Thank you to all the teachers, and may you be showered with the respect and admiration you deserve."
The outpouring of support may seem heartwarming, but it contrasts with a cold reality: Some teachers' jobs are getting harder due to American politics.
After President Donald Trump was elected last November, the Southern Poverty Law Center in Montgomery surveyed more than 10,000 educators in kindergarten through 12th grade and found that 90 percent of them believed their school climate had been negatively impacted by the election. Not only were students were fighting over which candidate they'd supported but also kids were using slurs, drawing swastikas and referencing the Ku Klux Klan.
Days later, Trump announced his intent to nominate Betsy DeVos, a charter school advocate who has no experience with public schools, to lead the Education Department, which Trump once suggested eliminating. (DeVos, now in office, is the least popular member of the president's cabinet.)
The president's budget proposal dropped in March. It suggested dedicating $59 billion to the Education Department, a 13 percent drop from the previous year, and cutting a teacher professional development grant program, an extracurricular services program and a financial aid grant program, Politifact reported. At the same time, he proposed adding about $1.4 billion for school choice initiatives—likely the first step in his ambitious $20 billion plan to promote the idea that parents should be able to decide which schools are best for their kids and be supported by public dollars.
A $1 trillion deal ultimately included small increases for special education grants, a student enrichment program and the office of civil rights, according to EdWeek.
Together, Trump and DeVos have also rolled back two policies from the previous White House: one that held states and schools accountable for student success, and another concerning how effective teacher training programs were. He signed an executive order that directed DeVos to analyze whether the government had been overreaching in education, although as some critics pointed out, the Every Student Succeeds Act signed in 2015 already returned a lot of control back to the states, according to the Los Angeles Times.
Finally, last month, he hosted what the Washington Post called a "rather weird meeting" with the teachers of the year. Instead of mingling with the teachers and their families, as is traditional, Trump sat at his desk.
"I want to congratulate you all. It's amazing," he said, according to a White House transcript of his remarks. "Each of you has dedicated yourself to inspiring young minds and to putting our children on a path to happiness and success—lots of success."
Earlier in the day, the president made them sing happy birthday to his wife, Melania Trump.