Teachers Die of COVID in South Carolina, Mississippi, Missouri, Iowa and Oklahoma As Schools Reopen
Six teachers in Iowa, Mississippi, Missouri, Oklahoma and South Carolina have died of COVID-19 since the start of the fall semester, renewing fears about the dangers of teaching during the ongoing coronavirus epidemic.
It's unclear whether any of the teachers actually contracted COVID-19 at their schools. Two are believed to have contracted the virus outside of school and one unnamed teacher died before classes officially began.
Regardless, most of their respective schools have offered counseling for students and faculty affected by their deaths and have pledged to redouble efforts to prevent a COVID-19 outbreak following their deaths.
The six deceased teachers are the following:
- AshLee DeMarinis, a 34-year-old special education teacher at John Evans Middle School in Potosi, Missouri who had asthma and died on September 6 in the hospital three weeks after first experiencing coronavirus symptoms. She occasionally paid for students' school supplies and helped them get clothes when needed, according to KMOV 4.
- Demetria Bannister, a 28-year-old third-grade teacher at Windsor Elementary School in Columbia, South Carolina, died on September 7 after testing positive on September 4. She led the school's student choir and school spirit initiatives, according to The State.
- Tom Slade, a 53-year-old high school history teacher at Vancleave High School in Vancleave, Mississippi, died on September 6 after testing positive for coronavirus on August 24. His sister told The Sun Herald that he was exposed to COVID-19 at a gathering outside of school.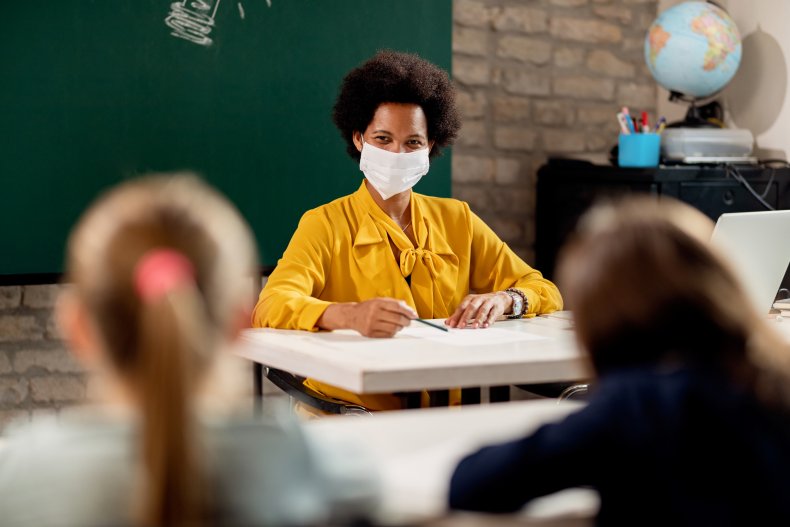 - Nacoma James, a 42-year-old teacher and assistant football coach at Lafayette Middle School in Oxford, Mississippi, died in quarantine on August 6 following his first week back on campus after a summer coaching football. District officials are conducting contact tracing to determine which students he might have been in contact with, according to Mississippi Today.
- Teresa Horn, a 62-year-old special education teacher at Tahlequah High School in Tulsa, Oklahoma tested positive for COVID-19 on August 24 and then died on August 28 after not being hospitalized, according to KTUL 8 Tulsa.
- An unnamed teacher at the Ruby Van Meter School in Des Moines, Iowa also died after contracting COVID-19 following an out-of-state trip. The teacher hadn't been around students since falling ill, according to The Associated Press, as they died a week before classes started.
Almost all of the teachers' aforementioned states fall among the top half of U.S. states with the highest overall number of coronavirus cases. As of September 10, South Carolina ranks 16th among the 50 U.S. states, Missouri ranks 21st, Mississippi ranks 23rd, Iowa is 27th and Oklahoma 29th.
In late July, the National Education Association (NEA), the largest teachers' union in the U.S. with over 3 million members, said it would support its members striking over health and safety conditions in schools.
While such strikes haven't yet materialized, school districts are monitoring COVID-19 outbreaks to assess the successes and dangers in teaching online and in-person.