Teachers In Florida's Second-Largest School District Must Teach In-Person Or Take Leave of Absence
The superintendent of Broward County Public Schools—the second-largest school district in Florida—proposed on Tuesday to begin in-person classes starting October 5. Teachers were told that they must show up to teach in-person or else take a leave of absence, according to a memo sent out on Monday.
Superintendent Robert Runcie made the recommendation during a virtual school board meeting on Tuesday. The decision comes amidst a decline in the state's coronavirus rates, as well as months of pressure from Gov. Ron Desantis to open schools across Florida.
"We will institute safety precautions including that students on campus will wear masks, that they will continue to turn in homework electronically and that there will be no science labs conducted in classrooms until it is determined to be safe to do so," Runcie said.
He added: "It is clear that in order to open our schools, we must have teachers to educate and to provide supervision."
A survey sent out to teachers in July showed that only 30 percent felt comfortable returning to school. Teachers are being surveyed again this week about their plans to return.
A memo about the survey obtained by The Sun-Sentinel and sent out by Jeff Moquin, the chief of staff to Superintendent Runcie, to all school board members on Monday says that teachers will need to teach in-person or take a leave of absence.
"In order to optimize the likelihood of a successful transition, it will be necessary for all teachers to return to the physical campus and provide synchronous instruction for those students on campus, as well as those electing to remain in the eLearning environment," Moquin wrote. "Teachers who are unable to physically return to campus due to medical circumstances will need to avail themselves of any applicable leave for which they apply."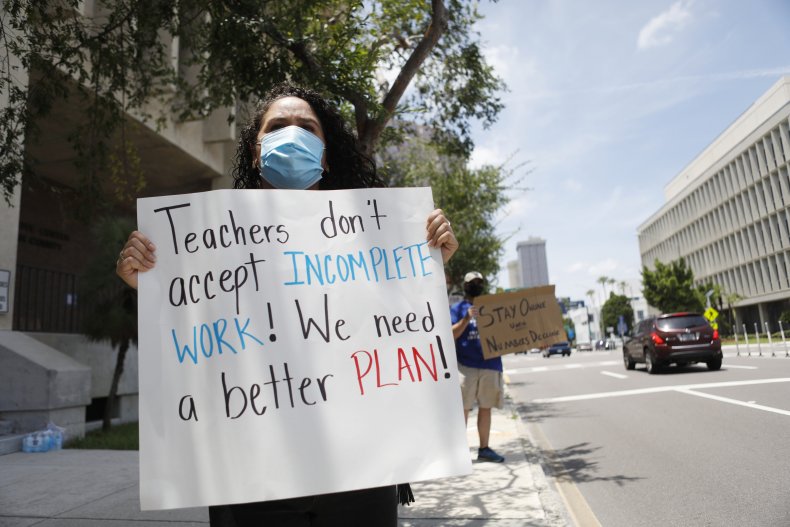 Broward Teachers Union President Anna Fusco voiced her concerns about these expectations at Tuesday's school board meeting, calling the memo and subsequent survey "unprofessional, reckless and downright rude."
"To put out something like this to our educators that causes such distress, causes such mayhem ... is reckless," she said.
Fusco also suggested that Broward County teachers refrain from reacting to the survey until they have a clear understanding of what exactly is expected of them during this pandemic.
"We only want to have the understanding of what we're expected to go into," Fusco said. "What are the schools going to look like? How is the social distancing happening? What cleaning products are there? What PPE is there?"
A final decision for when schools will begin in-person will be officially discussed by the district's School Board on September 22. Runcie said a survey will be sent out to parents after this meeting to determine which mode of learning they prefer.
Newsweek reached out to Broward County Public Schools for comment.