Teachers Hit Out at Betsy DeVos's 'Insane' Plans to Use Federal Funds to Arm Educators
The teaching community has attacked Education Secretary Betsy DeVos following reports she is considering allowing states to use federal funds to purchase guns for educators.
Under a current law, federal education money cannot be used to purchase firearms, but the U.S. Department of Education is said to be looking into whether money could be available through the Student Support and Academic Enrichment grants, The New York Times reported.
The report states the program does not explicitly prohibit the purchase of weapons, allowing DeVos to approve state or district plans to use grant funding for firearms and firearm training for teachers and educators.
The $1 billion Student Support and Academic Enrichment grant is meant to provide funding for the nation's poorest schools with the goal of improving school conditions through technology.
The department did not confirm whether it is specifically looking into having the option of using federal funds to purchase weapons.
"The department is constantly considering and evaluating policy issues, particularly issues related to school safety," said Liz Hill, a spokeswoman for the Education Department. "The secretary nor the department issues opinions on hypothetical scenarios."
The suggestion of arming teachers to improve school safety was brought up in debate following February's mass shooting in Parkland, Florida, where suspected gunman Nikolas Cruz killed 17 people at Marjory Stoneman Douglas High School.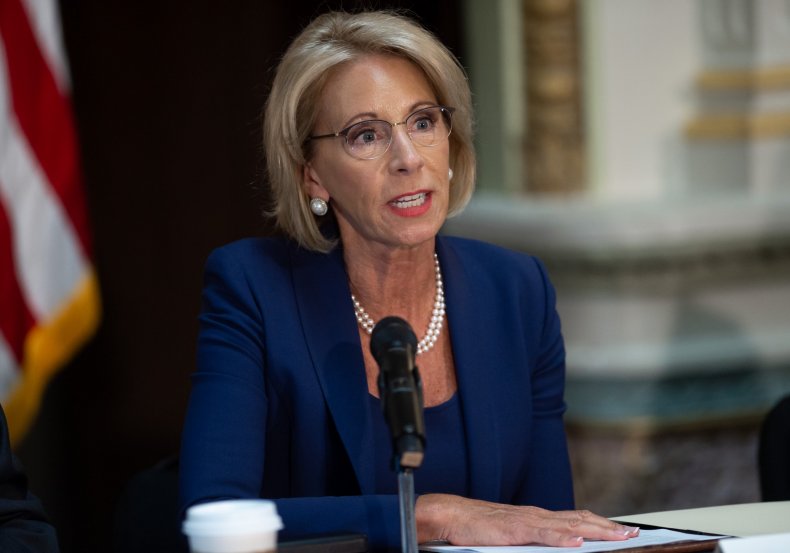 President Donald Trump was one of those who suggested that arming around 20 percent of teachers who are "very adept" at firearms could help end a school shooting "very quickly."
Responding to the reports, Randi Weingarten, president of the American Federation of Teachers (AFT), said that DeVos even considering using funds meant to support poor students to "flood schools with more guns is beyond the recklessness we believed she was willing to pursue."
"Instead of after-school programs or counselors, programs that are critical for creating safe and welcoming schools and addressing the mental health needs of kids, DeVos wants to turn schools into armed fortresses and make kids and educators less safe," Weingarten said.
"She wants to turn the U.S. government into an arms dealer for schools. That's insane."
Weingarten added: "Does Betsy DeVos want a kindergarten teacher interacting with her students with a holstered gun on her hip? She needs to stop acting as the lobbyist for the NRA and start acting in the interests of children, parents and the educators she has a duty to serve and protect as education secretary."
In a statement posted on Facebook, the National Education Association said: "Our students need more books, art and music programs, nurses and school counselors. They do not need more guns in their classrooms."
Giffords, an organization that calls for stricter gun control laws founded by former congresswoman Gabrielle Giffords and Captain Mark Kelly, also hit out at the plans.
"Teachers do many things. They lead, they inspire, they encourage, and they help children discover their passions. Teachers are not bodyguards," the group said in a statement.
"The President's notion that we can make kids feel safe by allowing more teachers to walk around with guns is absurd and dangerous. Arming teachers is not a solution. It recklessly puts American children in even more danger."