Teacher Took 'Sassy' Picture With Donald Trump To Highlight Gay Pride Because Trump Won't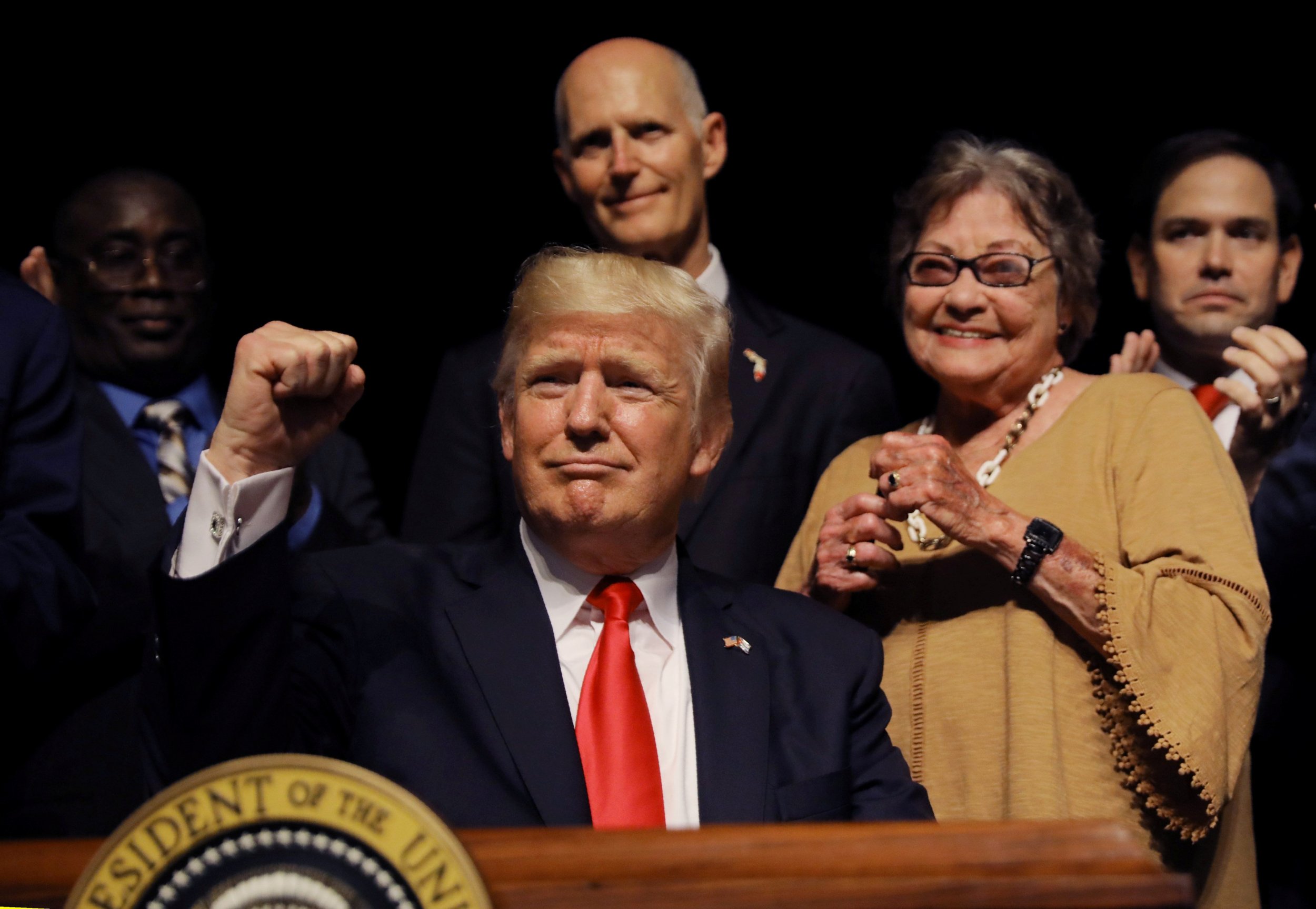 Rhode Island's teacher of the year saw his face-to-face meeting with Donald Trump go viral after taking a "sassy" picture with the president.
Nikos Giannopoulos, 29, visited the White House after being named the state's teacher of the year, and whipped out a lace fan to strike a pose during his photo opportunity.
Despite the president failing to acknowledge June as Pride month in the United States, and picking a vice-president with a dubious record on LGBTQ rights, Giannopoulos managed to make his picture with Trump as gay friendly as possible.
The teacher of the year sported a rainbow pin during his visit, which he said was intended "to represent my gratitude for the LGBTQ community," and paired it with a gold necklace and the fan, which he said was to "celebrate the joy and freedom of gender nonconformity," in a post on his Facebook page.
Asked how Trump reacted to the fan, Giannopoulos told NPR: "Oh, he loved it!"
He added: "I popped it open when I walked into the office because I'm a very sassy person. And Trump complimented it right away. He said, 'I love the fan!' And he told me I had great style. Then, when I was ushered in for my private photo with the president and Melania, I was told I should put it away. So I just folded it up and held it at my side. But when it came time for the photo, I just asked the president, 'Do you mind if I use the fan for the photo?' He said, 'Absolutely go for it.' So I popped my fan and did my pose."
It's not often that a citizen manages to steal the limelight from the president in a single photo, but Giannopoulos' picture proves it's possible–and has been widely shared on the internet.
Explaining the thinking behind his perfect picture, Giannopoulos said on Facebook: "For my trip to the White House, I wore a rainbow pin to represent my gratitude for the LGBTQ community that has taught me to be proud, bold, and empowered by my identity—even when circumstances make that difficult."
He added: "When I think back to my time in the White House, I will not remember the person seated at the desk."
The teacher also said he would have spoken to Trump about LGBTQ rights had he been given the opportunity to do so.
Writing on Facebook, he said: "In previous years, state teachers of the year were given the opportunity to speak to the president for a few minutes each. Had I been given the opportunity, I would have told him that the pride I feel as an American comes from my freedom to be open and honest about who I am and who I love. I would have told him that queer lives matter and anti-LGBTQ policies have a body count."
He added: "Taking pride in queer identity means rejecting the shame imposed upon us by a harsh society. It means opening yourself up to a lifetime of criticism and misunderstanding, but knowing that it's worth it to be able to live authentically."