Teachers in Oklahoma Might Be Going on Strike Next
As West Virginia's teachers strike enters its second week, educators in Oklahoma are considering walking out on the job, too.
Teachers from the state's two biggest metropolitan areas—Oklahoma City and Tulsa—converged on Friday to discuss the possibility of going on strike to pressure the state legislators to enact what educators call long overdue pay raises.
There are some 42,000 public school teachers in Oklahoma, according to state figures. Teachers in Oklahoma on average earn a little over $42,000 a year—$10,000 less than teachers in neighboring Texas. They have not seen a pay raise in over a decade.
Molly James, a teacher in Oklahoma City told Tulsa's KTUL that "frustration levels are high, so a strike is not a touchy word anymore." Another teacher said she believes a strike "is necessary for Oklahoma." Heater Reed, also a teacher from Oklahoma City, said teachers in the state were "to the point where we have no other option" but to strike.
Oklahoma teachers have also begun organizing online via the Facebook group, "Oklahoma Teacher Walkout – The Time Is Now!" As of Sunday, the group—compried of teachers and advocates from across the country—had nearly 32,000 members.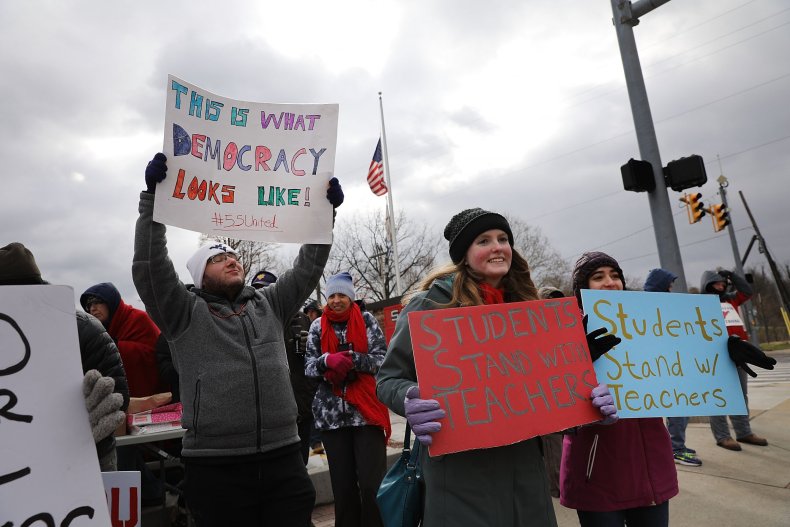 As reported by The Tulsa World, teachers in Oklahoma have eyed going on strike for months. In February, some school officials aired the possibility of a state-wide teachers strike soon after state legislators failed to pass a $5,000 teacher pay raise. The funds would come from increased taxes on cigarettes, diesel fuel, and wind energy, as well as raise the gross production tax on oil wells from 2 percent to 4 percent. In 2016, Oklahoma voters struck down a ballot initiative that would raise the state sales tax by one cent on the dollar to pay for the $5,000 teacher pay raises.
Strikes have been effective in getting state officials to pony up the money for teacher pay raises in the recent past. In 1990, after a four-day teacher walkout, the Oklahoma House of Representatives passed a resolution raising $230 million in new revenue to fund teacher pay raises and a slew of other reforms, including class-size limitations and mandatory kindergarten.
David DuVall, executive director of the Oklahoma Education Association, a union representing nearly 40,000 Oklahoma teachers and school staff, said that teachers look at the 1990 strike as proof of what can be accomplished. But DuVall warns that teachers need an effective plan—and allies in the statehouse—for a strike to be effective.
"One of the first things that you have to have is a re-entry strategy," DuVall told Tulsa's NewsOK in February. "If you have a clearly defined goal that you are trying to achieve, such as the passage of House Bill 1017 in 1990, then the win is easy: the Legislature acts on that bill."
School officials say that teachers from across the state support going on strike to demand better pay, but its support from parents and community members that will determine if and when a strike were to take place.
"It's still very early, but this conversation needed to at least start happening now. If this gets legs, I really think it's going to take the parents in addition to teacher groups for this to be a possibility," Bartlesville superintendent Chuck McCauley told The Tulsa World in February.
Teachers and organizers have floated going on strike during the first week of April during Oklahoma's standardized testing season.
"If we do it the first week of April, that would be during standardized state testing, which would be a great time to say, 'Hey, we're going on strike, and we're not going to give these tests,'" Chloe Prochaska, a teacher in Mustang, told KTUL on Friday.
In West Virginia, teachers and union leaders said their strike would go on at least through Monday as state lawmakers reneged on a deal that would raise teacher pay by 5 percent.