A teachers' union boss has called Education Secretary Betsy DeVos "one of the most dangerous people" in the Trump administration cabinet.
The National Education Association (NEA) President Lily Eskelsen García told The Al Franken Podcast that DeVos was "unqualified" for her position, and accused her of "hurting children every day."
García also said DeVos did not "believe in public education," and instead considered it a "bad thing in a bad place" that needed to be replaced by private schooling.
The union representing public school teachers and other education support staff has previously called for DeVos to be fired from the Trump administration, arguing that she "consistently harms" the prospects of students.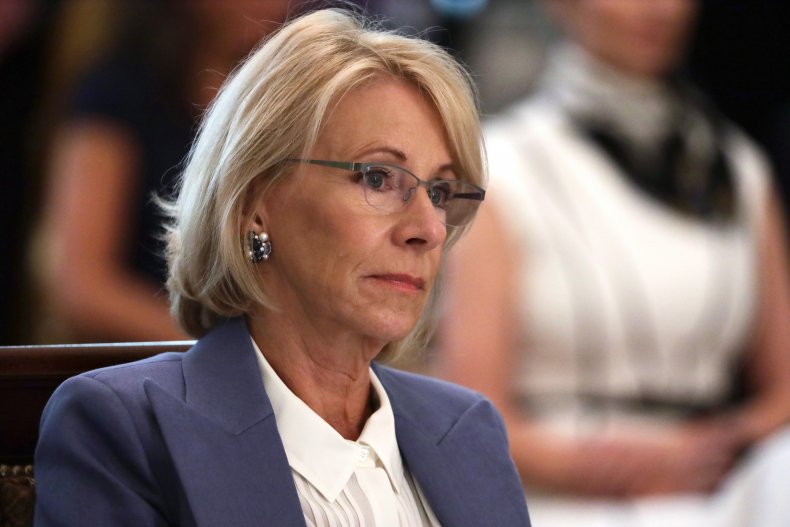 Speaking to former Democratic Sen. Franken on Sunday, García said: "I have to give you and your colleagues all the love in my heart for helping expose the person I think is one of the most dangerous people in the Trump cabinet. She's hurting children every day."
The labor union leader added: "The irony of someone in charge of education who knows nothing about education. But, of course, that was the point. She doesn't believe in public education. She doesn't believe in public anything.
"But she really just believes that they should all be private schools. That they should all be home schools, and that public education is a bad thing in a bad place."
García said that the NEA regularly polled its members and the public, and had found that people who liked President Donald Trump did not like DeVos.
"I know it's because she is so obviously unqualified, unprepared, and has no interest in doing anything except corrupt education programs that were developed to help our most vulnerable, marginalized students, and to take that money and give it to private schools," the union boss said.
"She doesn't even try to disguise it. And folks actually do like their public schools."
Newsweek has contacted the Department of Education. This article will be updated with any response.
García rebuked the education secretary weeks after a class action lawsuit filed against DeVos alleged that the Department of Education had collected wages from student loan borrowers after a coronavirus relief bill stopped the practice.
Under the terms of the Coronavirus Aid, Relief, and Economic Security (CARES) Act, automatic student loan repayments were frozen between March 13 and September 30. But the Student Defense and National Consumer Law Center lawsuit alleged that the practice was not halted.
"If the Department provides full refunds to borrowers months or even weeks into the future, many borrowers […] will still experience irreparable harm," the lawsuit said.
CNN reported last week that K-12 schools had also not received billions in funding that they were entitled to under the CARES Act, which passed in late March.