The Teachers Union Has Become a Public Menace | Opinion
I am a proud, card-carrying member of the Columbia Postdoctoral Workers Union (CPW-UAW) Local 4100, under the umbrella of the United Auto Workers. I value public school education and my children are enrolled in public school in New York City. But I am running out of patience with the public school teachers and their stubborn refusal to return to normal working hours and in-person teaching.
Across the country, this attitude is hurting working mothers, as well as other union workers. It's damaging the public case of both public education and the need for a strong union in the workplace. Most importantly, it's causing significant damage to the well-being of children, particularly the underprivileged.
Teachers unions have insisted that teachers can work online without "disrupting key supply chains", as a New Jersey teachers union put it. Unlike truckers, grocery store workers, nurses, and lab scientists who have to go to a workplace to get the work done, teachers can get the job done online, so why push them towards the in-person class?
But this claim demands pushback. Is it really true that teachers are effective online? What does remote education look like in real life? Two 20-minute online sessions have been scheduled in the entire school day for my 3-year-old son. Irrespective of how great the teacher is (she is kind and doing the best she can) or how brilliantly designed the curriculum is, it can never come close to the in-person six-hour school experience.
After all, if remote learning were an acceptable alternative, why would we invest in in-person public education at all? Given the failure of remote education to care for the intellectual, emotional, and physical health of children, teachers are actually disrupting the "key supply chain" that creates a well-rounded child thriving in society.
Things are far worse for children with disabilities, children with abusive guardians, and those born poor. Children from poverty-stricken homes aren't just falling even further behind affluent ones in terms of education, though; 30 million children benefit from the National School Lunch Program which offers free or reduced meals to schoolchildren; two-thirds of them pay nothing at all, due to the circumstances of their families. Without in person teaching, those children are home without those crucial meals, at a time when many parents have lost their jobs due to the pandemic. Four in 10 Black and Latino families are facing food insecurity, researchers found.
The teachers unions resisting a return to school are disrupting the food supply chain that many lower-income children desperately rely on.
Their recalcitrance is also furthering food insecurity in another way: While teachers can work online from the comfort of their homes, what about the parent of a remote-schooled child who has to stay at home and forego pay when absent from the workplace? The effect that the refusal to open schools has had on working parents is immeasurable, and it's a burden being borne disproportionately by working class people, people of color, and especially women. Recent data shows women leaving the workforce at four times the rate of men -- a number experts chalk up to the increased burden of having children home from school.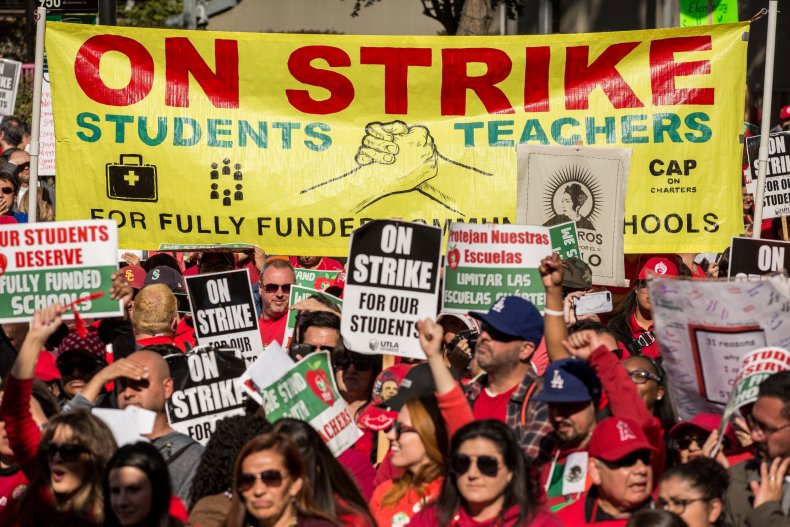 Despite hungry children and out of work parents, teachers continue to cast themselves as the victims of the pandemic. Most recently, they have argued that demanding that they go back to in-person teaching would amount to "sacrificing" them to COVID, as one Georgia teacher put it, in hyperbolic language that is par for the course. The Federal Education Association went so far as to oppose full school opening until all children are vaccinated, something experts say won't happen until 2022.
And that's the point: With the emergence of new variants of the coronavirus, the COVID spread is not going to end in the foreseeable future. If that is the standard for opening schools, it means pushing it off effectively indefinitely.
It is a sad fact of post-pandemic life that we just cannot demand complete safety to resume out jobs. Millions of workers go to their workplaces which may be more unsafe than school buildings and live in multi-generational households with members from a high-risk population. This is an unfortunate part of life now, and that reality is not going to suddenly change.
So why should the teachers union get a pass? When healthcare professionals, researchers, truckers, grocery store workers, and other essential workers went to their work in the early days of the pandemic, when so much was unknown, how can teachers refuse to go to work in the 2020-21 school season, when many of them are even getting the vaccine?
There is now a trove of public health evidence that supports Dr. Fauci's recent statement, that "our default position should be to try to keep the schools open and get children who are not in school back in school as best as we possibly can." Why does the onus fall on other union workers to sacrifice at the altar of the wishlist of the teachers union?
In addition to harming working parents and children, the teachers union intransigence does reputational harm to all unions. It's giving unions a bad name, making them look like incubators of pampered public menacing. And I say that as a proud member of a union!
I am happy to campaign for hazard pay for teachers and investment in safer school buildings; the teachers and my kids surely deserve it. But first, teachers must get back to work and show some long overdue solidarity with other working-class union workers, and some care for the children whose education -- and whose lives -- they are responsible for.
Dr. Abhishek Kar is a postdoctoral research scientist at Columbia University in the city of New York. His research interests span pollution (emission and impacts), policy (subsidies and regulation), and people (behavior change) related to cooking practices in developing countries.
The views expressed in this article are the authors' own.