The Teachers Unions Are Abandoning Poor Children of Color. Again. | Opinion
The Chicago Teachers Union voted on Tuesday to go back to remote learning in the face of the spreading Omicron variant of COVID-19, forcing Mayor Lori Lightfoot to close Chicago's public schools. The vote followed closure announcements from districts in Atlanta, Milwaukee, Newark, NJ and Prince George's County, MD.
Anyone else having deja vu? It feels like with the rise of the Omicron variant, we've fallen into a wormhole and are hurtling back to March, 2020. Back then, when so much was unknown about the coronavirus, a shift to remote made sense in many cases. But it's now twenty-two months later. We have vaccines and therapeutics and—as importantly—a very clear understanding of the inferiority of virtual school. And there's just no defense for it.
All of the closing districts overwhelmingly serve students of color. Together they contain more than 400,000 students who are considered "economically disadvantaged." And it is disadvantaged students more than anyone who have suffered from school closures and learning loss.
Across the nation, students attending majority-Black schools dropped 33 percent farther behind students attending majority-white schools during the pandemic Newark in particular saw huge setbacks. In schools where the average family income is less than $25,000, students fell seven months behind their more affluent peers.
It wasn't just learning loss. Childhood obesity soared; childhood body-mass index increased at nearly double the rate it did before schools shuttered, with particularly deleterious effects for Black and Hispanic children. And the negative impact of school closures on the mental health of adolescents has been well-documented.
At the same time, medical advances since the beginning of the pandemic have made in-person learning much safer. Vaccines and boosters have been available for months. And we know that vaccines and boosters provide substantial protection against the Omicron variant. While more contagious, Omicron appears to not be as dangerous as previous versions of the coronavirus. And despite clickbait headlines of triple digit increases in hospitalizations, it is not more severe for children.
What is the excuse for denying our children—especially our most vulnerable children—a quality education?
For those advocating a "pivot" to remote instruction, Detroit provides a cautionary tale. In November, the district's superintendent announced that the three Fridays in December would be done remotely, "to give students a break." Apparently the kids took him at his word. Attendance on the remote days was so low that they couldn't be counted as official school days, causing Detroit to cancel the last one and start break early.
Can we really expect the results to be any different in any other district that goes remote?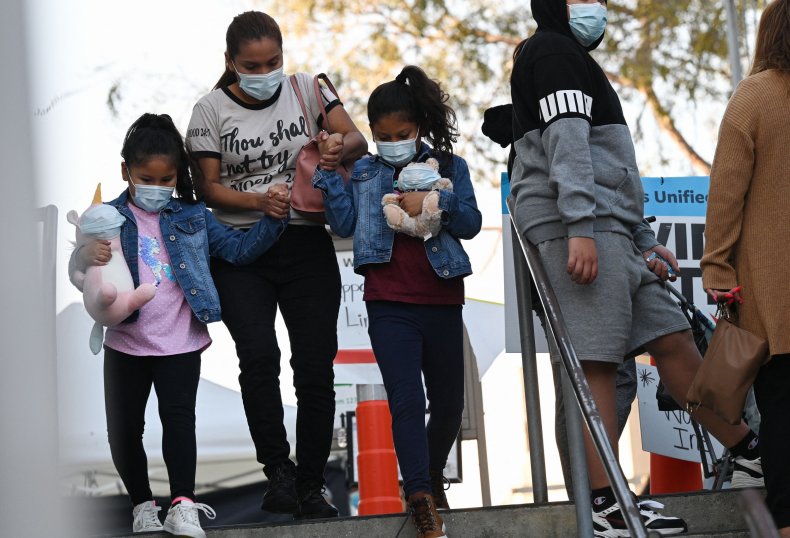 Keeping kids in school does not mean we should be oblivious to safety concerns. We should continue to make vaccines widely available, and encourage students and families to get vaccinated or, if eligible, boosted. School staff should be subject to vaccine mandates. Districts should use some of the $190 billion they received from the federal government to improve ventilation in buildings, either through the purchase of high-quality air purifiers or retrofitting of buildings.
Districts should follow the recommendations of the Biden administration and implement a "test-to-stay" program if they have not already done so, keeping sick kids home and healthy kids in school.
And while masking in schools is a complex issue there's no harm in schools providing high-quality masks to staff and students who want them while also undoing some of the more scientifically dubious mandates, such as masking kids outside, which undermines the efficacy of the practice.
We will also need to get creative with staffing for the next several weeks. As former DC schools Chancellor Kaya Henderson suggested, we may need to leverage the incredible resources our CBOs and parents provide. We may need to re-think seat time requirements. And yes, some individual schools might be so short-staffed that they need to close for a few days; but this is a far cry from the nuclear option of preemptively shuttering whole districts.
Last year, I saw firsthand the struggle of remote learning when the charter school I co-founded went remote. Despite a heroic effort by students, staff, and families, it just wasn't the same. Let's not subject our kids to another year of needless shutdowns.
It's common in the Omicron discourse to hear about "uncertainty." But while there is much we don't know, many things are certain. It is certain that schools can operate safely. It is certain that remote schooling just doesn't work. For the sake of our kids, we cannot close schools again.
Arthur Samuels is the Co-Founder and Co-Executive Director of MESA Charter High School in Brooklyn. You can follow him on twitter at @arthur_samuels.
The views in this article are the writer's own.