The nation's largest teachers unions are calling on senators to pass gun legislation in the wake of Wednesday's school shooting in Arlington, Texas.
The heads of both the National Education Association (NEA) and the American Federation of Teachers (AFT)—which combined represent nearly 4 million educators—demanded that Congress take action on gun control on a Thursday press call.
"The House has done its job by taking action this summer to protect our students and communities with common-sense gun violence prevention," NEA President Becky Pringle told reporters. "It's time for the Senate to do what's right, to keep our students safe from senseless gun violence."
AFT President Randi Weingarten added, "Teachers across the country are doing what they need to do to help our children recover. We need the Congress, the Senate, people like [Maine Senator] Susan Collins, people like [Alaska Senator] Lisa Murkowski, people like [West Virginia Senator] Joe Manchin—We need them to stand up and to support what the Biden administration is doing to support the safety of all of our children in America."
"We know passing red flag laws work. We know enacting responsible firearm storage laws works. We know raising the age to purchase semi-automatic firearms to 21 works. We know requiring background checks on all gun sales works," Weingarten continued. "It shouldn't be controversial. There's huge bipartisan support for these common-sense safety measures."
In response to the shooting, Texas Senator Ted Cruz said at a Wednesday press conference, "Right now I know all of us are lifting up in prayer the students, and the teachers, and the first responders, and the parents, and there have been far too many of these at far too many schools."
Cruz has previously stated that gun control does not lessen crime but "makes it worse" and that Democrats calling for universal background checks and other measures is "ridiculous theatre."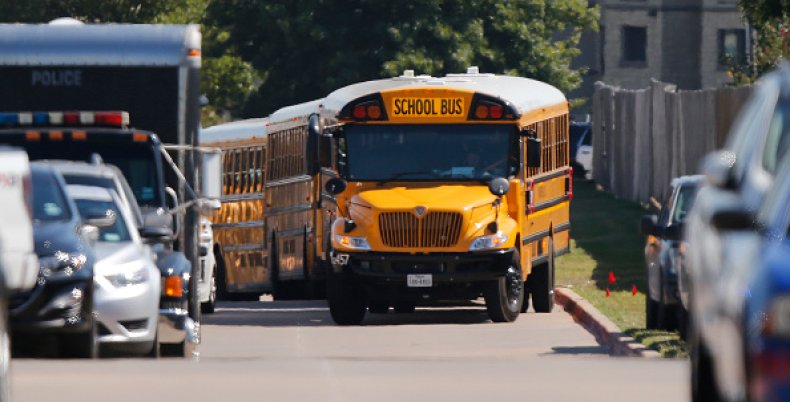 Their remarks come one day after a shooting broke out at Timberview High School between a student and another individual. The incident left four people injured, including two teenagers and a pregnant teacher.
Wednesday's shooting is the latest to occur this school year, which has been the most violent return to classes ever recorded by the nonprofit Everytown for Gun Safety.
Between August 1 and September 15, there were 30 incidents of gunfire on school grounds—nearly double the incidents of the same time frame in 2019, which previously held the record for the most shootings in a back-to-school period.
"It's hard to believe we had another school shooting just yesterday and had victims, again, of a senseless shooting at our high school in Texas," Pringle said.
"For the past 18 months we've been focused on keeping our students and educators safe, getting them back together in classrooms with their classmates and educators," she added. "Now students across the nation are returning to school buildings not only face the threat of the ongoing pandemic, we face record levels of gun violence on our school campuses."
Dr. Joe Erardi, the former superintendent of schools in Newtown, Connecticut, said he was not surprised by the rise in gun violence in schools this year, citing the number of children who live in a home with an unsecured firearm, the anxiety students faced through the pandemic and the amount of time that school closures provided individuals to plan a shooting.
"If we had this conversation in July and the question was asked 'What's going to happen? What do we think is going to happen at the start of this school year.' I would have been absolutely emphatic with my response to that question, that this will be the most violent, most upsetting, most horrible start to public schools across the country," Erardi said. "And so sadly I'm right."