Teachers Worry They'll Bear Financial Burden of Keeping Kids Safe as Trump Pushes for Schools to Reopen
As states nationwide devise plans to reopen schools in the fall, teachers are facing a familiar concern: Who is going to foot the bill for the supplies we need for our classrooms?
Schools closed in spring to reduce the spread of the new coronavirus and the fate of the fall semester is in limbo as officials weigh the ability to reopen amid a rise in cases. President Donald Trump made it clear he expects schools to open, although he's leaving it to state and local officials to devise individual plans to suit their district.
Among the safety measures that the Centers for Disease Control and Prevention (CDC) recommends be put in place for a school to open is the frequent cleaning of surfaces. At the bare minimum, teachers will need disinfectant spray or wipes and hand sanitizer in their classrooms and educators who know it can be a struggle to get sufficient supplies in a normal year are worried they'll end up having to pay for materials themselves.
"We have people walking into battle against this virus who haven't been given what they need to save their lives," Lily Eskelsen García, president of the National Education Association, the largest teacher's union in the country, told Newsweek. "Do teachers think we're going to get what they're not giving infectious disease nurses in emergency wards? You're darn right we're worried about that."
Fairfax County, Virginia, teachers will be given a one-gallon hand sanitizer bottle, spray bottles and Virex disinfectant with paper towels. But, Kimberly Adams, president of the Fairfax Education Association, doesn't see the provided supplies as being sufficient to last until Christmas.
Even with a classroom full of students bringing in items from a supply list, Adams said they frequently run out before the end of a normal year. This year, communities could potentially have to deal with supply and demand problems that make it difficult for parents to send disinfectant wipes and hand sanitizer to school with their child.
And, that's if parents can afford the extra expense.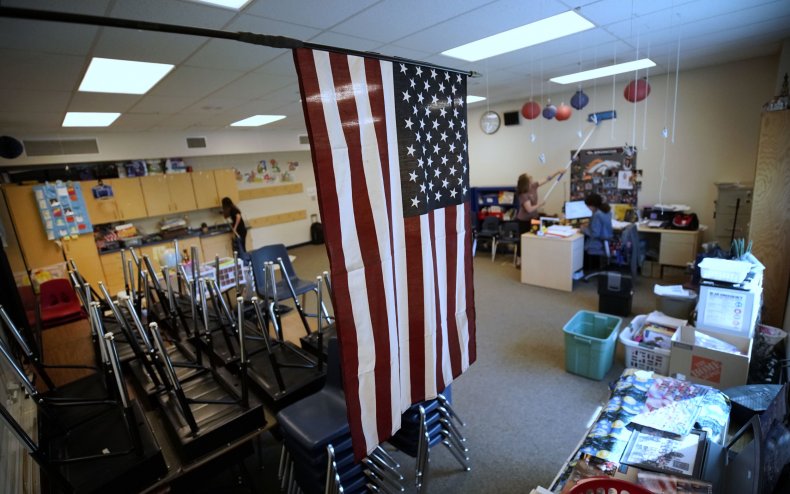 The pandemic put more people out of work than has been seen since the Great Depression and three months after businesses closed, more than 17 million people are still collecting unemployment. Workers in every sector suffered layoffs, but the hospitality and tourism industries are among those hit hardest.
Nevada relies on tourism and the industry accounts for 33.6 percent of the state's total private-industry employment, according to the U.S. Travel Association. Some Las Vegas casinos have yet to open and on Friday, Governor Steve Sisolak closed all establishments that sell alcohol but not food in seven counties, including Clark and Washoe, two countries that are home to Las Vegas and Reno.
With an unemployment rate in May of 25.3 percent, the largest of any U.S. state, Karlana Kulseth, an English, online and blended learning teacher in Clark County, told Newsweek she's hesitant to ask parents to donate supplies.
"I don't know how much more our parents can take on right now," Kulseth said. "I know what it's like to be scraping the bottom and we have plenty of families that can't afford to send supplies so that's a huge worry on all of our shoulders."
Kulseth, who is returning to in-person teaching after seven years of running a remote classroom, is willing to purchase what's needed to keep her students safe. However, she won't know what she'll need to supplement from her district until about three weeks before classes begin, leaving her potentially "scrambling" with her colleagues to get in-demand items.
Across the country in New Jersey, Governor Phil Murphy is requiring schools to offer some in-person classes but has yet to determine the details. Sarah Mulhern Gross, a National Board Certified English teacher in the Garden State, said teachers are stocking up on supplies in preparation for the upcoming school year because it's unclear what districts will provide.
A lot of districts do the "best they can," Gross said, but "funding only goes so far." She was uncertain how districts would cover the increased costs of following the CDC's guidelines when they already struggle to cover their normal costs.
"Many of my colleagues across the country are ordering cleaning supplies and disposable masks," Gross said. "Anyone who has spent time in a classroom can tell you that kids go through tissues and sanitizer like they grow on trees! We don't expect masks to be any different.
Even if supplies were physically available and if parents were financially able to purchase them, García said it sets the wrong precedent. By holding bake sales or having parents donate items, politicians no longer have to shoulder the burden of figuring out how to properly finance education.
"I'm complicit in this," Garcia said. "Every time I fill in the funding gap with my family's grocery budget, it gives an excuse for some politician to say, 'Oh these guys are willing to do it themselves we don't have to.'"
White House deputy press secretary Judd Deere told Newsweek the Trump administration is "committed to working in partnership" with educators at all levels, health professionals, parents and students to "ensure in-person learning resumes in a safe and healthy way."
However, without sufficient federal funding, educators are concerned that students in low-income areas that are disproportionately affected by the virus won't have access to safety measures they need. Asking parents who couldn't buy an extra box of tissues to purchase personal protective equipment and disinfectant wipes isn't "how it's supposed to go down," Garcia said.
Ray Cummings, interim president of the AFT St. Louis, Local 420, said they have "some confidence" in the availability of supplies. Although the reopening plan is still evolving, a review of inventory numbers shows there is enough PPE, hand sanitizer and cleaning supplies in place to get the school system started, according to Cummings.
The pandemic presented entirely new challenges for America's education system and teachers are facing an uncertain future. But, Adams said it helped uncover inequities in the system and if legislators are able to find funding for the upcoming school year, it shows properly funding education is possible.
"If we have the resources moving forward to make sure that staff and students are given everything they need to be successful, that's the silver lining to COVID-19," Adams said.