'Teaching Is Tough, but I'm Inspired by My Former Student AOC'
You may have heard about a viral moment on Twitter that happened recently. A freshman congresswoman recognized her former elementary school teacher in a tweet of encouragement. The rest, as they say, is history—at least my 15 minutes of it.
The teacher was me. The congresswoman was my former student, Alexandria Ocasio-Cortez, representative for New York's 14th congressional district.
AOC, as she is known by many, had posted a poem titled "Just One Minute" on Twitter. It reminded me of all the poems we'd read together in my second grade classroom. I sent her a tweet of encouragement that read: "You've got this," and she responded almost immediately with words that melted my teacher's heart: "Thank you for believing in me as a child."
"Wow" was just about all I could muster, after I picked myself up from the sobbing mess I had become. You may wonder, why the crying? It was a sweet moment to be sure, but was it one that should have prompted tears?
Yes, and here's the reason why: It's a lonely world out there for many people. Even those of us fortunate enough to have families and friends nearby. Loneliness can come from actually being alone, but it can also come from never feeling heard.
It can come from feeling like you have something important to say, something worth listening to, but observing that what you say falls on deaf ears, or is rejected as unimportant, not relevant, unprofessional or distracting. A teacher's life can be particularly lonely if you have a voice, but no one wants to hear it.
I've heard more than once that I ask questions with no easy answers and that such an approach can impede progress. I've been told there's no time to consider new ideas and I've also been told that while my ideas and questions might be valid, important even, I nevertheless have to continue doing the very thing I was questioning.
If you consider this happening many times each year and factor in the several decades I've been teaching—you might begin to see the loneliness. In the world of public education, which I've been part of for more than 30 years, there is a tendency to prioritize expediency, efficiency, and data collection over teacher voice and experience, or heaven help us—critical thinking and questioning. We rarely revisit an initiative to see how well it's worked or not.
We receive new directives every year, and are rarely released from old ones. We are under heightened scrutiny from all sides—from state education departments, politicians, administrators, parents, and the general public. And yet we persevere. Despite sometimes contradictory priorities, despite health and safety concerns, despite our own personal health, we show up every morning. It is for the kids that we keep showing up.
For years I've written letters to everyone imaginable, from newspaper editors, to the state education department, administrators and unions—just about anyone who might be in a position to read what I had to say. I appreciate that I have a tendency to become detailed and impassioned. But the responses I get are often short, thanking me for my thoughts. And then, nothing.
This pandemic has created new challenges we could not have imagined. Which led me to Twitter, in an effort to connect with like-minded educators and to have a chance to rant anonymously into cyberspace.
Maybe it was the 280 character limit that made it so appealing. I could quickly send out a thought, whittled down to its essential core. It was very therapeutic, and it enabled me to persevere during a very dark time. So imagine the surprise, the sheer overwhelming disbelief, that a single tweet from a social media-shy person was returned so quickly by a Twitter user with over 8 million followers.
It was a moment of spontaneous connection—a metaphorical note in a bottle, tossed into the ocean of the Twitter-verse—and then found and returned within minutes. The connection was instant, and real. It was confirmation and affirmation, all in less than 280 characters.
I've had many hundreds of students during my teaching career. Some stick out in my memory more than others. Some leave indelible marks. I can't claim to remember them all, but what I do know is that every student who's spent time in my classroom has taught me something. Whether it has been about the joy of discovery, the struggle to understand or the hero's journey that some face learning how to read, or write, or make a friend.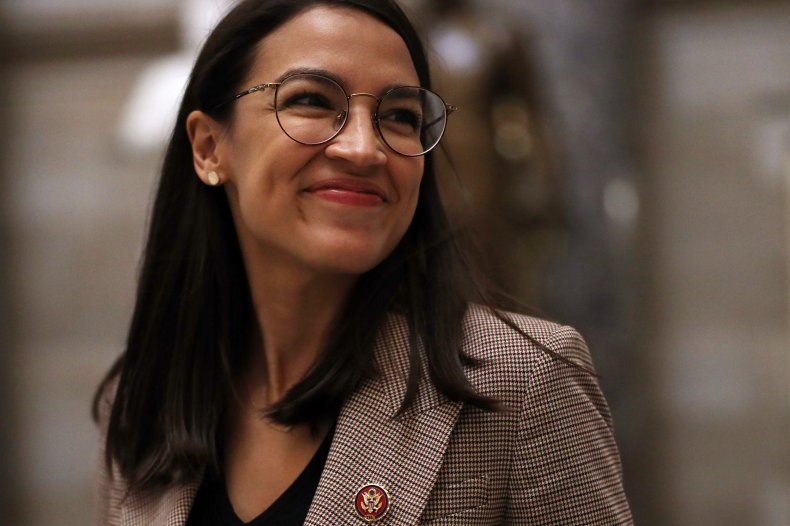 I've been watching Alexandria over the past few years and I've been stunned by her poise and her ability to speak with such clarity and truth, especially in the face of intense scrutiny and often vitriol. I see in her a brave and inspiring soul, a person wholly dedicated to speaking out on behalf of others.
She seems to recognize the journey so many of us travel, lacking guidance or encouragement and yet seeking both. Her strength has given me hope in dark times. It is more than a teacher could really imagine—not just that your student succeeds in the world, but that a student might return to your life to inspire and uplift you.
It's been hard to process the response to my random tweet of encouragement. It's been overwhelming, actually. But it's also been a moment of feeling heard. Breaking through the loneliness that has only intensified this summer as I struggle to reconfigure my teaching life with a keyboard.
This coming year will undoubtedly be the most challenging of my teaching career. A pandemic rages in the country I call home. The challenge of reopening school buildings has become a flash point in our daily dialogue.
And so I would like to leave you with this final thought: Most teachers teach because we enjoy human contact. Most teachers would much rather be teaching in person this fall, than sitting behind a keyboard trying to engage and inspire from afar. I know I would rather be back in my classroom. But I also know it's not safe. And I don't believe there's a way, despite the best of intentions, to make a school building safe during an out-of-control pandemic.
So, after you read this, should you feel inspired to reach out to teachers or students from your own past, please also take a moment to support teachers today who fear for their health and safety, if they are forced back into physical classrooms.
It would really help this teacher, and many others, feel heard.
Mai Jacobs is an elementary school teacher in New York State, she has been teaching for more than 30 years. Alexandra Ocasio-Cortez is one of her former students.
All views expressed in this piece are the writer's own.