Teal Piper Hopes to Keep Her Father's Legacy Alive with Women of Wrestling, AEW's All Out
When Jake "The Snake" Roberts began handing out cards for All Elite Wrestling's Women's Casino Battle Royal, the wrestling community was surprised to see Teal Piper participating in the match.
The daughter of the late great WWE legend "Rowdy" Roddy Piper, the sharp-tongued heel who left an indelible mark on wrestling and pop culture, was delighted by the reaction she saw after the reveal.
"I've been looking forward to [the reveal] for months," Piper told Newsweek. "I started training with Women of Wrestling out of Long Beach before that, so I've been trying to keep my mouth shut to keep it exciting. But yea, that really came out of left field for most people, which of course makes me happy."
Shortly after her All Out reveal, it was announced that Teal - real name Ariel Toombs - would join Women of Wrestling (WOW) for its second season in September. The former actor and singer has been training with the promotion for a few months and is getting ready for her in-ring debut on August 31 at All Out and her debut on WOW September 18.
Newsweek caught up with Teal Piper to talk about her journey to the ring, All Out and joining Women of Wrestling.
Women of Wrestling season 2 premieres September 7 at 8 p.m. EDT on AXS TV.
Note: This interview has been lightly edited for clarity and length.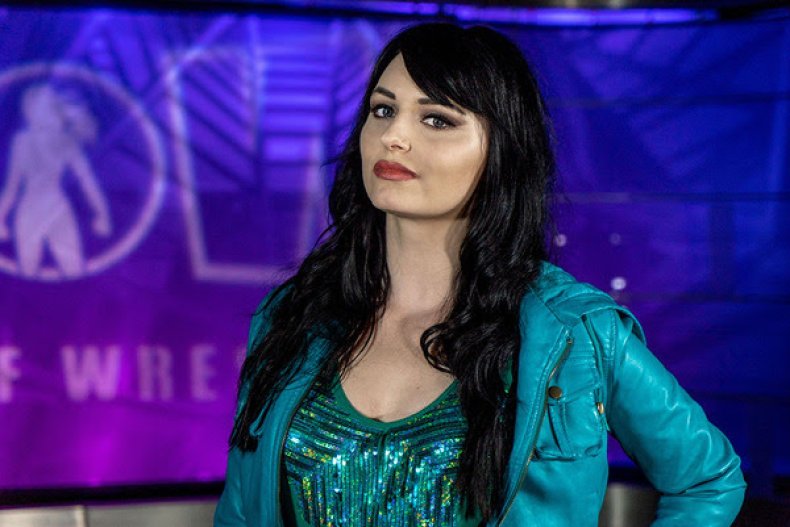 How did the AEW opportunity come about?
Once I decided to make the leap to wrestling, which is something I've thought about for a long time, it's a pretty big decision as a Piper. You're either all in or all out, no pun intended. Once I decided that, I looked around at my options and I think that company, they are great people over there, and it felt like the right time. We traveled a bit and I don't want to go too far into that right now. It just sort of happened. August 31, it is very exciting for me to already be in the ring by then.
After that I'm going to do WOW TV live events on September 18 and 19 in Los Angeles. I'm keeping busy.
You talked briefly in the "Road to All Out" series about how you decided to join wrestling. Can you go more in-depth?
I always had an admiration for the sport growing up with my dad. And for me it wasn't until he passed when I felt a part of me die and another part of me was reborn, which is really creepy sounding. But that's how it feels [laughs]. And the more time that passed, I longed to reconnect with him, and that's an area of his life that he was very protective of. As a heel, back in his day, he was on his guard. People tried to kill him and all that, so he was very protective of our family. And for me, as a sort of way to connect with him now that he's gone, I don't know how to explain that. And the performer in me just loves it.
Over the last two years I just longed to be more and more in the ring and pursue that line of work. And as a way of paying tribute and connecting to him, but also as a way to keep his memory and legacy alive. There will never be another Roddy Piper, so if anyone thinks that I'm going to go in there and be a little Roddy Piper, no, I'm my own person. But I'm definitely going to have fun. And I learned a lot from him, and I'm sure I've taken a lot of his personality traits. I hope to start a whole new generation of the Piper legacy.
One thing that feels like you got from him are your promo skills.
I say that if there's one thing I'm comfortable with, it's getting on that mic and stirring the pot a bit. It's very fun for me and I enjoy it. It's sort of therapeutic and is where I get all my aggression out.
In the ring, the more time I spend in the ring training, the more I'm in love with the sport. It's one thing to watch from the side, watch your family be in wrestling, but it's a whole other thing to be in there. It's really cool. I wish he was still around to see it. But it's very cool to be there now.
You're still going through training, but is there one thing you can pinpoint that you learned?
I've picked up a lot over the years, but it's one of those things that you get to the basics of wrestling. Until you're really thrown and take a hard bump, until you know what that feels like, you don't know what that feels like [laughs].
That's what all the old timers always ask me, "hey have you taken your first bump yet?" For me that was the real learning experience. And then it set in me that "wow my dad had thousands of matches and took thousands of these falls."I got a new appreciation for what he did physically and what he went through in my lifetime, let alone his. For me that's the biggest lesson. Yup, that's going to hit hard. [laughs]
There's talk about your age and starting now. Is that something you feel is important?
First of all, age is just a number. I know a few successful wrestlers who started later than me.
For me, there's that stigma on woman. If I was a man getting started in wrestling at 34, we probably wouldn't be having this conversation. I think that is also one of the reasons why I was drawn to Women of Wrestling. It's that they are so empowering to women in the industry, and I don't feel like there's that double standard with men. When I'm doing WOW there's all women of all shapes, sizes and times of life, and they just bring the best talent on the board. And again, this isn't a conversation we would be having if I was a dude.
Physically, I haven't taken a lot of miles on the road, so it's not like I'm getting into it where I've broken my whole body down [laughs]. I've never been the kind of person to not do what I want to do when I want to do it. And I have no regrets except that I wish my dad was still around right now. This was the best time to get into it, and this is the time of my life where I've done a lot my passions and did a lot of my dreams.his is a new dream. I don't care if I'm 65, if I want to start something I'll start something then and screw everyone else.
I would love to break the stereotype with women. I don't want to be the pretty girl. I want to be the ugly girl. I don't want to think about being 20 and perfect-looking my whole life. That's just an impossible standard. I hope that I'm an inspiration for other girls looking to get into the sport.
The wrestling industry is going through a boon of women's wrestling. Did it affect your decision to become a professional wrestler?
It's a huge factor for making the leap. I remember being in high school and there was a time when women were in lingerie and very degraded in the ring. They felt like they were accessories to the men and you see people like Chyna that broke through in that time period. You look at a lot of women that would breakthrough, but there's that stigma.
I remember kinda making a snarky, kid comment about it that my dad got so mad that he broke the table in half and he told me "those women have to work twice as hard and be twice as talented and they still don't get paid." He was such the biggest feminist [laughs]. I always have that in the back of my mind where I put my foot in my mouth, and the older I get the more I appreciate what women have gone through in this sport. And the legends that even before all that what they had to go through. And with WOW, there's a big movement of women in wrestling and being the main event on WWE for the first time and all that. WOW has been doing that for years. They have women in the main event, but they've been ahead of that curve, and that's something I really want to support.
What makes Women of Wrestling where you want to be?
I've seen every side of wrestling, from a family member point of view. I've seen the dark underground, the biggest money events you can go to and everything in between. WOW is a place that I feel is very healthy for women. It's something I want to be a part of and I want to help them. I admire so many of the girls in there and so many of the women who started it. For me it's a no-brainer.
They offered to train me, regardless of the show. When I first talked to them and the more I stuck to it, the more appreciation and the feeling of wanting to be a part of this I felt. It wasn't my original plan. I never really thought about where I wanted to go. I just knew I needed training. It just developed naturally, and the more I spent with WOW the more proud I felt to be there.
What are your feelings as we get closer to your All Out appearance? Nervous about the audience?
It's not the audience that will make me nervous. Those are some serious women in the ring. And that's what I'm nervous about. They are very talented and worked very hard, and they are no joke. And I'm going to be standing in the ring for the first time professionally with these women. That's what I'm nervous about. I want to pay it forward. I feel a lot of pressure because people want me to fill my dad's shoes in a sense. But they are some tough women. I hope I don't get anything broken. I'm training as hard as I can. We'll see what happens.
I'm excited. I'm very honored to be in the ring with these people. But a part of me is "boy howdy. I just jumped right into the fire, didn't I?" [laughs] Go big or go home.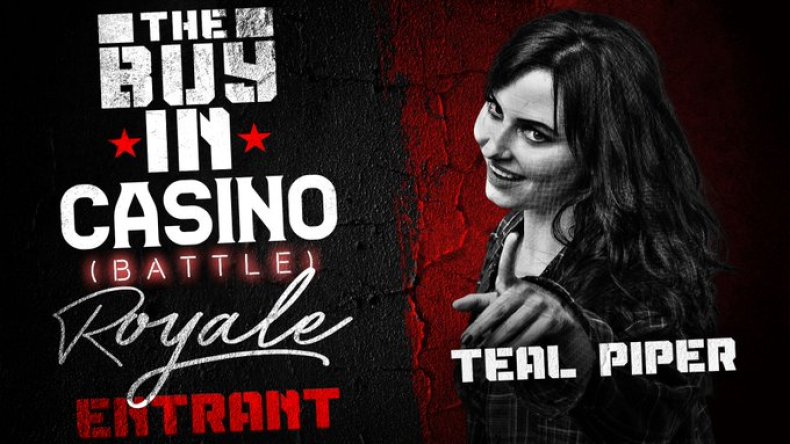 You talk about not wanting to be your father, but is there a difficult balance of paying homage and being your own person?
It's very difficult to put it to the side because that's only what people want to see. I think to get in the ring to prove myself as a talent and on the mic people are going to have a hard time separating those two.
As an actor and a singer, I've never gone by the Piper name before so it's something I've had to come to terms with and embrace that I am a Piper, especially for the sport of wrestling. It's a newer thing for me to go down this road. But when i get on that mic and get in the ring I'm going to have that over my head, which is an honor but also a lot of pressure.
You subscribe to the idea that your name has given you some of these opportunities?
I'm blessed to be born into the family I was born into, let alone to have my dad as my dad, because he was the best. It doesn't matter how many doors are opened, they will shut twice as hard. All I can do is my best and do my family proud.
Want to give a tease as to your All Out entrance?
You are going to have to wait and see, but I will say this. I will be my own person and my own gimmick. I feel it'll be a little disrespectful to come out as a little clone of my dad. For me he wouldn't want me doing it, he would want me to earn my own stuff. And while there may be a nod to him, Teal Piper is not Rowdy Roddy Piper. To imply such a thing is disrespectful to him and to myself. Because I think I can do better than that, I can be my own person. But what exactly I'll be doing or what homage I'll be paying or not you'll just have to see.
What can people expect from Teal Piper?
I feel what people can expect from me is a new perspective and a new life. Not just in the ring, but on the mic. I am who I am and I definitely have parts of me that are nothing like my father was and also unique to wrestling that I feel I can bring to the ring. I hope people are going to be pleasantly surprised and i feel they won't necessarily predict what Teal Piper is going to be, but I'm going to show them, and I think they are going to love it.