26 Cyclists Will Ride 400 Miles to Newtown to Honor Sandy Hook Victims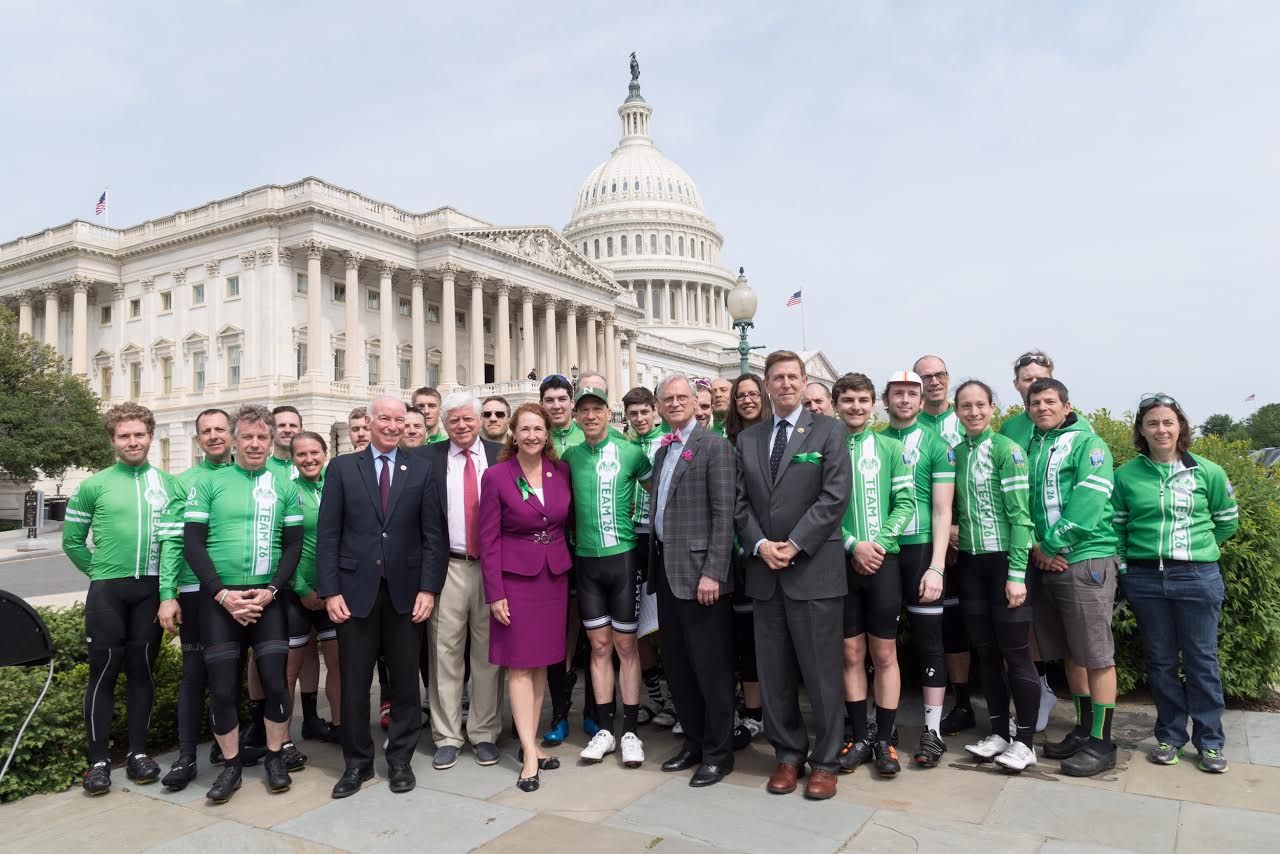 For the fifth consecutive year, 26 cyclists are biking about 400 miles along the East Coast to honor the 20 first-graders and six educators who were fatally shot in their classrooms at Sandy Hook Elementary School in Newtown, Connecticut.
Related: Virginia Democrat opposes national reciprocity on guns
This year, they are taking a different route: Instead of starting in Newtown and ending in Washington, D.C., they began their 2017 journey on Thursday in the nation's capital and are taking their message north to Connecticut—symbolically turning their backs on Congress for not passing meaningful laws to reduce gun violence in the wake of the December 2012 mass shooting.
"Team 26" rides to remember the victims and raise awareness about gun violence across the country. At the press conference in D.C. before they started peddling, team leader Monte Frank acknowledged that he didn't pay much attention to gun violence before the massacre. Ever since, he said, he has lost sleep over what happened in Newtown and over the many U.S. gun-related deaths that continue to this day. "By failing to act, by failing to have a vote, by failing to do anything, Congress remains complicit in the carnage that is occurring every day in our cities and mass shootings that occur way too regularly in our country," said Frank, who is a father and president of the Connecticut Bar Association.
Specifically, Team 26 calls for "commonsense laws," including a federal expansion of background checks on all gun purchases at shows and on the internet. Four months after the 2012 shooting, the Senate was unable to pass bipartisan legislation for universal background checks. And in the House, not a single gun-violence prevention bill has reached a vote in the past four years.
"The ride moving from Washington out into states is representative of how big and broad this movement has become," Senator Chris Murphy (D-Conn.) said at the press conference. Murphy gained widespread attention last June when he filibustered for almost 15 hours to protest Congress's years-long inaction on stricter gun measures. He and some of his Democratic peers, along with shooting victim (and former congresswoman) Gabrielle Giffords, on Wednesday came together on Capitol Hill to reconfirm their fight against gun bills under the Trump administration.
The team's first ride took place in March 2013, just three months after the massacre. Over their four-day journey, the cyclists will bike through five states that have some of the strictest gun laws in the country and then end in Connecticut. Meanwhile, Congress is pursuing national concealed carry reciprocity measures that would require states that issue permits allowing gun owners to carry concealed weapons to recognize such permits from other states.
"I know in the long run," said U.S. Senator Chris Van Hollen (D-Md.), "we will overcome."