In an email to supporters, Democratic Congresswoman Alexandria Ocasio-Cortez's team on Tuesday afternoon accused 2020 presidential candidate Pete Buttigieg of using "Republican talking points" and "engaging in bad faith tactics to undermine progressive policies."
Buttigieg's plan for higher education, which opposes tuition-free public colleges for a portion of American students, has been seen by progressives as an attack on the plan proposed by his 2020 rival, Senator Bernie Sanders. Ocasio-Cortez publicly endorsed Sanders in October for the Democratic nomination.
"Pete is using Republican talking points to score points in our primary," the email from Team AOC said. "He's refusing to engage with the argument that enshrining something as a public good, without adding asterisks on who deserves access, is critical to keeping those public goods around. Everyone's invested!"
"Instead, he's focusing on the children of millionaires and billionaires who could pay for college anyway—even though that's an incredible slim percentage of people who attend public colleges in the first place," the email added. "Forcing low-income students and parents to navigate a vast government bureaucracy where one mistake could mean no college—and one that Republicans can periodically sabotage to reduce access—just isn't worth it."
Last week, Ocasio-Cortez echoed the same sentiments in a statement posted to Twitter, where she called Buttigieg's plan to disallow certain individuals from his education proposals a "GOP talking point used to dismantle public systems."
In an email to Newsweek, Buttigieg's Rapid Response Communications Director Sean Savett said, "It's quite a stretch to call it Republican talking points."
"Pete believes that money would be better spent on other priorities rather than making college free for the kids of millionaires and billionaires who can already afford to go," Savett added.
Ocasio-Cortez's tweet was in response to a recent Buttigieg campaign ad, which touts elements of the candidate's higher education plan, including free public college for 80 percent of students, $50 billion for historically black colleges and universities and the expansion of Pell grants to cover living expenses.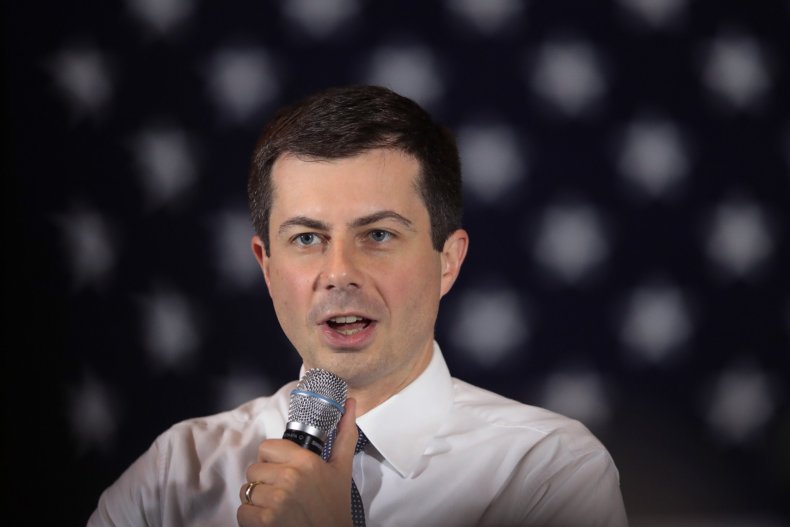 Savett and Lis Smith, a senior adviser to Buttigieg's campaign, also promoted the plan on Twitter last week.
"Pete would make public college tuition-free for 80 percent of families," Savett wrote. "And he'd provide tuition assistance for the next 10 percent of families. But some say he's not progressive because he won't make college free for millionaires + billionaires who already have advantages?"
"If you think that a worker who didn't go to college should pay for college for a CEO's kid, then @PeteButtigieg isn't your candidate," Smith tweeted.
When asked by NBC News' Priscilla Thompson to comment on college affordability on Monday, Buttigieg said: "I just think rich people ought to be able to pay their own tuition. I have nothing against them. I just think that if you're in a position to pay full freight, then you should."
"And I'm also concerned about a narrative emerging that ignores the fact that not everybody goes to college," the Democrat continued. "This is not the same thing as K-12. This is not the same as social security. Because college is not for everybody."
"I very much agree with the part about raising funds from the wealthy," he concluded, "just not in agreement about spending it on the wealthy in the case of college tuition when they can very pay their own way and I think they should."
According to Sanders' College for All Act, "students from any family would be able to attend a public four-year college or university or four-year tribal college or university tuition-and fee-free." The federal government would be responsible for covering 67 percent of the tuition and fee elimination, while states and tribes would eliminate the remaining 33 percent.
Updated 12/02/2019 3:58 p.m. EST: Story updated to clarify Pete Buttigieg's education plan.