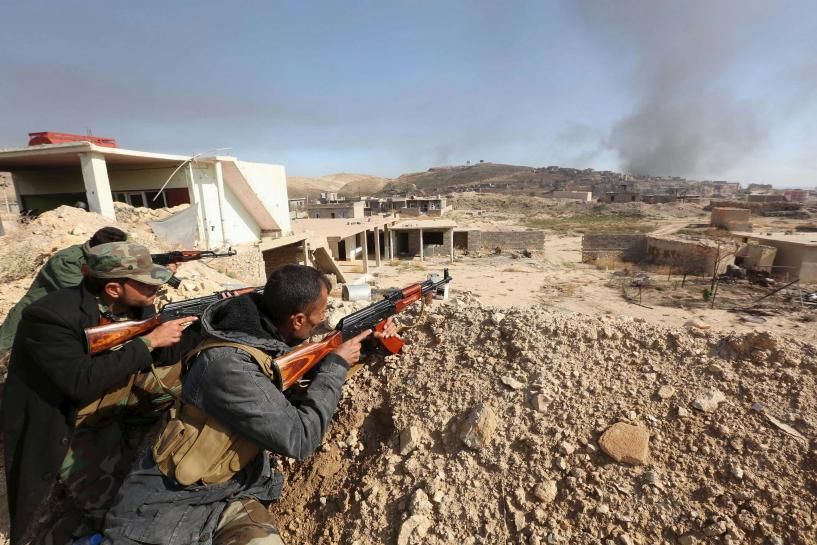 After more than a year, President Barack Obama's campaign against the Islamic State militant group (ISIS) finally appears to be making some headway. The November 13 attacks in Paris created a horrifying diversion from the fighting in Syria and Iraq, eclipsing recent battlefield advances. But in the past month, Iraqi Kurdish forces, backed by U.S. air power, launched an offensive that captured the town of Sinjar and cut a critical supply line for ISIS forces holding the northern Iraqi city of Mosul. And in northeastern Syria, following a U.S. airdrop of some 50 tons of ammunition, a newly formed rebel group called the Syrian Democratic Forces has driven the Islamist militants from dozens of villages. The closest is only 35 miles from Raqqa, ISIS's self-declared capital.
Now, some in the Pentagon want to conduct a second airdrop, this time with heavier weapons, such as antitank and heavy machine guns, Newsweek has learned. The idea, U.S. and Kurdish officials say, is to launch a second offensive against the jihadis and, with help from U.S. Special Operations forces, begin the march on Raqqa. "We want to get things moving," says a U.S. official, who spoke about a Raqqa offensive on the condition of anonymity to discuss possible battle plans. Lahur Talabani, the Iraqi Kurdish intelligence chief, says it makes sense for U.S. military planners to think of the Syrian and Iraqi theaters as one battlefield. "The border between the two countries has largely been eroded, and Raqqa and Mosul are only four hours apart," he said at a recent talk at the Washington Institute for Near East Policy, a D.C.-based think tank.
Following the Paris attacks, Obama pledged to step up efforts to destroy the militant group in Syria while Secretary of State John Kerry works on parallel diplomatic tracks to bring about a cease-fire between Syrian government forces and moderate opponents. But after a meeting in Turkey with President Recep Tayyip Erdogan at the G20 summit on November 15, Obama spoke only of fortifying the border between Syria and Turkey. The reason: Divisive political issues are stalling an upgraded weapons delivery. Turkey, a vital NATO ally, is concerned the weapons could fall into the hands of Kurdish militants who have been fighting a three-decade-long war for autonomy from Ankara. Senior administration officials, including Defense Secretary Ashton Carter, worry about tensions between the ethnic Kurdish fighters who dominate the Syrian Democratic Forces and the Arabs who live near Raqqa. They also worry about reported human rights abuses by the Syrian Kurdish fighters against the Arabs. Taken together, such concerns are stalling the advance on Raqqa.
"Even if supplying the heavier weapons helped the [Syrian Kurds] take over Raqqa, it would not be a permanent solution," says Soner Cagaptay, a Turkish-born analyst at the Washington Institute for Near East Policy who has been briefed on the administration's concerns. "The day after liberating Raqqa, the [Syrian Kurds] would become an occupier in that Arab city, potentially boosting local support for the Islamic State, which at its core is Arab."
Though the Syrian Kurdish soldiers now fight under the banner of the Syrian Democratic Forces, they still belong to the YPG, an offshoot of Turkey's Kurdistan Workers Party, or PKK, which both Ankara and Washington regard as a terrorist organization. Its armed struggle for autonomy, which resumed this summer after a two-year cease-fire, has killed more than 40,000 people, Turkish officials say.
The YPG made headlines last year during the battle of Kobani, a Syrian Kurdish town on the Turkish border. Fighting fiercely with U.S. air support, the well-trained Kurdish forces broke a siege by ISIS militants and secured large stretches of territory along the Turkish border. The Kurds' success, coupled with a failed Pentagon-led effort to train a smattering of Syrian rebels, caused Obama to overlook the YPG's affiliation with the PKK and arm the Syrian Kurdish group, as well as a small collection of Sunni Arab fighters from the Raqqa region in October. The two groups now make up the 30,000-strong Syrian Democratic Forces. "A key part of our strategy is to try to work with capable, indigenous forces on the ground," Christine Wormuth, undersecretary of defense for policy, told reporters at the time. "To provide them with equipment to make them more effective, in combination with our airstrikes."
Over the past month, much to Turkey's dismay, the U.S. military's relationship with the Syrian Kurds has deepened. In addition to the ammunition Washington provided to the joint rebel force, Syrian Kurdish intelligence officers now work alongside their American counterparts in northern Iraq, where they identify ISIS targets for U.S. airstrikes. The 50 U.S. special operations forces Obama recently sent to Syria will be working closely with the YPG. And because the Kurds make up more than 80 percent of joint rebel force, nearly all of the ammunition the U.S. airdropped into northern Syria in October is under their control, says Talabani, the Iraqi Kurdish intelligence chief. In October, Turkish Prime Minister Ahmet Davutoglu summoned the U.S. ambassador to complain. "Turkey cannot accept any kind of cooperation with terror organizations that have declared war against Turkey," he said.
Turkish officials say they're not fooled by the name the administration has given the coalition. "You may call it the Syrian Democratic Forces, but we know that most of its members are YPG," says Naci Aydan Karamanoglu, a political counselor at the Turkish Embassy in Washington. He points out that the PKK created and trained the U.S.'s Kurdish allies. "The YPG are the same terrorists," he says. That's why Turkish jets and artillery hit YPG forces in northern Syria in October, even though the group hasn't staged attacks inside Turkey. Steven Cook, a Turkey expert at the Council on Foreign Relations, notes that Turkey also could rescind U.S. access to Incirlik air base, which now accommodates many of the U.S. warplanes providing air power to the Kurdish ground offensives in both Syria and Iraq.
Some in Washington suggest Obama's deployment of special operations forces may have been partly aimed at dissuading further shelling by Turkey. "The Turks now have to worry that they might hit an American," one State Department official says on condition of anonymity to discuss sensitive matters.
Turkey's focus on the Kurds also has become an issue in the U.S. presidential race as candidates look for ways to step up the fight against ISIS. "To be fair, Turkey has a long and painful history with Kurdish terrorist groups, but the threat from ISIS cannot wait," Hillary Clinton, the leading Democratic candidate, said in a Nov. 19 speech to the Council on Foreign Relations in New York. "As difficult as it may be, we need to get Turkey to stop bombing Kurdish fighters in Syria who are battling ISIS and become a full partner in our coalition efforts against ISIS."
Yet another cause for U.S. concern is some unwelcome baggage that has come with YPG's battlefield successes. Amnesty International says the YPG razed Arab villages captured from ISIS because of perceived sympathies for the jihadi group. An October report by the human rights group alleges that Kurdish fighters forcibly displaced scores of Arabs and Turkmen. The YPG has acknowledged "isolated incidents" but says displacing people from captured villages was strategically necessary. If the Kurds use similar tactics in Raqqa, Obama administration officials worry it could lead to charges of war crimes.
Still, Obama has refused to back away from what he regards as the only credible ground force fighting ISIS in Syria. Instead, U.S. officials are trying to persuade Turkey that the Syrian Kurdish fighters are not hostile toward Ankara. To underscore the U.S. commitment to Turkey's security, Obama sent a squadron of F-15 warplanes in November to protect Turkey's airspace against a growing number of Russian incursions after Moscow began its military buildup in Syria. At the same time, however, the U.S. has delayed deliveries of weapons Turkey needs to fight Kurdish militants, and many analysts suspect the move is intended to hobble further Turkish attacks on the YPG.
For now, heavier U.S. arms shipments to the Syrian Democratic Forces also appear frozen. A White House official tells Newsweek the administration plans to do more to support the group. But Carter, the defense secretary, recently said he's still looking for more local forces to work with in Syria. That suggests the low ratio of Arabs to Kurds in the coalition remains a problem for any Raqqa offensive. And until that's resolved, Obama's proxy forces in Syria will just have to make do with what they have.