Team Ocasio-Cortez Calls Trump Out For Contradicting 'His Own Position' on Electoral College: He 'Was on Our Side!'
Team Alexandria Ocasio-Cortez called out Donald Trump on Tuesday for contradicting "his own position" on the Electoral College after the president's reelection campaign sent a text to supporters attacking the congresswoman for wanting to abolish the system.
"Crazy AOC wants to ABOLISH the Electoral College. Let's remind her this is OUR country, not the Coastal Elites," the Trump campaign said in a text message to millions of supporters on Tuesday. The text was apparently sent in response to comments Ocasio-Cortez made last week about the Electoral College.
The text linked to a petition to "protect the Electoral College" on Trump's campaign website. "Socialist Rep. Alexandria Ocasio-Cortez recently called for abolishing the Electoral College," the petition read. "Remind her that this country belongs to AMERICANS from EVERY zip code, not just the Coastal Elites and Liberal Mega Donors. This is our country, not theirs."
In response, Team AOC pointed to a tweet posted by Trump in 2012, years before he formally launched his presidential bid in 2015, criticizing the Electoral College. "The electoral college is a disaster for democracy," Trump tweeted on November 6, 2012.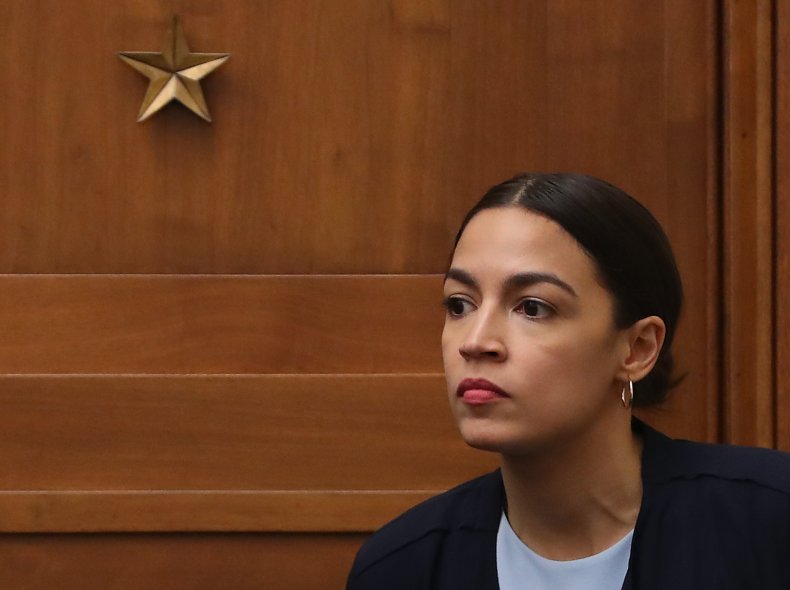 "We're not alone in thinking that the electoral college is fundamentally bad for our democracy. In fact, until he directly benefited from the electoral college's manipulation, Donald Trump was on our side!," Team AOC said in an email to Newsweek, alongside a screenshot to the president's 2012 tweet.
"It's not crazy to want a democracy where every vote counts the same," the email continued. "Right now, the electoral college devalues the votes of people of color and perpetuates minority rule."
It added: "When it comes to protecting the status of disproportionately white voters, Trump is willing to pull out all the stops — he's even willing to contradict his own position!"
Later Tuesday evening, Ocasio-Cortez made a tweet about the issue. "I'm so glad the President and I agree that the Electoral College has got to go," she wrote, sharing Trump's 2012 tweet.
Trump previously railed against the Electoral College, a system he once called a "sham" and "travesty," before becoming President of the United States in 2017. After he claimed that former President Barack Obama lost the popular vote to Republican Mitt Romney in 2012, Trump even said a "revolution" was necessary for America.
"He lost the popular vote by a lot and won the election. We should have a revolution in this country!" Trump wrote in a since-deleted tweet. "More votes equals a loss ... revolution!" he added.
However, since he won the Electoral College in the 2016 presidential election while losing the popular vote by roughly three million votes to Hillary Clinton, Trump now appears to firmly support the system. "The Electoral College is far better for the U.S.A," the president tweeted in March.