Mellissa Carone, the woman who went viral for her appearance at an alleged voter fraud hearing last week, has hit back at claims she was drunk during her attestation.
The contracted IT worker, who was responsible for fixing malfunctioning vote-counting machines at Michigan's TCF Center, was immortalized in a clip or her being shushed by Rudy Giuliani that quickly went viral on December 3.
"I wasn't drunk," Carone told Inside Edition. "I would swear under oath that I wasn't drunk. That's my personality."
In an interview with SarahPalin.com published Tuesday, she reiterated that point, saying: "This is what they do to Trump. It's not going to work with me. I won't back down because I am very religious and I know God is watching over me. This started with COVID."
The witnesses were presenting testimony to the Michigan House Oversight Committee. President-elect Joe Biden won the state and Donald Trump's campaign has sought to challenge the results.
Carone sparred with Republican state Representative Steve Johnson at the hearing, prompting a flurry of memes.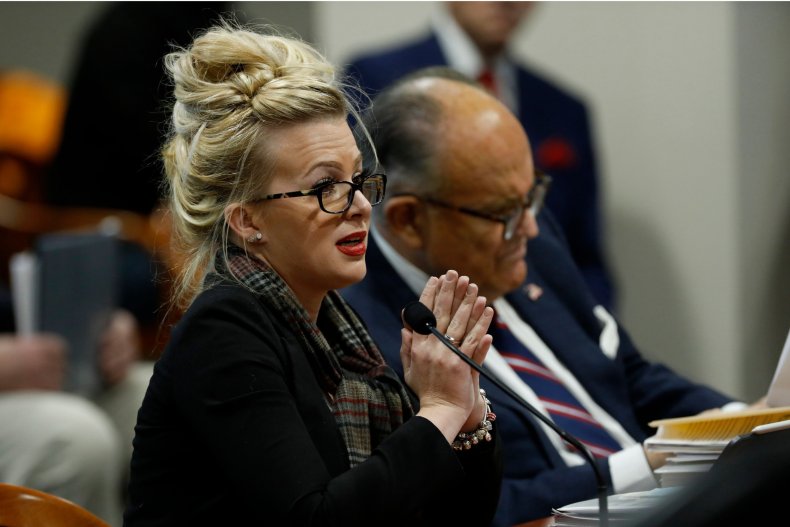 "I am a mother, I have two children, I have two degrees. I don't know any woman in the world that would write an affidavit under oath just to write it. You can go to prison for this," Carone said at one point during the hearing.
"I know for a fact that there was illegal activity going on there," she said, claiming there were "pictures" of boxes as they were being carried out of the warehouse.
The 33-year-old was also compared to former Saturday Night Live comedian Victoria Jackson.
"Glad to see that Victoria Jackson has been keeping busy lately," one person tweeted.
She was then impersonated on SNL at the weekend by comedian Cecily Strong. However, Carone was unfazed by being impersonated on national television, telling Inside Edition: "I think she did a great job. I think it was very funny, she looked just like me."
Following the news that Giuliani has tested positive for coronavirus, Carone said she was not concerned about whether she had caught the virus after being in contact with the former New York City mayor without a mask.
"I'm not concerned at all, no," she said.
Lawyer Jenna Ellis, who was seated near Carone at the hearing, revealed on Tuesday that she has since tested positive for COVID-19.
Speaking to The Washington Post, Carone said she would quarantine only if instructed to do so by the president.
"I would take it seriously if it came from Trump, because Trump cares about American lives," she said. "It is not that I don't believe in getting tested. I don't trust the tests."
It has also been reported this week that Carone is pushing a baseless conspiracy about COVID-19 and former president Barack Obama.