Kevin Durant and Damian Lillard headline the USA Olympic Basketball Team, in a bid to win a fourth consecutive gold medal at the Tokyo 2020 Olympics this month.
LeBron James and Stephen Curry both opted out of the Olympics, while James Harden was ruled out of the Games because of a hamstring injury in June.
Despite their absences, however, the roster is stacked with All-Star players, with Durant and former Golden State Warriors teammate Draymond Green the only survivors from the team that won the gold medal at the 2016 Olympics in Rio de Janeiro.
A two-time NBA champion and two-time NBA Finals MVP, Durant was also part of the team that won gold at the 2012 Olympics in London.
Team USA's top scorer in both 2012 and 2016, Durant's 19.4 points per game average is the highest in Team USA's history at Olympic games, while his 311 total points are the second-highest tally.
Green, who won two NBA titles alongside Durant, played in all eight USA games at the 2016 Olympics.
Lillard, meanwhile, is one of the NBA All-Stars making their Olympic debut along with Miami Heat's big man Bam Adebayo, Boston Celtics forward Jayson Tatum and Chicago Bulls guard Zach LaVine.
San Antonio Spurs guard Keldon Johnson, Denver Nuggets center JaVale McGee and Detroit Pistons forward Jerami Grant are the only players on the 12-man roster to have never been selected for the All-Star Game.
Johnson and McGee, a three-time NBA champion, were called up as replacements last week after Cleveland Cavaliers forward Kevin Love—who was part of the Team USA that won gold at the 2012 Olympics in London—and Washington Wizards All-Star guard Bradley Beal withdrew from the team with a calf injury and because of COVID-19 health and safety protocols respectively.
"I think coming into something like this, you know that things can come up, especially coming out of a pandemic and the possibility of guys maybe testing positive," Lillard told The Associated Press on Friday, July 16.
"Injuries happen. People have a change of heart. You just come into it expecting that.
"But I think our primary focus was to come here and come together as a team, get our bodies moving around, get in shape to be able to go compete on the level that we want to compete on and I think we've moved in that direction as a group. We feel good about where we are."
The 12-man roster also includes Phoenix Suns guard Devin Booker and Milwaukee Bucks duo Jrue Holiday and Khris Middleton, who are currently playing in the NBA Finals and could be in action as late as July 22, when the eventual Game 7 is scheduled for.
Team USA opens its Olympic campaign three days later against France, before facing Iran on July 28 and the Czech Republic on July 31 in the final Group A game.
San Antonio Spurs head coach Gregg Popovich will take charge of Team USA at the Olympics for the first time in his decorated career. A five-time NBA champion as head coach, Popovich was the assistant coach at the 2004 Olympics in Athens and led Team USA to seventh place in the 2019 FIBA World Cup.
Meanwhile, Warriors head coach Steve Kerr will again served as assistant coach as he did in 2019. An eight-time NBA champion—five times as player and three times as head coach—Kerr is one of the three assistant coaches on the roster along with Indiana Pacers assistant coach Lloyd Pierce and Villanova head coach Jay Wright.
Team USA Olympic roster
Bam Adebayo—Forward/Center, Miami Heat
Devin Booker—Guard, Phoenix Suns
Kevin Durant—Forward, Brooklyn Nets
Jerami Grant—Forward, Detroit Pistons
Draymond Green—Forward, Golden State Warriors
Jrue Holiday—Guard, Milwaukee Bucks
Keldon Johnson—Guard, San Antonio Spurs
Zach LaVine—Guard, Chicago Bulls
Damian Lillard—Guard, Portland Trail Blazers
JaVale McGee—Center, Denver Nuggets
Khris Middleton—Forward, Milwaukee Bucks
Jayson Tatum—Forward, Boston Celtics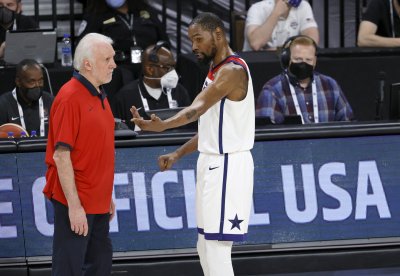 Uncommon Knowledge
Newsweek is committed to challenging conventional wisdom and finding connections in the search for common ground.
Newsweek is committed to challenging conventional wisdom and finding connections in the search for common ground.
About the writer
Dan Cancian is currently a reporter for Newsweek based in London, England. Prior to joining Newsweek in January 2018, he was a news and business reporter at International Business Times UK. Dan has also written for The Guardian and The Observer.