Gregg Popovich Gets Heated With Reporter After Team USA Loss to Australia
Team U.S.A. head coach Gregg Popovich got into a heated exchange with a reporter following his team's 91-83 loss against Australia in an exhibition game.
Monday's night loss in Las Vegas came just two days after the three-time defending Olympic champions lost to Nigeria in the first of five games in preparation for the upcoming Olympic Games in Tokyo.
It also means the U.S. have now lost four of its five past games, dating back to the 2019 World Cup.
The mood was tense in the post-game press conference, when Popovich took exception to a reporter suggesting to Portland Trail Blazer star Damian Lillard the U.S. were no longer capable of beating teams as easily as they once did.
A six-time NBA All-Star, Lillard will make his Olympic debut later in July.
"What has it been like for you to have been watched your colleagues go through some of these tournaments and blow these teams out, while now it's a much tougher and closer experience?," the reporter asked, after acknowledging "coach [Popovich] has been preaching to us how much better the rest of the world has got."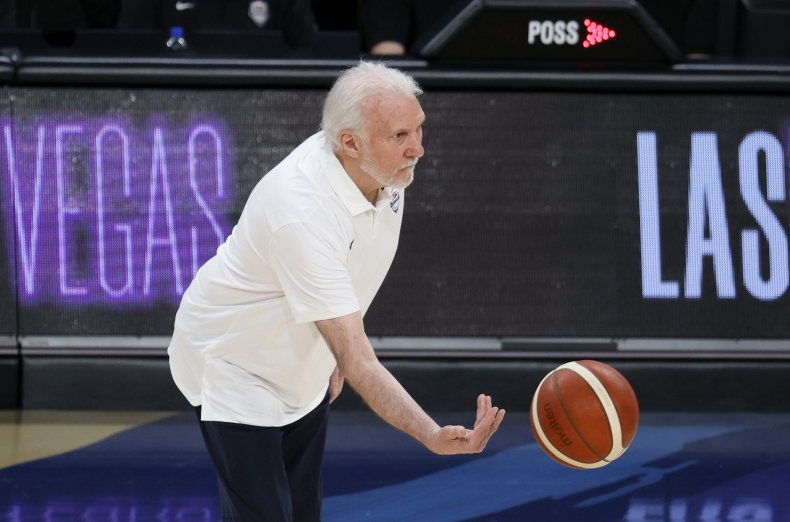 Before Lillard could answer the question, Popovich intervened and rebuked the reporter for the question.
"You have asked the same sort of question last time and you assume things that are not true," the 72-year-old, who has won five NBA titles as head coach of the San Antonio Spurs, said.
"You have just mentioned 'blowing these teams out.' That's never happened."
Having repeatedly complained about being interrupted by the reporter, Popovich then dismissed the suggestion previous iterations of Team U.S.A. had it all their own way.
"When you make statements about us in the past blowing out these other teams you give no respect to the other teams and I talked to you last time about the same thing," he continued.
"We've had very close games about four or five countries, so the good teams do not get blown out. There are certain games that may happen in one of the tournaments—in the World Championships or the Olympics—where someone gets blown out, but in general nobody is blowing anybody out. So when you make a statement like that you assume what's going on and that's incorrect."
When it claimed a third consecutive gold at the 2016 Olympics in Rio, Team U.S.A. won its group games against Serbia and France by three points each, beating Australia by 10.
However, it also thrashed China and Venezuela by 59 and 44 points, respectively and it blew out Argentina by 27 points in the quarterfinals and Serbia by 30 in the final. The semifinal against Spain, on the other hand, was a far closer affair with only six points separating the two teams.
The loss to Australia was only the third time since NBA players first became eligible to represent the national team in 1992 that Team U.S.A. had lost back-to-back games. Team U.S.A. first suffered consecutive losses in the 2002 FIBA World Championship, when it finished sixth, and repeated the feat at the 2019 FIBA World Championship, when it finished seventh.
Lillard, however, insisted there was no need to panic.
"It's not the first time that I've seen Team USA be tested," he told ESPN after the game.
"Maybe not beat two times in a row, but I've seen it before. These other teams and these other countries just continue to improve. These players, they get better, they get more confident and they also want to beat us badly. It's definitely noticeable when you're on the court."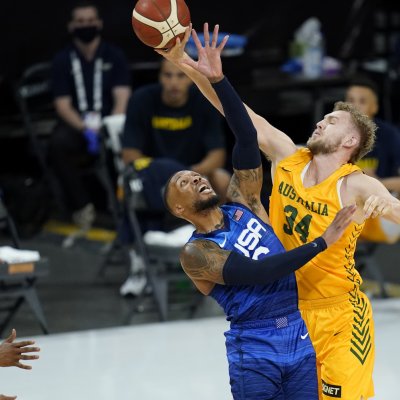 The Trail Blazers All-Star guard top scored with the U.S. with 22 points, while Brooklyn Nets star Kevin Durant and Washington Wizards guard Bradley Beal added 17 and 12, respectively.
Their efforts ultimately proved futile as Team U.S.A. squandered a 10-point lead in the third quarter and were kept without a field goal for the final 4:34 of the game.
Patty Mills, who has been playing for Popovich for the last nine seasons in San Antonio, top scored with 22 points for Australia, with Joe Ingles of the Utah Jazz adding 17.
FanDuel had Team U.S.A. as 16.5-point favorite ahead of the game, but Popovich was adamant there was cause for optimism despite the loss.
"I thought we got better tonight," he explained.
"After a short time together, there's a lot of things that have to be covered, but the first half and the second half were two different beasts."