'Teamfight Tactics' Beta Pass Rewards: What Is the Orb of Enlightenment?
The Teamfight Tactics Beta has finally been released to players, giving them the chance to break the game before it goes live. The mode is simple: draft a team of up to nine champions and have them automatically fight groups created by up to eight other opponents. You can use items to make them stronger, or boost their stats by combining three (or nine) of them together.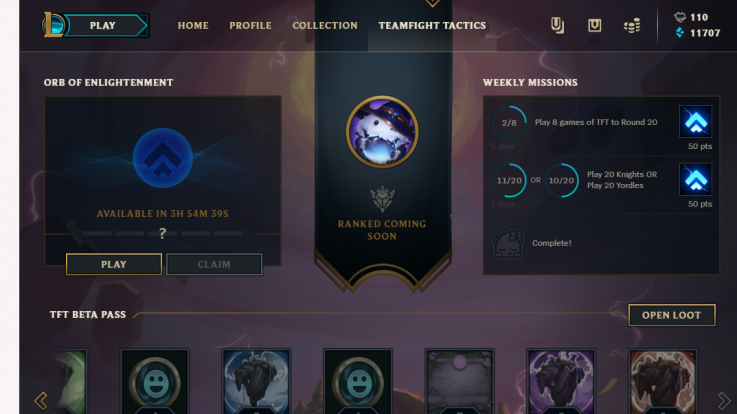 Like many popular free-to-play games released in 2019, Teamfight Tactics has its own Battle Pass called a Beta Pass. By completing missions that reset every week, you'll points toward rewards only available during the beta. There are unique boards to place your champions on, random emotes and exclusive icons to equip in the client. It's a great way to increase engagement for a game that is already highly addictive.
It's unclear when the open beta for this mode will end, so make sure to complete each mission while you can. Playing 20 knights or yordles requires multiple games but isn't a problem once you realize the champion alignments (or check Scarra's cheat sheet).
Here are the rewards for the first Beta Pass for Teamfight Tactics.
Teamfight Tactics Beta Pass Rewards
Tier 1: Starter Little Legend Egg
Tier 2: Yellow and Blue TFT Arena Skins
Tier 3: Tier 1 TFT Launch Icon
Tier 4: Mystery Emote
Tier 5: Tier 2 TFT Launch Icon
Tier 6: Mystery Emote
Tier 7: Pink TFT Arena Skin
Tier 8: Tier 3 TFT Launch Icon
Tier 9: Tier 4 TFT Launch Icon
Teamfight Tactics Orb of Enlightenment
The Orb of Enlightenment grants bonus experience, allowing you to move up your Beta Pass faster. My first click granted 80 extra XP, allowing me to unlock the Starter Little Legend egg after just a few games. The Orb resets every 24 hours from the moment you first click it. Knowing how to maximize your Orb XP is the only way you'll be getting the tier nine ranked rewards and other items.
The Orb is a great way to keep players glued into Teamfight Tactics. The weekly missions take a lot of time and energy, but only grant a small portion of Beta Pass XP. Giving players an incentive to log on once a day might pull them back into another game or three .
If you'd like to learn more about Teamfight Tactics, check out our guides:
'Teamfight Tactics' Spatula Explained: What Does Golden Utensil Do?
'Teamfight Tactics' Item Tier List and Guide: What to Build on the Board?
'Teamfight Tactics' Beta Pass Rewards: What Is the Orb of Enlightenment? | Gaming