Tear Gas and Arrests Don't Deter Hong Kong Democracy Protests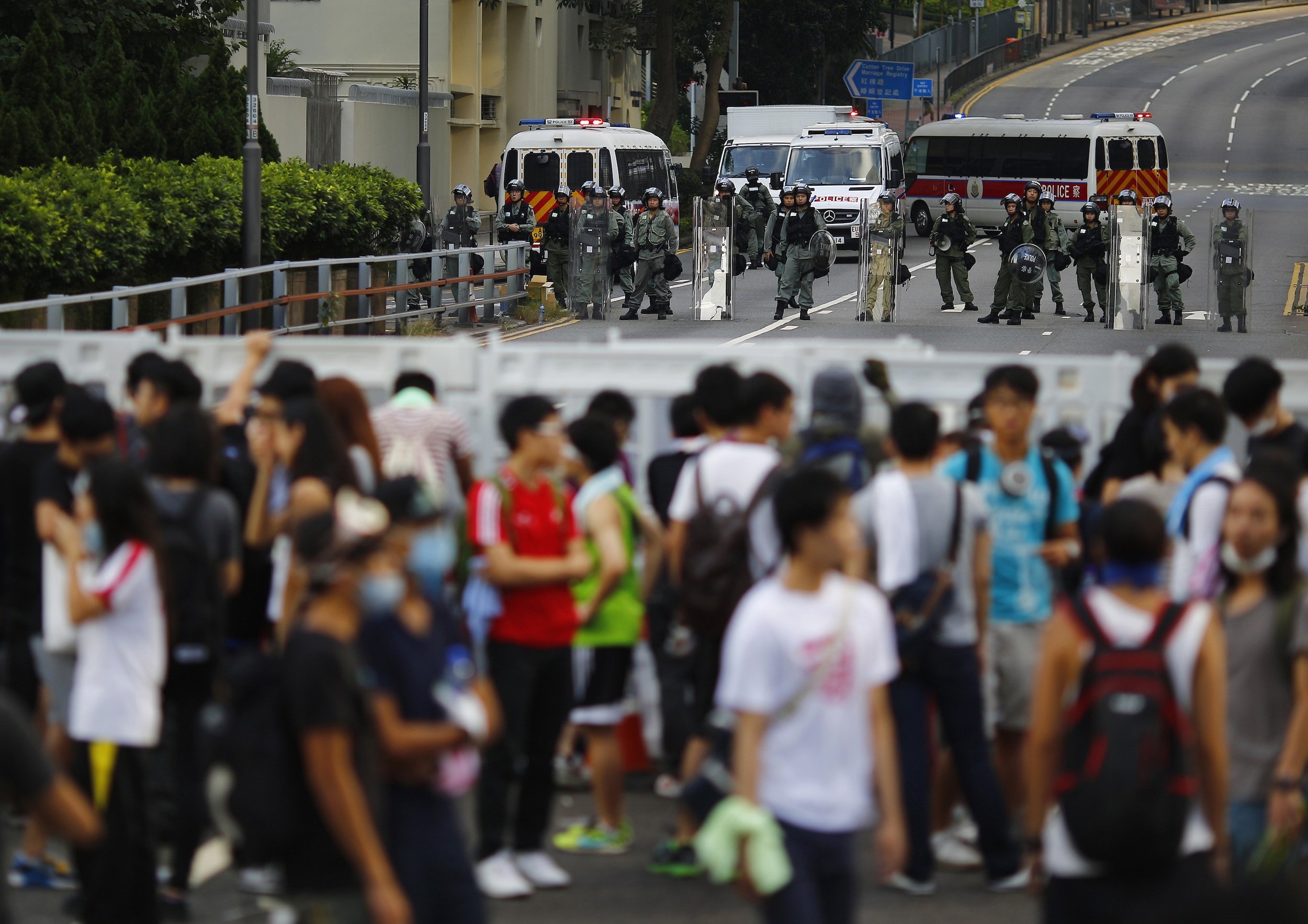 A stand-off between police and demonstrators continued throughout the night in Hong Kong, following a day of high tension, when police fired teargas on a number of occasions, in an attempt to disperse peaceful pro-democracy protesters who were blocking streets in the city center. On Monday morning, several major roads in the city center remained closed, disrupting traffic on the first working day of the week. The Hong Kong Federation of Students, one of the group that organized the protests, meanwhile, called for a continuing campaign of "civil disobedience."
Many of Sunday's incidents took place close to Hong Kong's government headquarters, where the demonstrators, many of them students, had massed to call on China to allow free elections for territory's next leader in 2017, and to demand the release of student leaders detained during protests a day earlier. Observers estimated the numbers at at least thirty thousand by the afternoon.
After several hours of stand-offs, police began firing teargas into the crowd in late afternoon. Leaders of several student and civic groups called on protesters to disperse for their own safety – but many students regrouped and refused to disperse, while several thousand others moved to protest in two other locations, blocking streets in nearby Causeway Bay, and in Mongkok in Kowloon.
A number of leading figures including Cardinal Joseph Zen, the retired Catholic Bishop of Hong Kong, expressed their sorrow at the police's action. Anson Chan, formerly Hong Kong's Chief Secretary under the last British governor Chris Patten, said the police's actions – the first time tear gas had been used in the city for almost a decade, according to local news report – had "shame[d] our government in front of the whole world."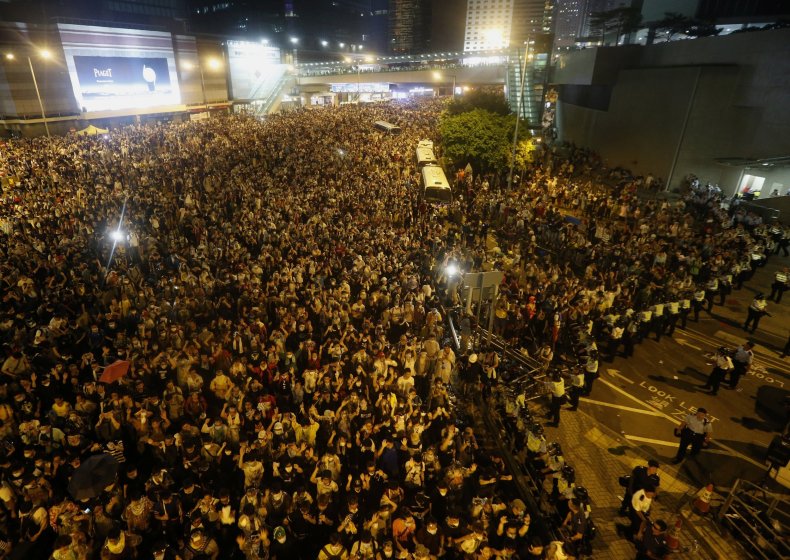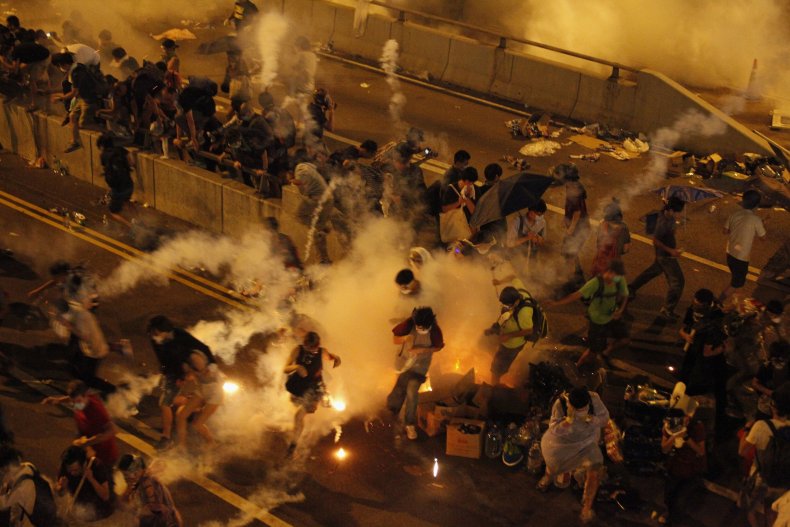 And reports of the violence on local TV and radio actually served to bring other members of the public out onto the streets to express their anger. "This is Hong Kong, an international city," said one middle-aged man angrily, "but the police are behaving just like they do in Communist China."
Hong Kong's Chief Executive Leung Chun-Ying, who has so far resisted student demands to meet with the demonstrators, issued a recorded appeal via a government website for the protesters to clear the streets so that normal life could continue. But many protesters – most of them in their late teens or twenties – said they had no intention of abandoning the protest. "We don't really believe this is going to bring us more democracy," said one young demonstrator, "but blocking the traffic and hurting the interests of big business may be the only way to make the government listen to us" – a reference to the perceived close links between Hong Kong's leadership and the city's wealthy tycoons, many of whom have a good relationship with the Chinese government.
Earlier, in a reminder of the judicial independence which many of the protesters feel they must fight to protect, a High Court judge ordered the release of the leader of the high school student group Scholarism, Joshua Wong, who was detained on Saturday after leading students in an attempt to reclaim control of Hong Kong's Civic Square, a former public meeting space which the government recently built a fence around.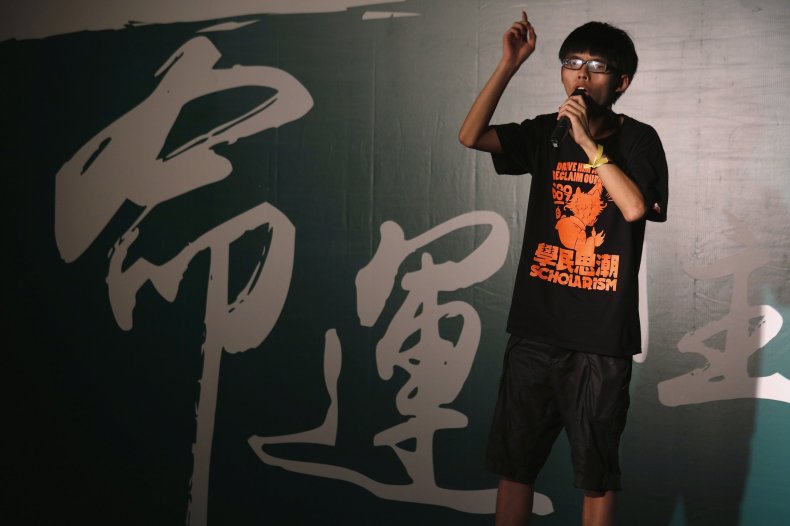 Nevertheless, student unions met in several universities to discuss further strikes, while several unions and civic groups representing teachers, social workers and other professions also called for strikes on Monday – and the government announced that schools in some areas near to Hong Kong's central business and government districts would be closed due to the protests and the disruption caused to traffic.
And with plans continuing to implement the civil disobedience movement known as Occupy Central, which was originally scheduled to begin on October 1st, China's National Day, Hong Kong looks set to face continuing tension in the week to come.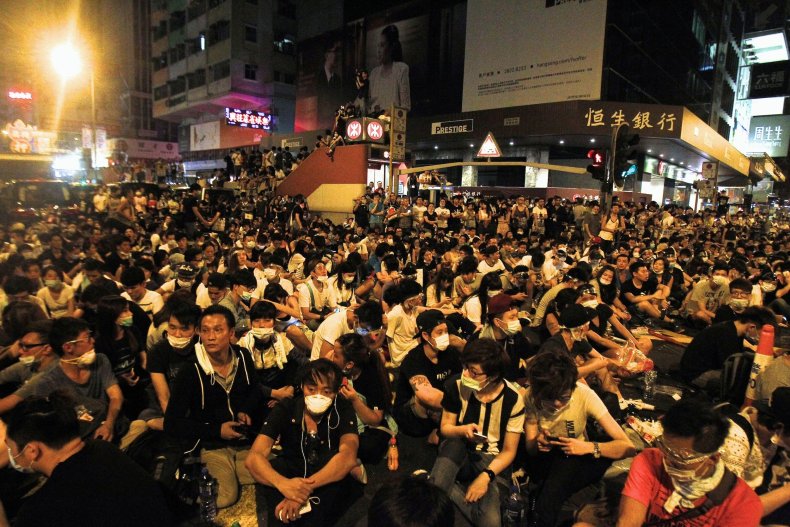 Anxiety is already high: on the streets and on social media sites, rumours swirled that the police might start firing rubber bullets. Yet late at night on Harcourt Road, near the central government offices, young protesters, many of them wearing goggles and waterproof clothing to protect themselves against the effects of tear gas, refused to be intimidated when a line of riot police, who had previously been standing at the side of the road, marched into the center of the crowd, in an apparent attempt to force the demonstrators to leave. Instead, groups of young people who had been resting on a nearby elevated highway rushed down towards the scene, and began chanting for Chief Executive Leung Chun-Ying to step down. They taunted him with his nickname '689', the number of votes he received from the 1200 members of the China appointed selection-committee which nominated him for his post.
Beijing has said it will keep its promise to allow universal suffrage in the election of the next Chief Executive, in three years' time – but it has said only two or three candidates, who must still be approved by the majority of a China-appointed selection committee, will be allowed to run; it has also stipulated that such people must "love China", raising fears that members of Hong Kong's democratic camp will not be allowed to run. China may have misjudged the strength of feeling over this issue in Hong Kong, however: according to one protest banner by the side of the road in Central, Beijing's proposals amount to "North Korean style universal suffrage – You really want this?" it asked.