A video of a senior cow who escaped death by being sent to an animal sanctuary instead of a slaughterhouse has gone viral on TikTok.
The clip was shared by The Gentle Barn (@thegentlebarn), a farm animal sanctuary based in California, Tennessee and Missouri. It has received almost 700,000 views at the time of writing.
More than 39.5 billion animals have been killed for food in the U.S. so far in 2023. Over 36.1 million cattle deaths were reported in the same year, according to Animal Clock. This is a website from Humane Ventures, which "supports startups dedicated to reducing animal suffering through innovative applications of technology," according to its website.
A message overlaid on the video reads: "One year ago, we rescued this senior cow from the meat industry... " The footage shows various clips of a black cow at the sanctuary interacting with different people and other animals. A caption reads that the animal called Story came to the sanctuary at over 20 years of age, "after a lifetime of giving birth and having her babies taken away for the meat industry."
The caption adds: "The man who had her all those years didn't want to 'retire' her—which typically means being sent to slaughter—as they'd formed a bond, so he asked that she be sent to our sanctuary instead."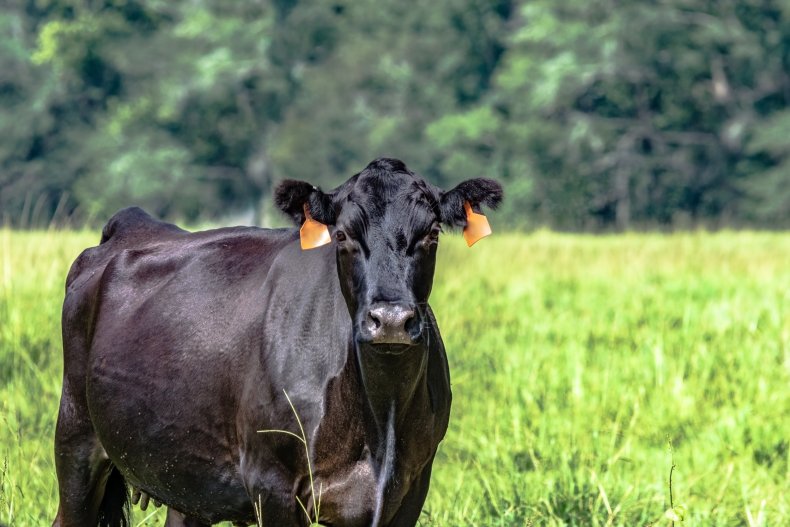 The message overlaid on the latest TikTok clip reads that Story came to the sanctuary "scared and looking empty after suffering so much loss in her life."
Story was introduced to other cows and she later started approaching human visitors. The clip shows Story interacting with other cows in one shot and walking towards some people in another.
"One day she let us touch her," the message added, as a person is seen caressing Story's face, "and as time went by, she learned to trust us."
The video reveals Story now loves to have her chin scratched and that another cow, called Houdini, gives her kisses. The footage shows a brown-haired animal appearing to lick Story's face through the railings of a gate.
Story gets lots of treats like popsicles and cookies and has made so many friends, the note in the clip reads, as the footage shows Story laying next to other animals.
A caption shared with the post reads that Story "needed time to get comfortable with us, but she didn't take long to show us how brave she is and we're so proud of her. Her first year in our farm animal sanctuary has been full of friends, treats, and cuddles from staff, volunteers, and visitors, and we are so excited to give her that for the rest of her life."
'So Much Sadness in Her Eyes'
Several TikTok users were moved by the latest senior cow rescue story.
Scotch and Fam wrote: "look at her eyes... she's seen a lot. glad she's safe now."
User walkers Max crisps agreed, posting that there is "so much sadness in her eyes, she's been [through] sm [so much]."
Amie Tanner Shields added: "People don't understand how great cows are...they become pets just like dogs."
PeteyP simply wrote: "What a beautiful creature."
Lynn commented: "Why am I crying so hard!! She's beautiful.. we need to do better. This world is so cruel to beautiful animals."
User belsky posted: "it's sad that not every animal gets this happy ending."
Newsweek has contacted the original poster for comment via TikTok. This video has not been independently verified.
Do you have funny and adorable videos or pictures of animals to share? Send them to life@newsweek.com with some details, and they could appear in our Pet of the Week lineup.