There was a time when The Tipping Point, Tears for Fears' first new studio album since 2004, might have never gotten made. For almost a decade, the British rock duo of guitarist/singer Roland Orzabal and bassist/singer Curt Smith had been trying to painstakingly piece together a record that matched their high standards, which initially proved difficult amid creative blocks, false starts and a personal tragedy. Even as they had been touring over the years, Smith and Orzabal didn't want to coast on their past triumphs. "At a certain point, over the last seven years, [we] thought that day would never happen," Orzabal tells Newsweek about finishing a new record. "But it did, and it took a while to get there. It was worth the wait. The fact that it's a piece of work that we can both be proud of is very gratifying."
"We definitely had hit that point," says Smith about potentially shelving the album during the impasse. "We started the process and we needed to finish it, and also for us to go play live. The live work was getting a little tedious because of the lack of new material. We've gone through so much...we should have things to write about."
Due out February 25 on Concord Records, The Tipping Point is the group's seventh and strongest studio effort to date. It recalls the familiar elements of Tears for Fears' music going back to the early 1980s: the electronic-influenced modern rock and insightful lyrics that characterized such memorable songs as "Mad World," "Everybody Wants to Rule the World" and "Sowing the Seeds of Love." But the sound of the new record is also wisely grounded in the present. "That was the issue we were having a lot of the time," explains Smith. "What was the depth and meaning behind the songs? And until those songs had a narrative, which is gonna be a current story for us, then it really wasn't working."
"This is the challenge of every artist, especially people who have been around for a long, long time," Orzabal says. "It's whether you are happy to rest on your laurels and just watch the royalties come in. Or whether you are a thinking and feeling human being who is deeply aware of not just what is going on in the world, but also what is going on inside you. When you explore the depth of those feelings, you are touching on something that is universal. And once you do that, your work becomes important again. One of the reasons why this album took a long time is because we were searching for the Holy Grail of a hit single and not looking deep within ourselves."
Another part of the delay had to do with Tears for Fears' previous
management, who suggested that the band collaborate with today's hit songwriters for the new record. Although they tried, Orzabal and Smith eventually found the songwriting-by-committee approach didn't work. "The problem wasn't getting us to write with other people," Smith recalls. "The problem was more the understanding of what the subject matter of a Tears for Fears record should be. Unless you find a songwriter that comes from the same mindset as you do or has the same deeply-held opinions or feelings that you do, then it tends to be a bit of a pointless exercise. But it led us to where we are now."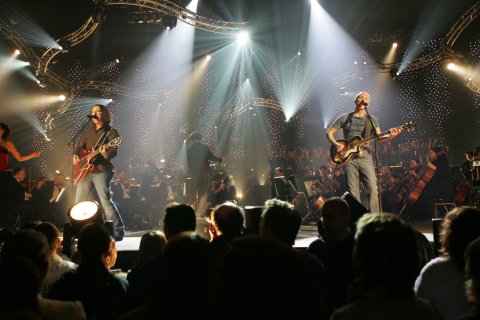 Orzabal and Smith decided that the way to move forward was to do the opposite of what they had been previously doing. An example of that new approach is The Tipping Point's leadoff track "No Small Thing," which opens with acoustic guitar—a noticeable departure for a group primarily known for electronic-driven rock. "We sat down in my house in L.A. with just two acoustic guitars," says Smith, "and 'No Small Thing' was what came out of that. We knew it would make people think. And that is the intention. It's to bring you into the album, and it definitely serves that purpose.''
The album's atmospheric and dramatic title song is quite poignant in the context of Orzabal's personal life following the 2017 death of his first wife Caroline after her battle with depression and drinking. On writing the song, Orzabal says: "It's not catharsis when someone you love is killing themselves basically with alcohol. You don't get over it. I've done grief therapy. I was in rehab a couple of times because I was going that way myself after Caroline passed. I had a fantastic grief counselor here in L.A. She happened to allow me to go nuts. Going nuts—that's catharsis." Also related to the title track is the heartbreaking ballad "Please Be Happy," featuring Smith's compassionate vocal performance. "I find it very difficult to listen, to be honest," says Orzabal. "Because Curt sings it, I don't have to listen to my voice. So he's expressing something else with his beautiful tenor."
Aside from personal introspection, a number of the songs from The Tipping Point examine the world at large. The ebullient-sounding "Break the Man," which calls for shattering the patriarchy in the wake of #MeToo, could be akin to the band's 1989 song "Woman in Chains," but with a difference. "That was really about stopping the abuse of women," Smith says of the previous song. ["Break the Man"] is actually about giving women more power. Roland kind of summed it up: "It's like 'Woman in Chains' meets 'Everybody Wants to Rule the World.' It's got some serious subject matter, but it's a very upbeat track that backs it up."
"Rivers of Mercy," a soulful and majestic ballad, takes inspiration from events in 2020 amid the worldwide pandemic and social justice protests in the U.S. At the time of the song's composition, Orzabal found himself in the beautiful English countryside during the U.K.'s first lockdown while America was embroiled in civil unrest. "There was a conflict between my reality in one part of the world with this desire for peace, and the rage that was bubbling elsewhere," he says. "So that's where the song comes from. We start off with some sounds from the riots and then we try and move away out of the rage."
Tears for Fears' ability to address both personal and worldly concerns has been a hallmark of their career going back to the group's formation more than 40 years ago in Bath, England. Prior to making music together, Orzabal and Smith were teenage friends who came from troubled personal backgrounds during the mid-1970s. "I was like this straight-A student, a little bit nervous," Orzabal remembers. "Curt was a petty criminal. He had a swagger and confidence about him. The first time I ever heard him sing was in his bedroom to 'Then Came the Last Days of May' by Blue Öyster Cult, and he was lost in the music. He had access to an ability to express emotion, which I certainly didn't have at the time as a kid."
Orzabal and Smith's difficult adolescence, along with their interest in the primal therapy work of American psychologist Dr. Arthur Janov, informed Tears for Fears' haunting debut record, 1983's The Hurting. By tackling such serious subject matter, they distinguished themselves from their more pop-oriented and aspirational British musical contemporaries. "We were two relatively attractive young men," Orzabal says of the band's emergence in the early 1980s. "Sadly, it didn't last, but we really very much looked the part. But there was a difference. Side by side with our venture into synthesized electronica was our obsession with the writings of Arthur Janov. We were accepting [primal therapy] as the cure-all. But unfortunately, you can't heal life."
Tears for Fears were catapulted to stardom with their 1985 follow-up record, Songs From the Big Chair. A 180-degree turn from the dark tone of The Hurting, Songs From the Big Chair became the band's breakthrough smash in America. "The idea was really to be slightly more outward-looking," says Smith. "If there was one issue with The Hurting, it was too insular. It was very much introspective. Whereas Songs From the Big Chair not so much, but that's what happens when you stick big guitars on things. There were definitely conscious moves to try and break in America from the record label and our producer Chris Hughes at the time. That was definitely thrown in the mix. But it also gave us a certain freedom, which was great as well."
Following the band's ambitious album, 1989's The Seeds of Love, and the accompanying tour, the musical partnership between Smith and Orzabal grew tense and dissolved. The estrangement lasted until Tears for Fears' 2004 record Everybody Loves a Happy Ending. On his working relationship with Orzabal now, Smith says: "It's functioning."
"And I would say that in many ways, we've gone full circle," adds Orzabal. "I am very—what's the word?"
"Old?" asks Smith.
"Put it this way," says Orzabal laughing. "I'm very grateful to have Curt as a partner, and I probably wouldn't have said that three years ago. Our contrasting personalities fit very well together. I find myself at this tender age of being able to rely on Curt the way I did when I was 19."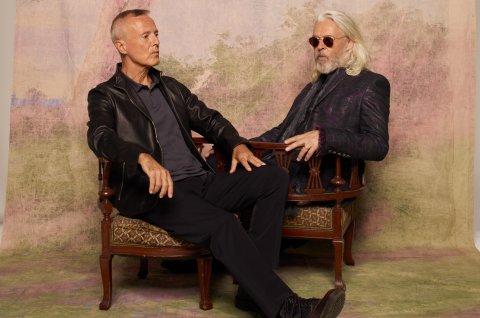 "I think that the interesting thing about our relationship is when it's working, it works really well," Smith says. "You live for those days when it's working, and when it's functioning, magic things happen."
Tears for Fears is scheduled to tour North America beginning in May and will perform songs from The Tipping Point, which seamlessly fit with the old favorites in the setlist. "I don't think there's a weak track on there," says Smith about their latest release. "The story it tells may be the best arc that we've had on any record."
"There's a guy called Steven Wilson, who is an incredible mixer," Orzabal says. "He's been a fan for decades. And he said to me: 'This is up there with the best of your work,' and he particularly picked out 'Rivers of Mercy' as a future classic."
Orzabal adds with a laugh, "I'm hoping that in 20 years' time, some young pop star will cover it and have a massive hit. And then people will go: 'Who's that song by?'"
Further Listening

The Hurting
Mercury, 1983
Tears for Fears' debut album arrived at the height of the early 1980s synthpop movement that included British acts such as the Human League, Depeche Mode and Soft Cell. But instead of following the example of their peers' shiny pop music during the MTV era, The Hurting focused on childhood trauma—the result of the duo's interest in the writings of Dr. Arthur Janov, a psychologist who popularized the idea of primal therapy. The album turned out to be a success in the U.K., yielding the hit songs "Pale Shelter," "Change" and the now-classic "Mad World."
Songs From the Big Chair
Mercury, 1985
Tears for Fears' next record dispensed with the turbulent and psychological drama of The Hurting for something more extroverted and similar to the anthemic rock of Bruce Springsteen and Bryan Adams. Featuring key contributions from producer Chris Hughes, keyboardist Ian Stanley and drummer Manny Elias, Songs From the Big Chair reached number one on the Billboard album chart and sold 5 million copies in the U.S. thanks to such hit singles as "Everybody Wants to Rule the World," "Shout" and "Head Over Heels."
The Seeds of Love
Mercury, 1989
Nowadays, a four-year gap between studio albums by a musical act is not too long of a wait. But at the time, there were huge pressures to follow up the massive success of Songs From the Big Chair. In a departure from its predecessor, The Seeds of Love found the band shifting from synth-rock toward a more organic, live band sound galvanized by the presence of singer Oleta Adams. The album's leadoff single "Sowing the Seeds of Love," an homage to Beatles-inspired '60s pop, went to number two in America; other notable songs included the gorgeous "Woman in Chains" and the elegant "Advice for the Young Heart."