Tears as German Shepherd Comforts Grieving Dog After Owner Dies
A grieving dog finding comfort in her new German shepherd sibling is melting hearts on TikTok.
In a video shared on January 19, user Kasey (@kylo.gsd) explained that Stormy originally belonged to her grandma, who had recently passed away.
Kasey already owned two dogs, a German shepherd called Kylo and a cocker spaniel named Vision. However, she promised her grandma that she would care for the tiny canine, who was heartbroken over her death.
Stormy has since bonded with Kylo, with the emotional footage showing the miniature pooch snuggling up to the GermansShepherd, resting her head on his belly.
In the next clip, Stormy can be seen play-fighting with her new siblings, while another shows Kylo with Stormy, cleaning the top of her head.
"I can't express how much it warms my heart that Kylo brings her such comfort," Kasey wrote alongside the video, which has 1.8 million views and over 360,000 likes.
Do Dogs Grieve for Their Owners?
According to Leigh Siegfried, CEO and founder of Opportunity Barks, dogs grieve for humans or other animals that they're bonded with, just like we do.
"It can trigger so many emotions and has the potential to be a traumatic event," she told Newsweek.
"Owners and dogs share so much of their lives together. Humans can alleviate stress for their animals, and there is a sense of reliability and trustworthiness.
"All we see is a dog sitting on someone's lap, but the bond is much more than that."
She said that Stormy appears to have transferred the emotional and physical connection she received from her owner to Kylo, as he has the appropriate nature to provide the support she is craving.
"The dog isn't like 'oh, you're my person now,' but she is using him as a source of comfort and safety," she said.
"A lot of dogs really seek that physical contact. When you see Stormy laying on the Shepherd, it's a beautiful thing to see them find that connection."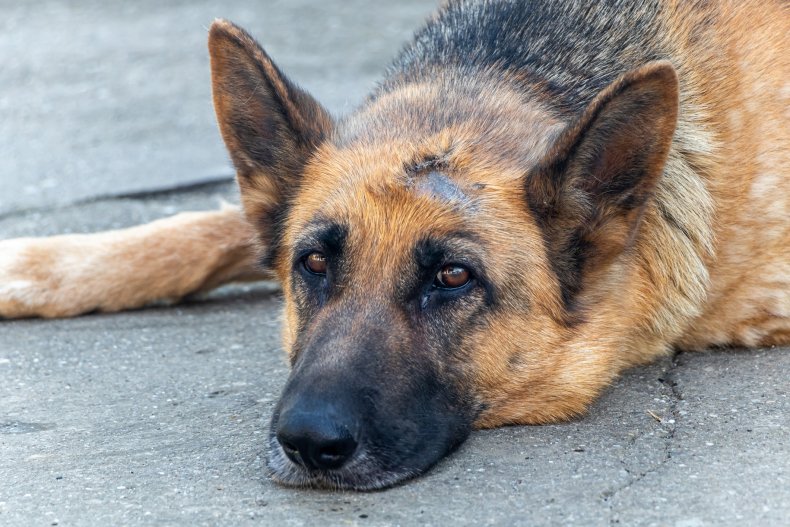 'The Best Big Brother Ever'
The cute clip shows Kylo taking his big brother role seriously. Just one week after moving in with Kasey and her two pets, and Stormy seems to be right at home, thanks to the German shepherd's gentle nature.
"I told my grandma I would keep her dog when she passed away," Kasey wrote alongside footage of a sleepy Stormy resting her head on Kylo's stomach. Acting as a makeshift pillow, the German Shepherd dwarfs the petite pooch.
"I can't express how much [this] warms my heart that she finds such comfort in Kylo."
Kasey ended the video with a photograph of Stormy sitting on her grandma's lap, along with the tribute: "Grandma Pat, Stormy and I will forever miss you."
TikTok users couldn't get enough of the adorable pair, with Col debisafish calling Kylo "her safety blanket."
"I'm not crying, you're crying," wrote Rachel Ellis.
"The best big brother ever," said I_AM_PHAROAH.
"I'm over here sobbing but the cuteness warms my soul," commented user318514.
"Kylo just knows Stormy needs him," said marzy7508.
Stormy and Kylo aren't the only pair to bond under tragic circumstances. A rescue dog revealing its "favorite human" recently melted hearts on TikTok, while a dog supporting a fellow pup with cataracts was chosen as our Pet of the Week in October.
Newsweek reached out to @kylo.gsd for comment.
Do you have funny and adorable videos or pictures of your pet you want to share? We want to see the best ones! Send them in to life@newsweek.com and they could appear on our site.