A tourist brought tears to people's eyes as she belted out a song in Seville's impressive gothic cathedral, with her voice hailed as "angelic."
Stephanie Koffroth was visiting Spain with her family when she took a trip to The Cathedral of Saint Mary of the See, where she was dared to test out the building's acoustics.
Koffroth, from New York, treated churchgoers to a rendition of "Pie Jesu," written by Andrew Lloyd Webber, which stunned onlookers into silence.
Her crisp, clear, voice combined with the majestic acoustics of the world's largest Gothic cathedral produced an ethereal sound which moved people to tears.
Koffroth shared a clip of her singing to her TikTok page, @steph.kc, at the end of February, where it's been seen 2 million times, and can be watched here.
In the on-screen captions, she explained: "My sister and mom dared me to sing at the Seville cathedral in Spain. This is how it went. Then some people asked me to sing again to record! Their reaction at the end. Me taking in the acoustics, being shy, nervous and excited."
She gets a round of applause at the end of her moving performance, which has touched many more people online.
Koffroth shared more information in the comment section of the video, which she captioned: "My fam dared me to sing at the Seville Cathedral in Spain! This is how it went! (My reaction at the end lol)."
She wrote: "100 percent! The acoustics are so beautiful in cathedrals!"
While she admitted: "I was nervous they'd kick me out. But so glad I did do it!"
Her voice has received rave reviews online, while many others also praised the acoustics of the massive religious structure.
Sarahlupinyon wrote: "The acoustics made that sound absolutely amazing. I could listen to this all day long."
Angela Bottrell commented: "Literal chills. Your voice plus those acoustics are magical!"
SpookieFoodie1031 raved: "So angelic!! You have a beautiful voice! Also, these acoustics!"
Angela Marie Hollowa thought: "What heaven sounds like."
"Hauntingly beautiful," Sky reckoned.
Rene Davila365 said: "Okay, your voice is crisp, but those acoustics are magical."
Adam admitted: "That is so beautiful it bought a tear to my eye."
SM observed: "When you began it was if everyone in that place stopped in their tracks. It was as if a literal angel was singing."
Backdoorcurve wrote: "I cried. I was literally reduced to tears."
While Rach added: "I could listen to this on repeat. Voice of an angel."
The cathedral was completed in the 16th century, with its central nave some 43 meters (141 feet) high, while the impressive La Giralda tower is 104 meters (341 feet) tall, according to website Seville City Guide.
The cathedral's pre-eminence saw it listed among the UNESCO's World Heritage List, in 1987, along with The Royal Alcazar and General Archive of the Indies.
Koffroth, who describes herself as a singer and songwriter specializing in musical theater, pop and opera according to her Instagram page @stephkoffroth, was later stunned when Webber's account commented on the video.
She shared a follow-up clip in which she highlighted a comment from @Officialalw, Webber's official account managed by his team, which says "bravo" to Koffroth's rendition.
Webber, an award-winning composer, wrote Requiem, which premiered in New York in 1985, in memory of his father, according to his website.
"Pie Jesu" is the most popular segment which has been sung and recorded by numerous artists, and was originally performed by Sarah Brightman as a duet with Paul Miles-Kingston.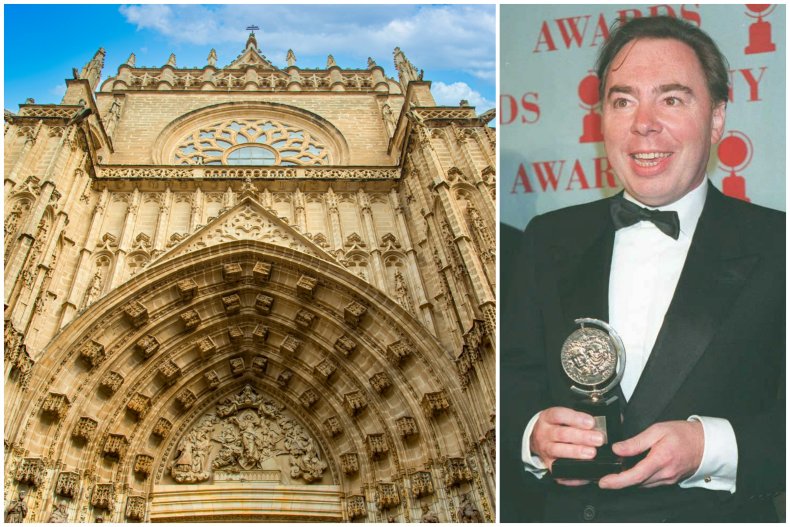 Update 3/9/22, 5:18 a.m. ET: This embedded video was removed due to licensing.