Teasers for 'ISIS TV Channel' Taken Down Before First Broadcast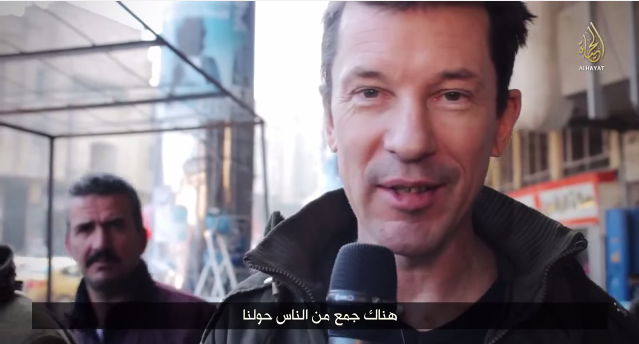 Video footage purporting to be from a soon-to-be unveiled 24-hour Islamic State news channel has gathered momentum in jihadi forums and on ISIS social media, prompting speculation the Islamist group may soon amplify its already high-budget propaganda.
The two 'teaser' videos, both of which are in Arabic, show polished stills of what is allegedly a TV channel called 'The Islamic Caliphate Broadcast', with one showing screenshot images of what appear to be different programmes.
One of the teaser videos previews a still image from a programme called "Time to Recruit" which, according to Haaretz, is expected to provide guidance and instructions on the process of recruiting young Muslims into the ranks of ISIS. The show is advertised to be broadcast on Wednesdays at 5pm "Islamic State Time" (GMT+3).
Also notably one of the stills features British captive John Cantlie, the captured British photo-journalist who has been used as the most frequent English language voice for ISIS in their propaganda videos, last appearing in one earlier this month. He has previously said that he is appearing in the videos under duress.
The Independent has already speculated that the web address for the new channel was initially supposed to be khilafalive.info, however the website was taken down on Saturday after reportedly showing a holding image for the TV channel.
Although ISIS have become renowned for their high budget propaganda efforts, including online video outlets, social media campaigns and an English language magazine called Dabiq, questions have been raised about the authenticity of this latest venture.
Neither Newsweek nor the anti-radicalization think tank, the Quilliam Foundation were able to trace the footage to an endorsement from any official ISIS channels.
According to online extremism analyst and Brookings institution associate J. M. Berger, there was little evidence that the planned TV channel had any official ties with ISIS.
"There is currently no indication the TV channel is official, although that could change later. It is also not currently functional, if you look at the web page," Berger said.
Since overrunning the northern Iraqi city of Mosul in the summer, ISIS have been able to broadcast their own radio station and have made at least two attempts to start their own TV station. When asked about these events, Berger confirmed there were such attempts made in the past, but the outlets had since dropped off radar.
"There have been a number of ISIS TV efforts in the past, including a satellite TV station that was broadcasting out of Mosul in June and one out of Sirte, Libya, in October," Berger says.
"I believe they were at one point rebroadcasting ISIS video propaganda already released online, but I don't know if there was also original content."
Although these media ventures were primarily in Arabic, ISIS have managed to capitalise on their online capabilities, putting out numerous videos, including a propaganda series called 'The Flames of War' on YouTube and other video sharing platforms.
"ISIS also has an official video sharing site similar to YouTube, but it's password protected, so it doesn't get a lot of press," Berger says. "Even if this station turns out to be official, it won't be all that unique."
Once Upon a Jihad, an in-depth ebook on British jihadists by Alex Perry is available now from Newsweek Insights.