Tech Worker Fired After Allegedly Calling Delta Flight Attendant N-Word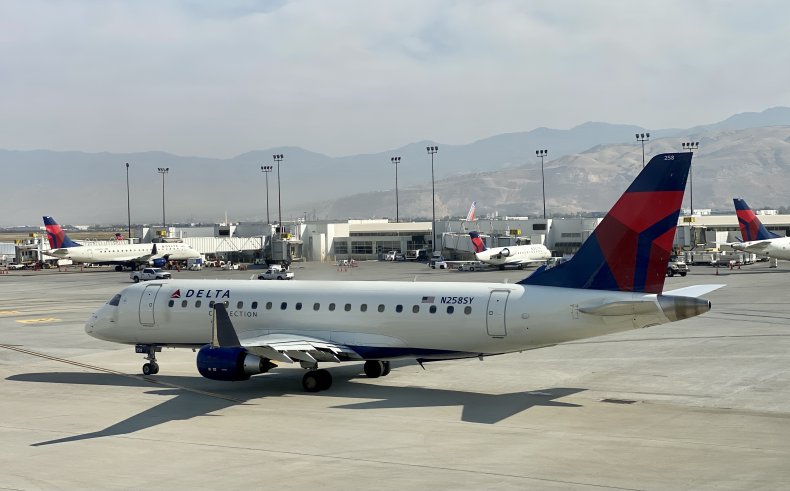 A tech worker from Omaha, Nebraska, has been fired following an incident that allegedly involved a Delta Airlines flight attendant being called the n-word after asking a group of passengers to wear face masks.
Delta passengers bound for New York City on Monday said a group of employees from the Omaha software firm Buildertrend allegedly became intoxicated at an airport bar after holding up the plane by refusing to wear face masks. One member of the group allegedly called a Black flight attendant the n-word when she tried to enforce the rule, according to The Omaha World-Herald.
The passengers were forced to deplane before taking off in Omaha.
"When we got on the plane, that group of Buildertrend people were seated near the rear of the plane. We were in first class, but we could all hear them," passenger Laura Austin told the World-Herald.
Austin said that the flight attendant appeared to be "very shaken" after confronting the group.
"She told us that she asked some people to put their masks on, and someone called her the N-word," said Austin. "She was very upset because here she is trying to do her job and that happens."
Dan Houghton, CEO of Buildertrend, said in a statement on Wednesday that one employee had been "terminated" for behavior that did not "align with Buildertrend's values and standards of conduct."
Buildertrend was alerted to the incident after other passengers on the flight tagged the company in tweets about the racial slur on Monday.
"@Buildertrend one of your employees just called a flight attendant on my @Delta flight the N word & are being kicked off for that + not wearing masks," user @StatueofIBBertY tweeted. "Pro tip: if you're going to send a whole BDR team on a plane & they're going to be a**holes, don't give them masks w/ your logo."
"Just had to de-board a flight home from Omaha due to 15-20 employees of @Buildertrend being drunk, not following any kind of on-plane rule and culminating with one of them directing a shout of 'f***ing n-word' at a @Delta employee who asked them to put their mask on," tweeted user @Dal_y.
Buildertrend thanked the passengers for flagging the incident on Twitter while insisting that the company does "not stand by any such behavior." The statement from Houghton later noted that an internal investigation of the incident was underway and offered apologies without explicitly addressing the slur.
"We take these accounts of unacceptable behavior extremely seriously," the CEO wrote. "Based on actions that do not align with Buildertrend's values and standards of conduct, one employee has been terminated. We continue to investigate the incident and are working diligently to determine all requisite next steps."
"Buildertrend shares the frustration, disgust, and concern that many have expressed in the wake of this incident," he added. "We sincerely apologize to the passengers and employees of Delta Air Lines; to our employees and customers; our partners in business and philanthropy; and to the communities we serve."
In a statement to Newsweek, a Delta spokesperson said that the flight was forced to return to the gate in Omaha "due to unruly customers," who were removed before the flight eventually made an uneventful journey to New York's LaGuardia Airport.
"All customers were deplaned for their safety, and the flight later continued safely to LaGuardia after the unruly customers were removed from the flight," the spokesperson said. "Delta has zero tolerance for unruly behavior at our airports and on our flights, as nothing is more important than the safety of our customers and flight crews. We apologize for any inconvenience this may have had for our remaining customers."
Tim Conahan, of Omaha Airport Authority Police, told the World-Herald that four members of the Buildertrend group were "extremely cooperative" after being forced off the flight and allowed to book different fights. No charges were filed.