The Technology Driving the Latest Trends at the 2018 New York International Auto Show
The New York International Auto Show gives leading car manufacturers the chance to show off their latest vehicles to the world. It's also a great opportunity to show advancements made in the automotive technology space. Host and producer of Motorz, Chris Duke, met with Newsweek to discuss the new advances in technology found in cars that are currently available, and what improvements we can expect to see in the next few years.
Self-driving cars have been the talk of many companies, from shipping to taxis. Duke says there are advancements customers can find in cars already, but don't expect to sit back and check Facebook on your phone during your morning commute. "Fully autonomous vehicles are still quite a ways out, but semi-autonomous features that are available right now are in production," he told Newsweek.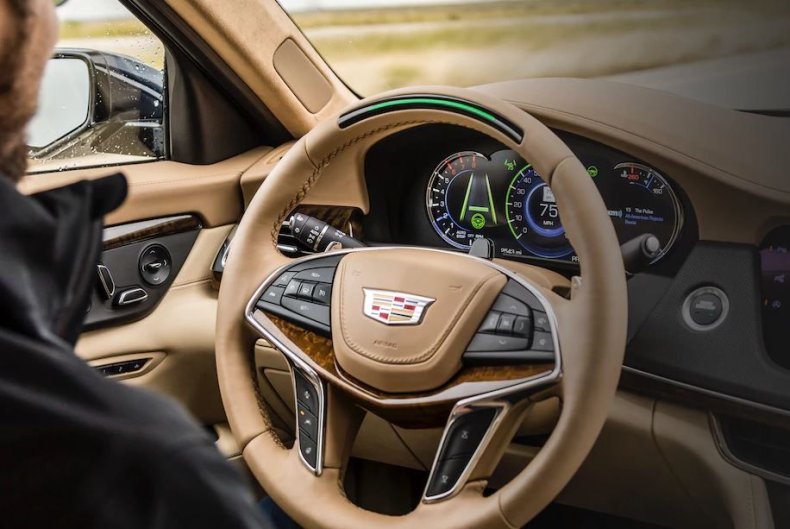 One example Duke pointed to is the Super Cruise feature available on the Cadillac CT6, which enhances cruise control. "Super Cruise takes it to the next level, which is a lane-keeping system," he said. "The over 130,000 miles of highways in the US and Canada are Lidar mapped, and this system keeps the vehicle within four inches of accuracy within the center of the lane." It's possible the system can be interrupted by bad weather, poor lighting or the lane markers not showing up as they should, so the system has a camera pointed at a driver's face to ensure eyes are kept on the road at all times.
"If you wander off, it will start to alert you," said Duke. "There's an LED bar at the top of the steering wheel that will flash red. If that still doesn't get your attention, it starts doing haptic feedback on the bottom of the seat. Beyond that, there are audio cues. If it still can't get your attention, OnStar will call you. Worst-case scenario, the vehicle will slow to a stop and OnStar will alert the authorities to your location and go from there."
Super Cruise is available in any Cadillac CT6 made after Sept. 6, 2017.
Other technology upgrades aim to make your daily commute easier. A common trend across all car manufacturers is the infotainment center, often found in the front console. Thanks to improvements to wireless technology, GM has looked to combine the infotainment center with many features found on tablets and smartphones.
"GM just rolled out a new feature called the GM Marketplace. It's basically an app store, that was rolled out in December 2017," Duke said. "All the customers with 2017 or newer vehicles automatically got this new feature. Not only is it used to deliver new features, but it allows for bug updates for the software as well." Duke emphasized any updates to the car's computers wouldn't be delivered wirelessly, and would be kept separate from any infotainment updates.
As of right now, the only app available in the GM Marketplace is the Dunkin' Donuts app. This allows for users to sync their existing Dunkin' Donuts account, allowing users to order a morning coffee and bagel with the push of a button on the way to the shop. Other apps for companies like Starbucks are currently in development, and Duke says even more features are expected in the future, like a way to make dinner reservations from your car.
"Another thing they have right now are deals with companies," said Duke. "If you're near a certain store, you'll get an offer that pops up on the display that will give you a discount if you go in and buy something."
The infotainment center upgrades are thanks to the addition of 4G LTE service as an add-on option for GM vehicles. "It's pretty affordable, with the lowest tier priced at $10," Duke said. "It's a no-brainer if you have kids and you need some light internet access."
Another surprising new tech feature can be found in this year's Buick Regal. It features an "Active Hood" that makes crashes safer for everyone involved. "The Buick Regal has a new 'active hood' that has a mechanism that, once a crash is detected, pops up the back of the hood to create something like a cradle," Duke explained. "If you happen to be driving into a human, a bicycle or something like that instead of hitting a hard, flat object, it pops up a little bit to be like a catcher's mitt. That's not something I've seen anywhere else."
While Duke thinks fully autonomous vehicles are at least a decade away, he predicts the next few years will bring more safety features like the active hood to a wider variety of vehicles, as well as more infotainment-type advances. He also expects to see more environmentally friendly cars. "There are some countries that are going to stop selling all internal combustion powered cars in the next 10 or 20 years," he said. "You're seeing that reflect with more hybrids every year and more electric vehicles. The big engines are, sadly, on their way out unless you get into the trucks and luxury vehicles, but even those are becoming more fuel efficient."
With the increase in technology and fancy features, the price of cars is trending upward by an average of $500 since last year. Companies like GM recognize this trend and have introduced programs like the BuyPower Card.
"The GM BuyPower Card allows people to spend on their everyday expenses, and earn rewards toward their next car," Duke told Newsweek. "It's 5 percent up to $5,000, and it's 2 percent after that. It kicks back to 5 percent again on your annual renewal date. It's actually quite a bit of money. It's just a regular credit card you can use and you can earn towards any GM vehicle to purchase or lease."
The BuyPower Card is available to apply for right now. If you're in the market for a new vehicle, it might be worth checking out.
So what do you think? Are you excited to see more and more technology enter into the automotive world? Do you want fully autonomous cars or do you still enjoy driving around yourself? Let us know your thoughts in the comments section below.