How an English Coach Helped China's Football Boom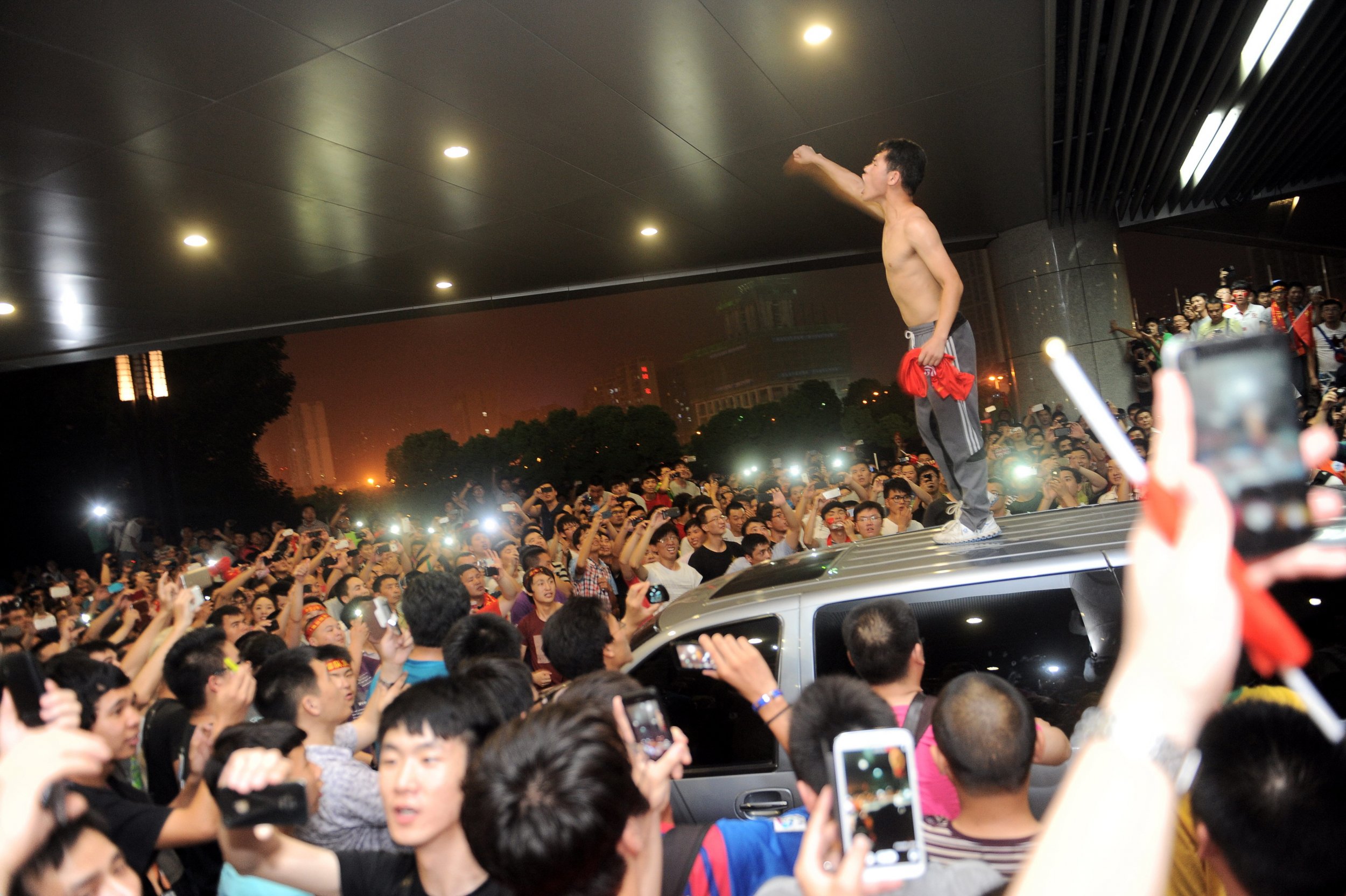 "When I first got out to China, I used to wake up in the morning waiting for the boy to take me to the training ground. There would be miles of people on cycles, on the front they would have a dead pig, just been slaughtered. They would have chickens on the back. And I have even seen people with their kids on the bike. And one particular time there was a commotion near the hotel where apparently they found a little dead girl in the gutter. At the time, they could only have one child. And apparently somebody told me it was a little girl. Somebody told me they didn't want little girls because, you know…"
Ted Buxton leaves that sentence unfinished, the image vivid and awful enough not to require elucidation, an extraordinary memory from a life crammed with them.
Buxton, now 82, found himself in China almost by chance, seven years before the Chinese Super League began and more than a decade before Chinese club football began to register as a serious threat to European wealth and hegemony.
"It was a strange thing," he explains with understatement. "Me and Terry Venables finished with England and Terry was due to go to Australia with the Australian national team. "For the Asian Cup I think it was. I was going to go with him but then I got this call.
"I was doing interviews, it was that time Terry said he wouldn't carry on with England, unless they extended his contract to the 1998 World Cup. So he resigned. Anyway the journalists there in Beijing said to me off hand, what will you do? It was just a throwaway question. I said, I'll probably come back and work here, in China. Lo and behold, when Terry resigned I got the call. They asked if I would be technical advisor to the coach. So I went out."
Buxton had been one of Venables' assistants and coaches at Euro 96, that ineffably swaggering summer when football "came home". Paul Gascoigne flicked the ball over Colin Hendry's head at Wembley; England celebrated by squirting water in his mouth, referring to an incident earlier that summer when Gascoigne, Teddy Sheringham, Steve McManaman and Robbie Fowler had enjoyed themselves overexuberantly in Hong Kong's China Jump nightclub. Karel Poborsky, later of Manchester United, scooped a Hogarthian lob against Portugal. England, of course, went out on penalties to Germany in the semi-finals, Gareth Southgate, two decades later England manager, missing the crucial kick. Venables and Buxton knew their fate before the tournament began: the English Football Association had already announced a successor, Glenn Hoddle.
As England looked to the 1998 World Cup, in France - that would end in tears and recriminations, too - so China had the same aim, though with less hubris. The country had never qualified for a major tournament before, and Buxton, with his vast experience, could be its conduit.
He had been to the Far East before - laying the groundwork for England's ill-fated pre-Euro 96 jamboree to China - and on National Service in the Malayan Emergency in the 1950s, fighting the Chinese. That caused some discomfort with his new employers.
"I went to the Chinese Embassy up in Portland Square for a little bit of a get-together," he explains. "Two of the Chinese officials pulled me over. They weren't happy with what they had read [a Daily Mail interview in which Buxton had described the action he saw]. I said to them listen, you started that, you went into Malaya. That was ours. So we had to fight, and you put your boys in there as young as me. Anyway in the end, I talked them out and they were fine with it."
The butcher's boy from London's East End had more immediate concerns than potential diplomatic incidents when he took up a post as Technical Director to the Head Coach for the 1996 AFC Asian Cup in Saudi Arabia.
"I flew out to the Middle East, they [China] had got through one round then lost the next game. They then won a game and I went to the quarter-finals with them. The interpreter I had was awful, he couldn't understand my Cockney accent. When I had meetings with the team, I could see them looking at me very strangely. The goalkeeper came over to me and he said, in English, we understand what you're saying but he doesn't. So when I got back to Beijing I said, 'This isn't going to be good enough.' They got me a young lad from Beijing University who was learning English, and he was absolutely perfect. And he used to run around with me on the training ground, he said exactly what I said. Even the industrial words."
It sounds the kind of material to put sketch show writers out of business. "After the Asian Cup, I took out a tape of the Arsenal back five," Buxton recalls. "I showed it up on screen, said this is how we've got to play. We've got to squeeze up, intimidate the linesman. Offside, you've got to get that. We had that on the training pitch, and they [the players] got it. But they were too quiet, so I was saying to Sammy, my interpreter: 'Tell them to get their f******* hands up. Offside, that's what I want. Push up and squeeze the play, but get your arms up like [Tony] Adams, watch Adams do it…' But he interpreted everything I said. So all the f'ing words went in. Now that's in the Chinese vocabulary, I think."
What was life like, away from football? Long before the influx of European coaches and stars from across the globe, it's easy enough to imagine fin-de-siecle China as a lonely place, Buxton like Bill Murray from Lost in Translation with a football, without Scarlett Johansson.
"The first hotel they got me, it was a bit barren, is the word," he says. The Kunming was our training ground, where they breed all the ducks for the restaurants. When I got down there it was like a boot camp, that's all it was. When they said to me, 'This is your room,' I said, 'No it's not. I'm not having this.' To cut a long story short, I was put in a hotel every time and had a chauffeur driven car take me to training. That was sorted, everything was fine, you know…"
Apart from on the pitch. China was serious about qualifying for a World Cup - it would achieve the goal four years later - but it needed serious opposition. Buxton took his players, including future Premier League defenders Sun Jihai and Fan Zhiyi, on an illuminating trip to England.
"We played five games over here," he recalls. "We beat Nottingham Forest, Crystal Palace, Chelsea and drew with Arsenal." The Crystal Palace game stood out for a culture clash between youthful Chinese willpower and a skillful English veteran winding down his playing days.
"The Chinese don't like getting beaten. When we played Crystal Palace, Ray Wilkins was still playing. 'Butch.' In the first half we went 2-0 down. At halftime we put all the big guns on, Sun Jihai, Fan Zhiyi, and I said to Sun Jihai, 'See that fella over there [Wilkins], he's running the show. His legs are going but he's running the show, now I want you to stop him. So they wired into the Palace side and we went 3-2 up.
"Ray took himself off, and he walked over to me and he said, 'If that's the way you want to win games, you're a f****** disgrace.' I said, 'Ray, if I win I don't care how I f****** play.' But we're still good friends. We went through those five games undefeated, which was a good thing."
Buxton recalls Chinese players who would "run through brick walls" for their coaches, though he would not stay long enough to coach China at its first World Cup - by Japan and South Korea 2002, the FA was using him again as a scout for England's opponents in that tournament. He watched the Brazil side that would beat Germany in the final dismantle an overawed China team 4-0 in Seogwipo as part of Sven-Goran Eriksson's setup.
Almost 15 years later, the Chinese Super League prepares for the start of the 2017 season as a rival to Europe's biggest clubs, in wealth if not yet quality. Lurid reports of rumored transfers dominated the January transfer window - the Chinese version extended another full month, leading to complaints from Europe of destabilization. Often the truth was almost as boggling as the conjecture - Chelsea collected £52 million in transfer fees for sometime starter Oscar, while Carlos Tevez moved from Boca Juniors to Shanghai Shenhua and denied he was on a world-record £615,000 a week.
Chinese football's fascination with the European game is not new - Buxton says he would regularly take questions on the "discipline and character" of Gary Lineker and Alan Shearer, the two great England strikers of the 1980s and 1990s. But the ability to convince players to Asia has changed, seemingly spurred in part by the idea of hosting, and winning, a World Cup.
"They are out there," Buxton says of the luminous individual talents necessary for China to achieve its steepling aim. Coached by Marcelo Lippi, who won the tournament with Italy in 2006, China made it to the third round of Asian qualifying for Russia 2018 but lies bottom of Group A with five games remaining. "Everybody has to be perfect with the Chinese coaches. If there is a little bit of uncertainty they won't pick them," he adds. "What will help is all these big guns going out there. They will learn off of that."
The idea that Chinese football remains too regimented is an intriguing one. As Venables' chief scout at Tottenham Hotspur and then with England, Buxton saw perhaps the antithesis in Gascoigne, the English game's iconic free-wheeler, his playing days and later life affected by a battle with alcoholism often splattered across the British tabloids.
"Gazza is the perfect footballer," Buxton says. "He would be up against the [Lionel] Messis and [Cristiano] Ronaldos, as good as them. But he had this flaw, in his head. Something was going wrong, all the time. When we first brought Gazza into Tottenham, he wasn't a drinker. I went and met him and his family a few times. All of a sudden he started. Why, I don't know."
The extant hope is that China's next generation will develop into buccaneers with straight laces, talents whose exuberance is confined to verdant rectangles not bars.
And what of the future of Ted Buxton? He is writing a book, and treating his publishers with the same forthright attitude he used on his Chinese employers in those fading days. "They are trying to change it, the publishers, but I won't have it," he says. "[It's called] Somebody Up There Likes Me.' So I said if you want to do that, 'Somebody Up There Likes Me: My Life in Football, by Ted Buxton.'"
The title came from surviving the Blitz and wounds from friendly fire on National Service. "I never felt any fear," he explains. "My dad died when I was 14, he never saw me get on. I always felt, in Malaya, that somebody was looking after me."
Buxton may not be remembered distinctly as Chinese football aims for interplanetary orbit. But his custodianship left an indelible mark on a nascent football culture, not least in the careers of Sun Jihai and Fan Zhiyi, national symbols to this day. China will do well to reach another World Cup in his lifetime. When it does, somebody on terra firma might raise a finger to the sky in acknowledgement of the fortunate contribution from an East End butcher's boy.