Ted Cruz's Rise and Fall Are Rooted in the 2013 Shutdown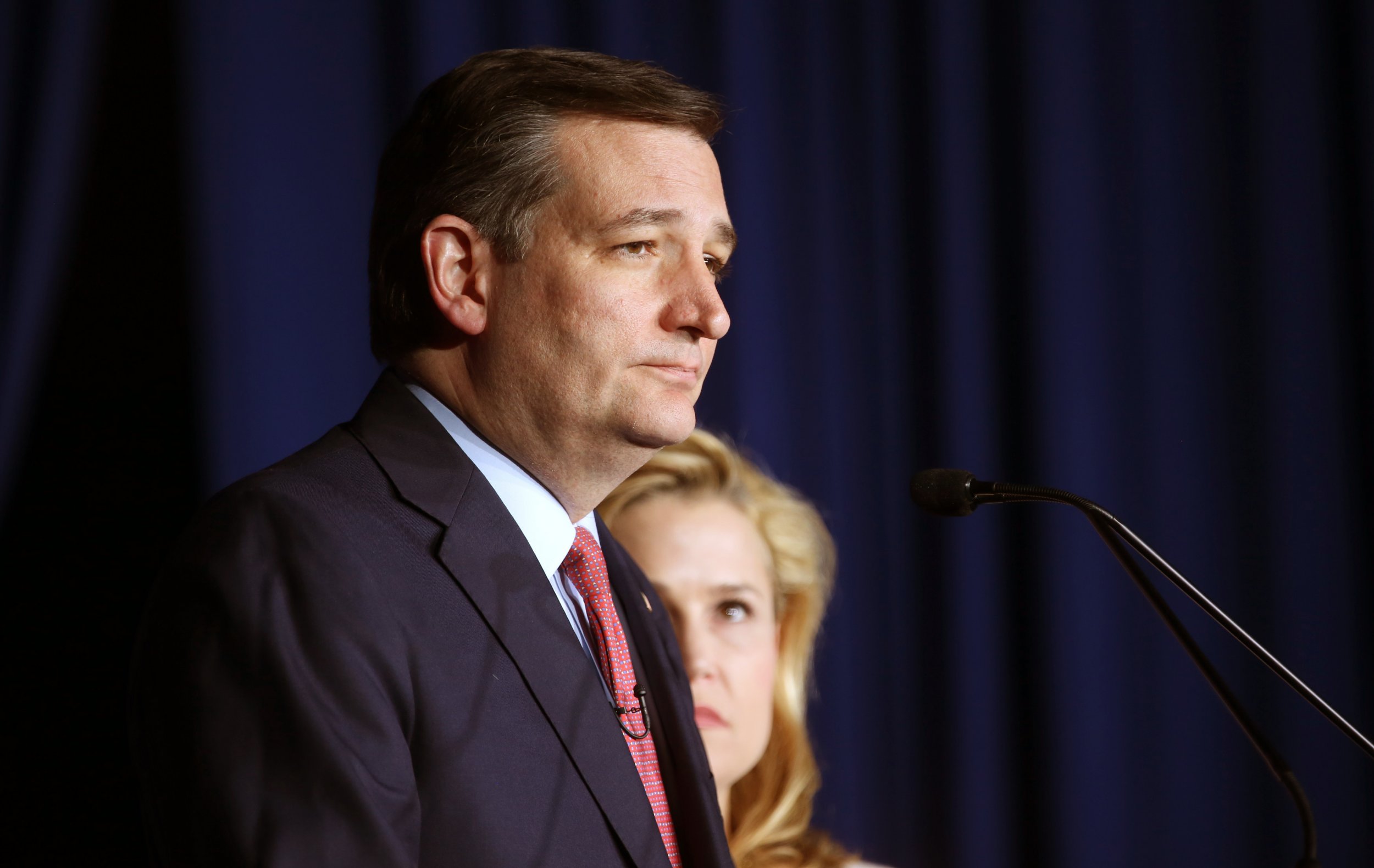 Updated | In the end, Ted Cruz was unable to square the circle in his 2016 presidential campaign. The man who came to national attention as the Senate's ultimate turncoat during the 2013 government shutdown, who was willing to take down the institution and his own party to achieve his most cherished policy goal, could not win over enough of the Republican establishment to stop Donald Trump.
It's not entirely surprising: Running proudly as Washington's most-hated man, while also wooing those very establishment figures he villainized, was a virtually impossible task. And it's not a task the young Texas senator could have at all envisioned when he stepped to the floor of the Senate on the morning of September 24, 2013, to launch into a marathon speech that would last 21-plus hours—part of a futile attempt to block Obamacare from kicking in.
That epic talk-a-thon in which Cruz alternatively quoted Ayn Rand and Dr. Seuss made him a conservative celebrity, as well as the face of what would ultimately be a 16-day federal government shutdown. It also launched his political star within the hard right ahead of the 2016 presidential race, while cementing less-than-favorable impressions within his party's Old Guard. Yet Cruz wasn't actually the one who kicked off the whole shutdown effort, a discussion that started even before he got to the Senate.
When assessing Cruz's failed presidential run, it's hard to escape the 2013 shutdown, which he played an integral role in fomenting. It was an abject failure—at least in terms of the goals Cruz and his allies originally laid out. That his fellow Senate Republicans and the pundit class predicted that outcome from the start only deepened their anger at him and his cohorts. To them, the moment crystallized their belief that the Harvard and Princeton grad had a shaky grasp on how the politics actually work and a much bigger interest in promoting himself than mortally wounding Obamacare. In truth, it's clear from conversations with his aides, allies and critics that he was shooting for both. Positioning for the 2016 race was already well underway, with Cruz and fellow freshman Senators Rand Paul and Marco Rubio all trying to use the chamber as a launching pad. But Cruz also was—and is—a true believer. That's something that helped him win over a sizable chunk of conservatives and enough to be the last real threat to Trump in a presidential primary field that once saw 17 hopefuls.
But it also viscerally turned off another important segment of the party: the pragmatists. Many of those Republicans stuck with other 2016 alternatives, like Rubio or Ohio Governor John Kasich, into the spring, or stayed away from the primary entirely, making it impossible for Cruz to broaden his support into the wave of voters he would have needed to have a shot at blocking Trump's own powerful momentum. In the end, Cruz's tale is the tale of the GOP in 2016, a party that's own internal fragmentation created an opening for a braggadocious billionaire to exploit.
'Not a Hope, a Promise or a Wish'
The origins of the government shutdown lie in Republicans' campaign to take back the House six years ago, when Cruz was still an attorney in private practice in Houston. "You really need to go back to 2010, the fall of 2010, and the 'Pledge to America' that House Republicans wrote," says South Carolina Representative Jeff Duncan, one of the Tea Party–backed members who won his seat that pivotal year. "It wasn't a hope, a promise or a wish; it was a pledge—which carries a little bit stronger connotation—that we were going to repeal Obamacare," among a package of reforms House Republicans promised if they won control of the chamber, Duncan tells Newsweek. "And then we failed to use all the powers at our disposal...to do that."
Republican leaders dispute that they were breaking promises to their members and voters. "I would say folks got pushed off a lot, yeah, but again what we would see is tactics, not strategies," from the Tea Party–aligned members, says Doug Heye, a veteran Republican strategist who was a senior aide for House Majority Leader Eric Cantor at the time. A lot of folks in the Tea Party simply didn't understand what it would take to repeal a law, he said. "If people don't understand how, unfortunately, the process is set up to work...that's a different misunderstanding."
Tea Party members say it wasn't a misunderstanding but a philosophical difference—their argument was that standing their ground would force the other side to yield. Cruz and his allies have since publicly conceded that it wasn't possible to defund Obamacare with the law's architect still in the White House, but privately they say they wanted to lay out a hard starting position and negotiate concessions from there. Republican leaders thought it was a mistake to have that fight on a spending bill, worrying about the long-term damage to the party. It's a disconnect hasn't been resolved, even in hindsight, based on the wildly diverging assessments of Cruz's tactics that emerged in more than a dozen interviews with lawmakers, aides and activists.
In January 2013, Congress's hard-line conservatives in the House gained an important ally in this fight in the Senate, in the form of a combative 42-year-old former solicitor general from Texas. Cruz had ramped up the anti-establishment, anti-Obamacare rhetoric of 2010 to even another level in his victorious 2012 Senate run, upsetting the GOP establishment's choice for the seat along the way. And he didn't soften his tone one notch when he came to Washington.
On January 29, 2013, Cruz introduced his first bill: the Obamacare Repeal Act. At the time, he was able to win over most of his party, getting 41 Republican senators to sign on as co-sponsors (including Republican Senate Leader Mitch McConnell, whom Cruz would later famously battle), but the bill never got so much as a hearing in the Senate. In March, Cruz introduced an amendment to a government funding bill to defund Obamacare. Republican House Speaker John Boehner (who recently went off on Cruz, dubbing him "Lucifer in the flesh") openly rejected it, telling reporters that House Republicans had no interest in shutting down the government.
But it was not Cruz who initially spearheaded conservatives' uprising against Obamacare; it was 42-year-old Utah Senator Mike Lee, who came to the Senate two years before Cruz and was a rising conservative star in his own right—though not a presidential aspirant. Lee and Cruz certainly worked as a team for much of the 2013 Obamacare fight. The night before Cruz's nonfilibuster—the 21-hour speech didn't delay an actual vote—the pair prayed together. But Cruz took the lead on the anti-Obamacare media campaign in August and September, something Lee's camp wasn't always looped in on.
Lee's opening salvo was a July 25 letter to Democratic Senate Majority Leader Harry Reid, signed by 14 Republican senators, informing Reid they would not vote for a stopgap spending bill—a "continuing resolution" in congressional parlance—to keep the government open when current funding ran out at the end of September if that bill also funded Obamacare. Rubio recalls Lee taking the lead in drafting the letter, then circulating it, "and there was a small group of people that initially began to work on it," he says. Cruz and Rubio were two of the signatories, as was 2016 presidential rival Paul. Several other senators signed onto the letter and then pulled their names off, nervous about the implications. In total, 80 House members sent a similar letter to Republican Speaker John Boehner and Majority Leader Eric Cantor on August 21.
Before the letter went out, Lee also quietly convened a private strategy session for roughly two dozen like-minded senators and conservative activists in the conference room of his Russell Senate Building office, a session that laid the groundwork for the September Obamacare showdown. The aim was to build support for pinning the fight to the government funding Congress needed to approve to keep the government open past September 30. "The whole idea was to do an inside-outside—mostly outside—effort to rally the grassroots," recalls Tony Perkins, president of the socially conservative Family Research Council and one of roughly 10 to 12 representatives of outside groups who attended the confab. "If I recall correctly," the ensuing discussion "was a tag-team effort between him and Cruz," says Perkins.
'A Touch-the-Stove Moment'
The soft-spoken Lee, however, remained in the background, as Cruz assumed the role of barnstorming America's conservative strongholds and right-wing media outlets over the course of Congress's six-week summer recess. He warned, in his typical no-holds-barred rhetoric, of the dangers of Obamacare. On August 2, he was in New Orleans, telling attendees at the RedState conservative conference, "We have to stand up and win the argument!" On August 10, it was Ames, Iowa, where he addressed the conservative Family Leadership Summit. A little over a week later, he was in Kingwood, Texas, urging local Tea Party activists to form "a grassroots army of Americans" to demand their elected officials in Washington block funding for Obamacare. He used much the same stump speech each time, down to his go-to quip to loosen up the crowd. "As a result of you being here today, tomorrow morning you're going to be audited by the IRS," he would deadpan.
This anti-Obamacare tour was aimed at cementing the idea that if you really opposed it, you had to be for defunding the government—a premise that, in and of itself, angered pragmatists in the party. Heritage Action for America, the advocacy arm of the conservative think tank, held a total of "nine or 10" town halls around the country on defunding Obamacare, CEO Michael Needham recalls. And Needham says, "A lot of the juice behind August and the national attention the effort got...was Senator Cruz's ability to take [Mike Lee's] letter to market."
With little in the way of news during the August vacation season, the Obamacare defunding push quickly became the topic du jour in political circles. When members of Congress returned to Washington in September, "suddenly I heard my colleagues saying the same things I was," Kansas Representative Tim Huelskamp recalls. Even Boehner and fellow Republican leaders were suddenly on board, after months of resistance. They did not, however, really believe the strategy would work. Among House leadership "it just became accepted that it was going to happen," says Heye. They began referring to the shutdown as "a touch-the-stove moment," he says—i.e., the insurgents pushing the defund effort "need to touch the stove and realize that the stove is really hot and is going to scald them."
'He Sort of Clams Up'
If the mood in the House was one of resignation, in the Senate, it was outright anger. Many in the Republican minority pointed out the defunding effort was mathematically impossible, given the fact that it takes 60 votes (the number to overcome threat of a filibuster) to move anything in the Senate. Yet there were only 45 GOP senators. And they resented being publicly attacked as insufficiently conservative for what they considered a difference over strategy, not principles. "What angered people so much was that he's a smart guy, he knew the votes weren't there, but then he was willing to throw his colleagues under the bus," says one former leadership aide.
By September, frustrated Senate Republicans were confronting Cruz in the party's weekly closed-door lunches. As the weeks wore on and the shutdown took force, emotions frayed. Shouting matches broke out over what the Cruz and Lee's real aims were. The central question, according to multiple people who were present, was, "What is your end game? What are you trying to do here?" The answer, according to one former Senate leadership aide, who was in attendance at virtually of these meetings, was, "If we yell louder and fight harder, we can win"—virtually the same pitch Cruz had made as he drummed up grassroots support throughout August.
Most veteran GOP senators weren't convinced. It also didn't help that Cruz didn't seem to know much about how the institution worked. One exchange with Arizona senator and 2008 Republican presidential John McCain was illustrative.
"Ted Cruz was saying that he could get an amendment done which would open the [Veterans Affairs Department] and open other branches of government," recounts McCain, who was fretting about the impact national park closures were having on his state, which is home to the Grand Canyon, among other popular destinations. The 26-year Senate veteran argued that was impossible, given Democrats' control of Senate procedures. He even brought the Senate's parliamentarian into the conference to vouch for his assessment. "I said, 'Tell him there is no way he can get an amendment up,' and she told him that directly," McCain says. "And he still refused to admit that he couldn't get an amendment up to reopen parts of government."
Cruz's refusal to cede ground or acknowledge his errors didn't help his cause. "When he hears something he doesn't like or doesn't want to hear, he sort of clams up. He nods and thanks the person and then walks away," says the former leadership aide. "Often it is taken as him being completely arrogant and dismissive and whatnot. But I think he's just not good at confrontation when he's not prepared." In fact, the aide said, Cruz one-on-one is "a pretty quiet, gentle guy," an assessment he acknowledged sounded "weird," given Texas senator's fire-breathing reputation. But he "will not go and poke his finger at somebody's chest—that's not him at all. It's usually the other way around."
'Through Confrontation, You Educate'
As the internal GOP debates grew increasingly testy over the course September, more and more Senate conservatives began to lose their taste for an Obamacare confrontation on the spending legislation. Alabama Senator Jeff Sessions joined Cruz for part of his 21-hour stem-winder on the Senate floor September 24, but he tells Newsweek he didn't think tying the defund effort to the government spending bill would work.
"I did not believe it was a great strategy and was not an enthusiastic proponent of the strategy," says Sessions, who is one of Trump's most prominent congressional backers. But "I felt like, you know, he was down here fighting for what he believed in, and I tried to be supportive as I could at that time."
In total, just seven of Cruz's fellow Republicans came to the Senate floor to show their support and spell the Texan by asking questions. When he finished the next morning, the Senate promptly voted to proceed to the government funding bill Cruz had tried to stall, by a vote of 79 to 19.
It was conservatives in the House, not the Senate, who approved the government funding package sans Obamacare, leading to the standoff with the Senate and the 16-day shutdown. Cruz and his allies in the Senate often liaised with those House members, including in an infamous meeting Huelskamp convened with Cruz and other hard-line colleagues at Capitol Hill restaurant Tortilla Coast on October 14, where they tried drag out the shutdown and force concessions from the White House. But Cruz was more the public face of the shutdown; the actual levers getting pulled were on the other side of the Hill. The Texan's omnipresence in the press, and the common knowledge that he was preparing a run for president, convinced many that this was purely a game of self-promotion.
Ultimately, the White House and Republican House leaders reached a deal on October 16 to reopen the government, keeping the Democrats' health care law entirely intact. To most in Washington, the shutdown was an epic Republican fail. Still, some conservatives look back and see a moral victory. To activists, it showed voters their Republican representatives were willing to stand up and fight for what they believed in. "Through confrontation, you educate," as Needham puts it.
"Is that the way to start the fight, by driving the approval rating of your party into the basement?" snorts McCain. "I mean, facts are stubborn things. Look at what happened with the polling, approval, disapproval of Republicans when we shut down the government." Yet as pro-shutdown conservatives point out, the Republicans captured the Senate by a landslide the next year.
The more lasting legacy of the shutdown may be the impact it's had on Cruz himself. On one hand, it made the young senator a national conservative hero, one of a tiny number of Republicans willing to take a stand on principle and not back down despite unrelenting criticism from the establishment. "Without him having taken that stand, I don't think his profile would have been nearly so high as to even consider being a presidential candidate," Perkins allows. On the other, it permanently soured many inside-the-Beltway Republicans on the senator, particularly the influential coterie of current and former party leaders and their staffs.
It turned out that a successful #NeverTrump movement required a broader coalition than Cruz was willing or capable of amassing, one that includes the same Washington power brokers he so deeply alienated in 2013. Some former leadership aides though it would be helpful for Cruz to extend an olive branch to those he's burned in the past. The Senate Majority Whip John Cornyn, Cruz's fellow Texan, one aide noted, "has tried to talk to Cruz. 'Look, come to the Senate, come to this meeting, you can start by apologizing to McConnell for calling him a liar'"—a notorious 2015 flap that angered colleagues. Cornyn, through an aide, denied that an apology was part of the conversation. Even smaller gestures, aides say, showing support or admiration for some of the fights Senate Republicans are waging, like the effort to block consideration of Obama's Supreme Court nominee, would have gone a long way. They never happened.
'He's an Asshole, and He'll Lose'
The other problem for Cruz in 2016 that grew out of the 2013 standoff was a lack of confidence among the party establishment that he really understood how to win big political battles at a national level—not just within the conservative echo chamber. Before he dropped out, Heye said, "There are two reasons anti-Trump Republicans aren't getting behind Cruz: He's an asshole, and he'll lose to Hillary."
Even so, Heye insisted, "I'd have no problem voting for Cruz in November, and if his team asked me to help, I'd do whatever I could."
One of Cruz's colleagues who most vehemently opposed his anti-Obamacare tactics in 2013, Arkansas Senator John Boozman, said in April those episodes were "water under the bridge." South Carolina Senator Lindsey Graham even endorsed the Texan earlier this spring. But like Indiana Governor Mike Pence's tepid embrace of Cruz last week, there was no fire or urgency to the support they offered, which was readily apparent to voters. And a fire is what Cruz would have needed to light to stop Trump.
This story was updated to reflect the fact that Senator John Cornyn denies having suggested Ted Cruz apologized to Majority Leader Mitch McConnell.