Ted Cruz Ambushed by Student, Asked about Cancun Trip in Viral Video
In a video that has gone viral, Ted Cruz declined to respond to questions about his recent controversial trip to Cancun.
The Republican senator was stopped on a street close to the Capitol, apparently for an impromptu selfie, by Noah Mitchell, a Washington-based student.
The video, which has been viewed hundreds of thousands of times and "liked" by more than 30,000 people, features an awkward-looking Cruz ignoring questions on the now infamous Mexico visit in February, when millions in his home state of Texas were left without water and power during a fierce winter storm.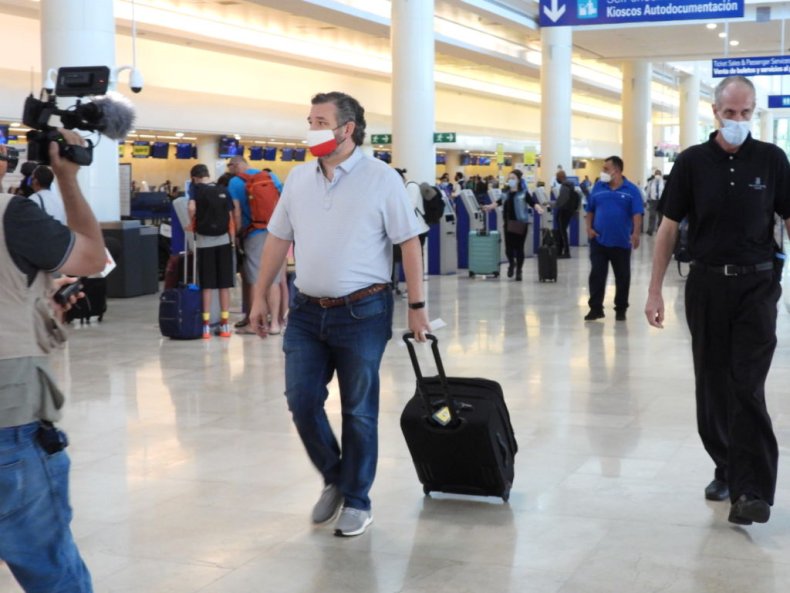 "How was Cancun, senator? Good?" Mitchell asked the former Solicitor General of Texas.
Cruz was seen laughing somewhat awkwardly before Mitchell adds: "You didn't enjoy it? Was it good?"
Cruz responds "Take care" and walks away before the short clip ends.
The senator was strongly criticized at the time, including by Democratic Congresswoman Pramila Jayapal, who condemned his decision to go "on vacation to Cancun" while "people in Texas are literally freezing to death."
Cruz said he had booked the trip for his daughters who "asked to take a trip with friends" since schools in the state were closed.
He later described it as a "mistake" and said had he "understood how it would be perceived, the reaction people would have, obviously I wouldn't have done it."
Newsweek contacted Cruz and Mitchell for further comment.
In a separate clip shared on Twitter by Mitchell, who was described by Mediaite as a political science student living in Washington, Republican representative Madison Cawthorn was asked about his visit to Hitler's Bavarian mountain retreat.
Cawthorn's Instagram account features a post which is location stamped at the Eagle's Nest from 2017. The mountaintop building, designed as a 50th birthday present for the Nazi leader, is open to the public as a historic site.
Like the video of Cruz, Mitchell's clip starts with the Congressman apparently posing for a selfie.
Mitchell asks: "How was visiting Hitler's house?" Hawthorn responds: "No, didn't go there."
Asked what his Instagram post referred to, Hawthorn replied: "That, I believe, was the retreat."
In the Instagram post, Cawthorn referred to Hitler as "the Fuhrer" and said the site had been on his "bucket list" for "a while" and "did not disappoint."
Jewish leaders within his congressional district, commenting prior to his election in 2020, described the Instagram caption as "concerning."
Esther Manheimer, the Democratic mayor of Asheville, the largest city in the 11th Congressional District, said: "It just makes me really sad, actually, first and foremost. It makes me sad, disappointed, worried."
Newsweek contacted Cawthorn's office for comment.