Ted Cruz Asks Merrick Garland If 'Nazi Salutes' Are a Form of Protected Free Speech
Republican Texas Senator Ted Cruz asked Attorney General Merrick Garland whether Nazi salutes are a form of constitutionally protected free speech.
Cruz's question occurred during a Wednesday Senate Judiciary Committee hearing about a recent memo sent from the Department of Justice (DOJ) to the FBI and offices of U.S. attorneys general.
The memo asked the FBI and attorneys to meet with federal and local law enforcement officials to "discuss strategies for addressing ... the rise in criminal conduct directed toward school personnel."
The memo specifically referenced illegal threats and harassment directed toward teachers and school board members. The memo also said the DOJ was not investigating angry remarks made by parents at school board meetings.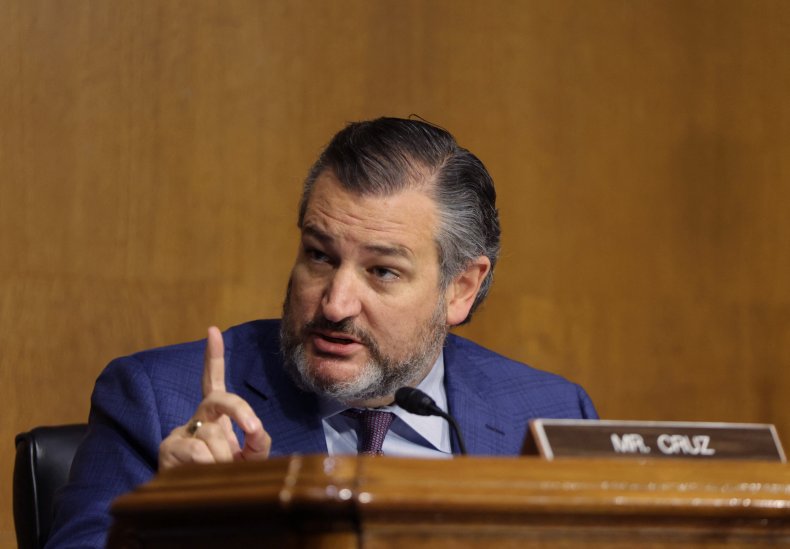 The threats and harassment have soared from parents and protesters opposed to school policies such as mask mandates, the alleged teaching of "critical race theory" and rules protecting transgender students.
During the Wednesday hearing, Cruz accused Garland of exaggerating the threats against educators. Cruz said that most of the alleged threats "on their face are non-violent."
"They involve things like insults. They involve a Nazi salute. That's one of the examples," Cruz said before feigning shock. "My God! A parent did a Nazi salute at a school board because he thought the policies were oppressive."
"General Garland, is doing a Nazi salute at an elected official, is that protected by the First Amendment?" Cruz asked.
"Yes, it is," Garland replied.
Cruz then claimed that Garland's memo to the attorneys general and the FBI had equated the alleged threats to "domestic terrorism." Garland clarified that his memo made no mention whatsoever of domestic terrorism.
Cruz then said that Garland had based his memo on a September 29 letter from the National School Boards Association (NSBA). The NSBA's letter said the "acts of malice, violence, and threats against public school officials ... could be the equivalent to a form of domestic terrorism and hate crimes."
Garland told Cruz that he didn't care about the NSBA's letter. Cruz then asked Garland if the DOJ considers the actions of parents as equivalent to domestic terrorism. Garland said, "That is wrong," meaning that the DOJ doesn't see the criminal threats as acts of domestic terrorism.
The NSBA apologized for its letter in an October 22 memo: "There was no justification for some of the language included in the letter," the memo said. "We should have had a better process in place to allow for consultation on a communication of this significance."
In a similar line of questioning on Wednesday, Republican Tennessee Senator Marsha Blackburn asked Garland if the DOJ put protesting "parents in the same category as a [terrorist like] Terry Nichols or a Timothy McVeigh?"
Garland answered, "My god, absolutely not."
During the hearing, Democratic New Jersey Senator Cory Booker read a list of some of the threats and harassment actually being considered by the DOJ.
"In Texas, a parent physically assaulted a teacher," Booker said. "In Pennsylvania, a person posted threats on social media which required police to station outside of a school district ... I can keep going. In Ohio, a school board member was threatened by a letter with, 'We are coming for you.'"
Newsweek contacted the DOJ for comment.