Ted Cruz Snaps at Debate Moderator When Asked About Civility: 'Don't Interrupt Me, Jason'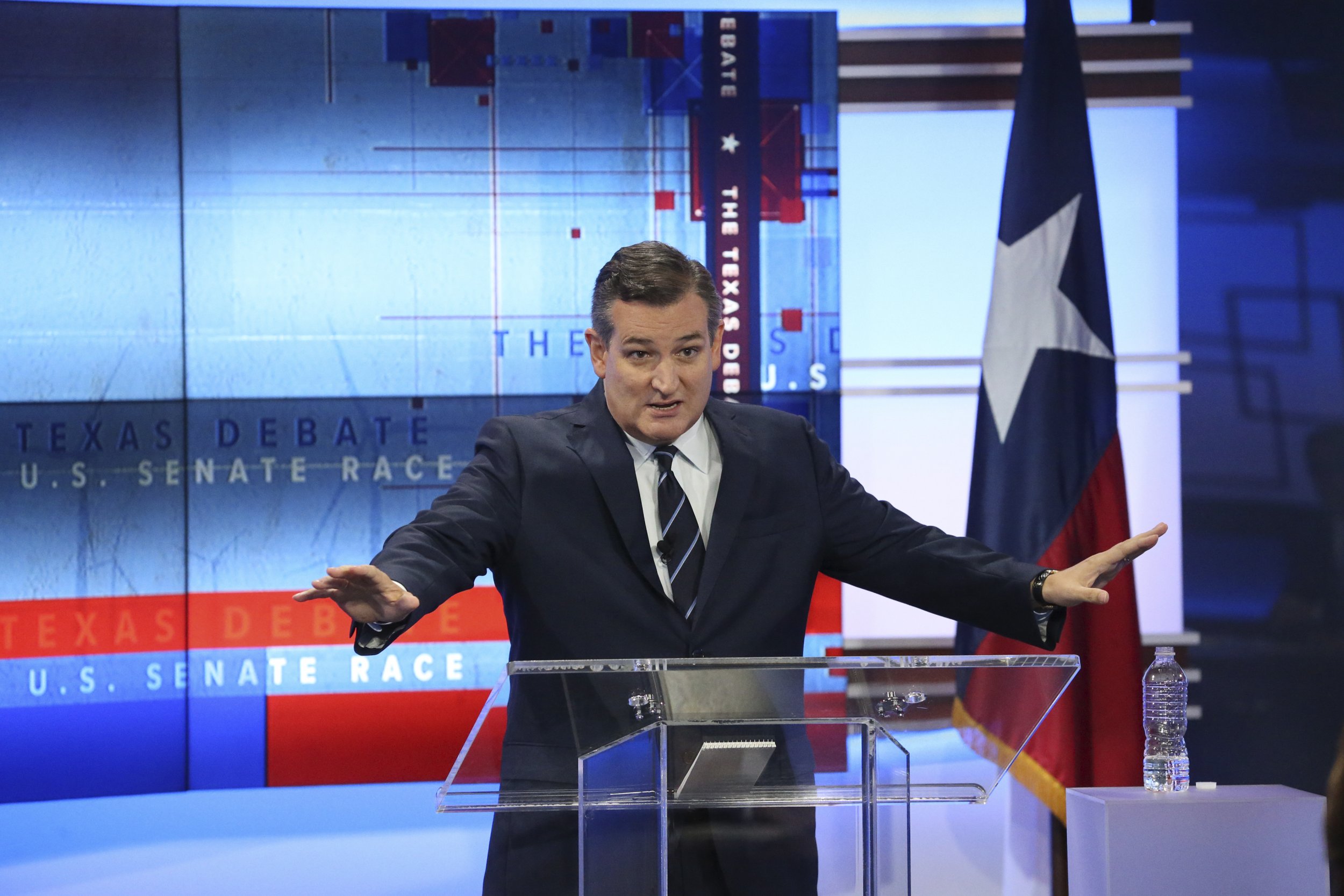 Senator Ted Cruz angrily snapped at a debate moderator Tuesday night while answering a question about his penchant for civility.
The heated interaction move came as Texas Senate hopefuls Beto O'Rourke and incumbent Ted Cruz sparred in their final debate before early midterm voting begins next week.
Speaking in front of a studio audience of about 120 people and on a national broadcast, the two men squared off on issues like election security, access to legal abortions, border security, the deficit and more.
Locked in a particularly close race, the stakes were high for both candidates as they answered complex questions in 90-second windows. Perhaps it was the high tension that caused Cruz to snap during the question on a lack of civility in politics.
When asked the question, Cruz first referenced the recent Republican talking point of angry Democratic mobs protesting Supreme Court Justice Brett Kavanaugh's appointment. The "anger" on the "far left" he said, is frightening.
"There is a loss of civility, there is an anger, there is a rage on the far left that is frightening," the senator said. "The images of the left wing mob beating on the doors of the Supreme Court--that's not good for the country."
Cruz next explained that he tried at all times to remain civil and only attacked his opponents's platforms, never their family or personal lives. "We can disagree while treating each other with respect, while treating each other with civility," he said.
But when Cruz was interrupted by debate moderator Jason Whitely, who said that his 90 seconds were up, Cruz icily retorted. "Don't interrupt me, Jason," he snarled, drawing gasps from the crowd. One crowd member could be heard saying "whoa."
During O'Rourke and Cruz's September debate, both candidates were asked to say something nice about their opponent. O'Rourke focused on Cruz's love for his family and his genuine ambition to serve and do good by his country. Cruz chose to focus on O'Rourke's similarities to Vermont Senator Bernie Sanders and called him a socialist repeatedly. Cruz's answer drew heavy criticism over an apparent lack of respect for his opponent.
Election Day in Texas, and across the country in the all-important midterm elections, is Tuesday, November 6. Polls show that Cruz is leading the race by about seven points, but O'Rourke has so far heavily outraised Cruz with $38 million last quarter, three times more than Cruz.
If O'Rourke wins the Senate seat, he will be the first Democrat to win a statewide race in Texas in over a quarter of a century.