Beto O'Rourke Slams Ted Cruz: Donald Trump's 'Lyin' Ted' Nickname Stuck 'Because It's True'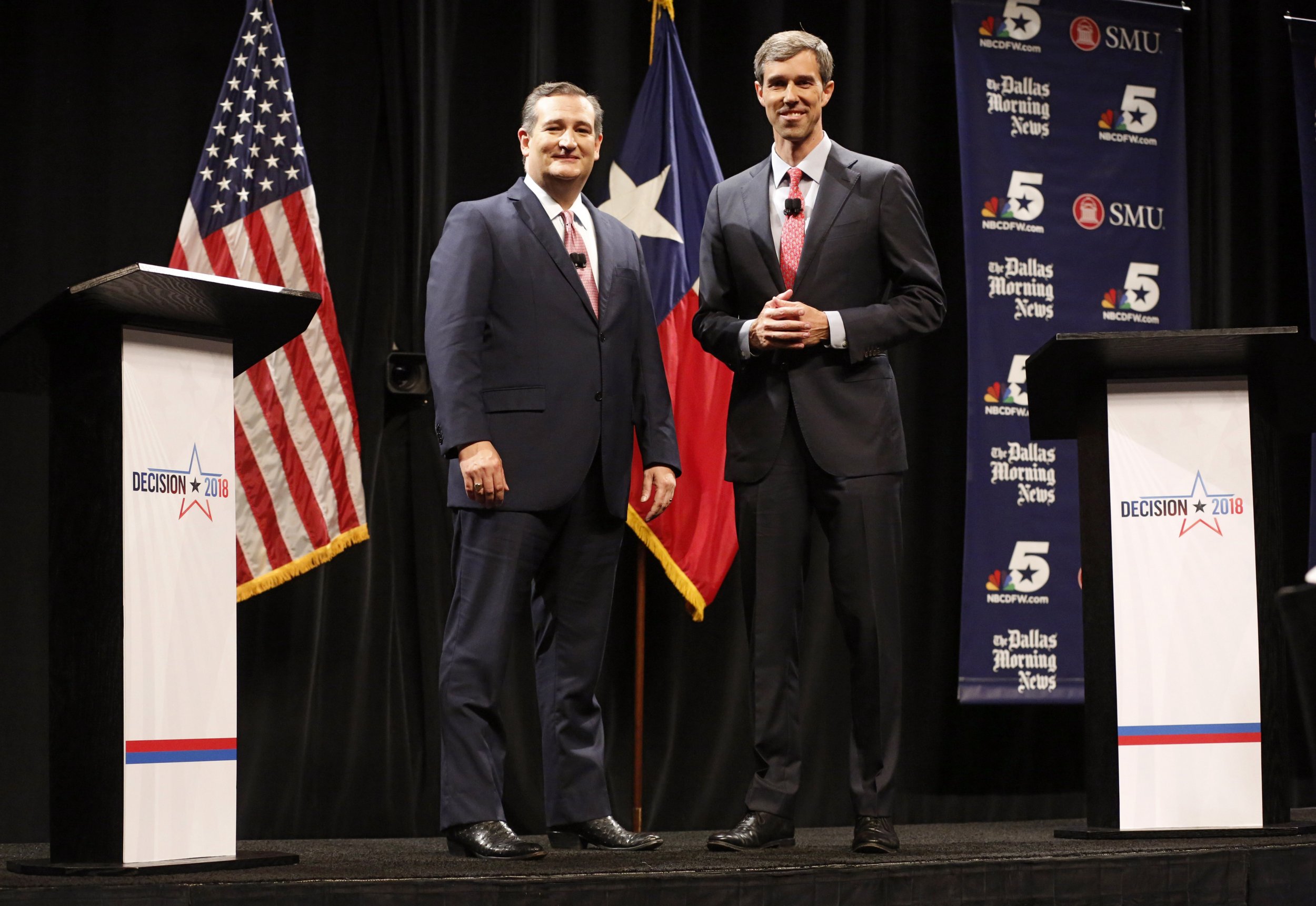 Representative Beto O'Rourke, the Democratic Texas Senate challenger, took a page from President Donald Trump's book on Tuesday evening, borrowing the president's 2016 nickname "Lyin' Ted" to describe his opponent, incumbent Senator Ted Cruz.
"Senator Cruz is not going to be honest with you... He's dishonest. It's why the president called him 'Lyin' Ted,' and it's why the nickname stuck. Because it's true," O'Rourke said during the second senatorial debate.
Cruz took the jab well, and laughed before he shot back at O'Rourke. "Well, it's clear Congressman O'Rourke's pollsters told him to come out on the attack," Cruz said.
Some O'Rourke supporters have been following the Cruz campaign around in a truck blasting President Trump's 2016 tweet about Cruz: "Why would the people of Texas support Ted Cruz when he has accomplished absolutely nothing for them. He is another all talk, no action pol!" goes their message. Trump won Texas by nine points in the presidential election, after waging a primary campaign against Cruz in which he repeatedly insulted the senator's family.
In the previous senatorial debate between O'Rourke and Cruz, the Texas senator said he had decided to look past Trump's insults in order to focus on what was best for the country. Cruz said that the presidential election was "unlike any other," and that he had put aside his hurt feelings because "I've got a responsibility, which is to fight for everybody here and every person in this state."
Still, in a political ad directed by Richard Linklater that was not funded or approved by O'Rourke, actor Sonny Carl Davis attacked Cruz's approval and endorsement of Trump. "If somebody called my wife a dog and said my daddy was in on the Kennedy assassination, I wouldn't be kissing their ass," he said. "You stick a finger in their chest and give 'em a few choice words. Or you drag their ass out by the woodshed and kick their ass, Ted. Come on, Ted."
O'Rourke's dig came in the middle of a heated debate between the candidates. The two squared off on hot-button issues like access to abortion, election security, health care, tariffs and border security and often jumped at each other in disagreement. O'Rourke and Cruz are embattled in a close race that has grabbed national attention.
Tuesday's debate took place before a studio audience of about 120 people and will be the final debate before early voting begins in Texas on Monday. Election day is Tuesday, November 6.