Ted Cruz 'Compliments' Beto O'Rourke By Calling Him Socialist During Texas Debate
Texas Senator Ted Cruz and El Paso Congressman Beto O'Rourke clashed over topics like gun violence, immigration and healthcare during their first Senate debate at Southern Methodist University in Dallas, Texas, Friday night.
The heated debate was cordial until the Texas Senate candidates were asked to say something nice about one another.
O'Rourke complimented Cruz's dedication to his country and thanked him for sacrificing time with his family in order to stand for his beliefs and goals.
Cruz took the opportunity to repeatedly compare O'Rourke to Senator Bernie Sanders and to call him a Socialist.
O'Rourke's response?
"True to form," quipped the Democratic representative.
The two candidates made their differences known during their first of three debates Friday evening. On the subject of immigration, Cruz advocated for a wall and boiled his stance down to four words, "legal, good; illegal, bad."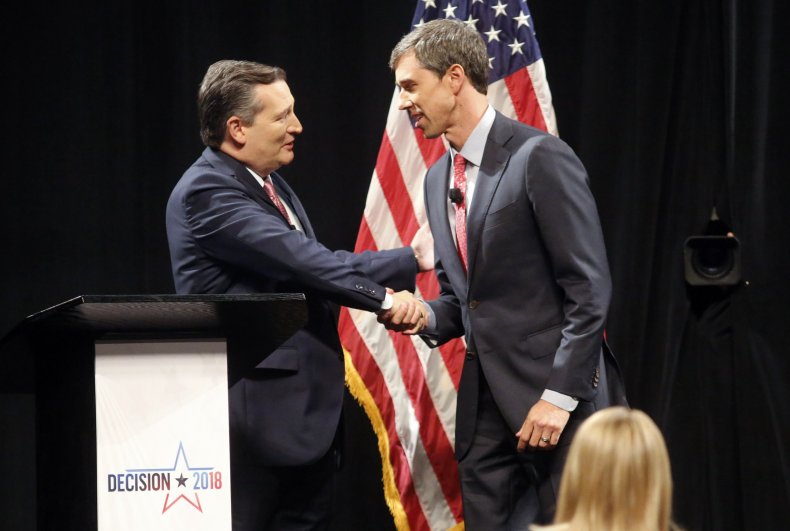 O'Rourke meanwhile, advocated for immigration reform and a path to legal citizenship for Dreamers, or children who were brought to the United States illegally at a young age. "We begin by freeing Dreamers from the fear of deportation," he said.
O'Rourke bashed the idea of a border wall calling it an ineffective use of $30 billion. "I'll tell you about being out of touch with Texas," said O'Rourke, "imagine the cost. Imagine the stain on our conscience for generations going forward."
When the topic turned to gun violence and school shootings, O'Rourke clarified that while he supported the second amendment, he advocated increasing background checks and regulating semi-automatic rifles like AR-15s. "Weapons of war belong on the battlefield," he said.
Cruz said that he believes the increase in deadly school shootings was because we've "removed God from the public square," not because of easy access to guns. He called for increased security in schools to prevent shootings and slammed O'Rourke for backing candidates like Hillary Clinton who advocated for gun control.
"Did you support Hillary Clinton?" Cruz asked O'Rourke.
"That has nothing to do with the Second Amendment," O'Rourke responded.
Texas has not elected a Democrat to statewide office in 25 years, but O'Rourke is fighting to change that. He has surpassed Cruz in cash on hand, and polls put the pair in a dead heat.
Cook Political Report, a top polling analysis site, shifted the Texas race from "leans Republican" to "toss up," Friday morning.
The next two debates between Cruz and O'Rourke will take place on Sunday, September 30 at the University of Houston, and on Tuesday, October 16 in San Antonio.