Texas 'Blue Wave' Could Take Down Ted Cruz and Deal Big Blow to Donald Trump, Polls Indicate
With just three months until the November midterm elections, two polls out of Texas Wednesday showed the gap between Republican Senator Ted Cruz and his opponent Beto O'Rourke narrowing and putting the Democratic representative well within striking distance of the incumbent.
A Quinnipiac poll placed O'Rourke just six points behind Cruz at 49-43 percent, a sizable jump from the 11 point advantage Cruz had at the end of May, the last time the poll was administered. Cruz has an advantage with white male voters, but O'Rourke is leading the field with female and minority populations.
"U.S. Sen. Ted Cruz has a slight, by no means overwhelming, lead," said Peter A. Brown, assistant director of the Quinnipiac Poll. "Congressman Beto O'Rourke has done a good job making the race competitive. With three months until Election Day, he is clearly in contention. A Democratic victory in the Lone Star state would be a serious blow to GOP hopes of keeping their U.S. Senate majority,"
Still, O'Rourke lacks the name recognition that Cruz carries. "O'Rourke makes a good impression on voters, but only about half the Texas electorate has formed an opinion of him. Senator Cruz has a good favorability overall and is the much better known of the two men," explained Brown.
The 2018 Texas Lyceum Poll, also released Wednesday, indicated a much tighter race. The survey had O'Rourke just two points behind Cruz, with a 41-39 percent spread.
"O'Rourke continues to nip at Cruz's heels, but it's a long way to go until election day," said Josh Blank, Lyceum Poll Research Director. "If this race looks different than the rest, that's probably because it is a strong Democratic challenger raising prolific sums of money and tons of earned media."
O'Rourke has raised over $23 million this season without accepting donations from corporations of lobbyists. Cruz has raised just $ 30,000 more than his opponent. The Texas Senatorial race is currently the most expensive in the country.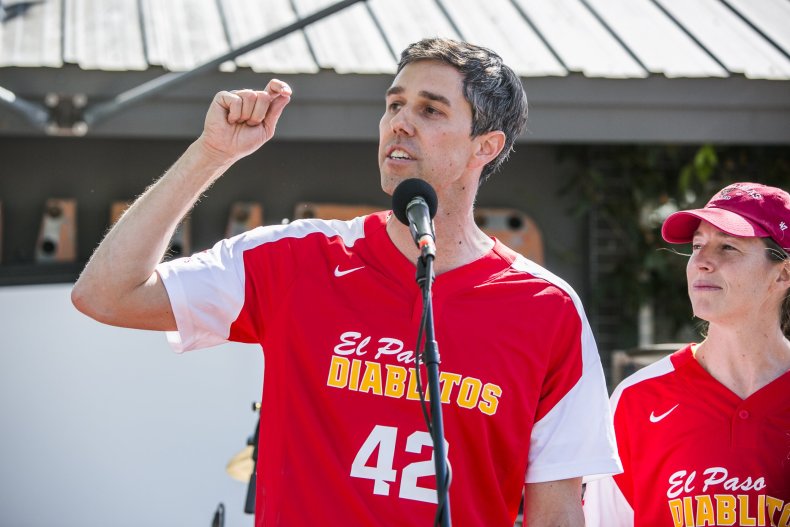 A Democrat hasn't won a Texas statewide race in 24 years, and while the Latino population of the once ruby-red state is turning things a little purple, most political analysts are reluctant to say a blue wave is coming for the state that Trump won by 9 points in 2016.
"Turning Texas blue has been the great white whale for Democrats," Ford O'Connell, a Republican strategist, told Newsweek earlier this year. "And it will turn blue, but not in 2018. It would take a major meltdown for Cruz to lose. The idea makes for good cocktail conversation, but there's not much to watch."
Larry Sabato, director of the University of Virginia Center for Politics, disagreed. "Cruz is certainly the favorite but there is D[emocratic] upset potential," he Tweeted Wednesday. "Most upsets never happen—but [there are] a few shockers every election year."
Republicans only need to win nine Senate races to keep their majority, while Democrats need to win 28 to take it away. New polls put Democrats and Republicans at a 50-50 chance of controling the legislative body, and an upset in a typically red state like Texas could easily push Democrats over the edge this November.
Support for Trump is waning in the Lone Star State, just 46 percent of Texans approve of the president, down a point from May's survey. The Lyceum poll found that 52 percent of voters disapproved of the job Trump is doing.
O'Rourke and Cruz will face off in a series of five debates over the next few months, which will likely boost O'Rourke's profile and name recognition across the state. The first debate will take place on August 31 in Dallas.