Ted Cruz Calls Biden's Election COVID 'Superspreader Event' Over Immigration Policy
Texas Senator Ted Cruz is speaking out regarding President Joe Biden's recent comments regarding GOP governors and their handling of COVID-19, saying the president is ignoring the COVID threat from people crossing the Mexican border.
While on the Fox News show America Reports, Cruz stated that Biden had "chutzpah," or strong audacity, in reference to him saying that the GOP governors need to "help or get out the way" in a Tuesday press conference.
"There's a Yiddish word called chutzpah," said Cruz. "And I think Joe Biden is embodying that word right now."
"We just had news breaking today that in the last several months, the Biden administration has released over 7,000 illegal aliens who were COVID positive just in one Texas city, in the city of McAllen, in the Rio Grande Valley," Cruz said.
In a Wednesday statement, the city of McAllen said that they've put up temporary shelters to combat the surge of immigrants being released into the city.
"Since mid-February of 2021 there have been over 7,000 confirmed COVID-19 positive immigrants released into the city of McAllen by [Customs and Border Protection], including over 1,500 new cases in the past seven days," the statement said.
Cruz also stated that the Biden election was a superspreader event that gave clearance to the immigration issue that's currently taking place in Texas.
"Joe Biden likes to talk about this pandemic, well I'll tell you what, the election of Joe Biden and Kamala Harris was a super spreader event because their open border is endangering not just the people of Texas but people all across the country," Cruz said.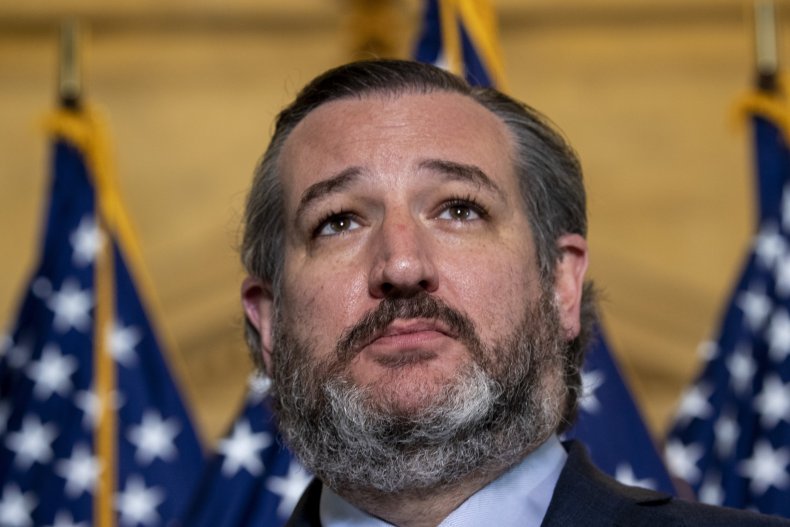 Biden also called out Florida Gov. Ron DeSantis and Texas Gov. Greg Abbott during the conference. Biden stated that each state accounts for one-third of new COVID-19 cases in the U.S. right now.
"And worst of all, some state officials are passing laws or signing orders that forbid people from doing the right thing," Biden said. "As of now, seven states not only banned mask mandates but also banned them in their school districts, even for young children who cannot get vaccinated."
On Tuesday, a federal judge from El Paso, Texas issued a restraining order against Abbott's executive order which blocks non-profit organizations from transferring immigrants into the state. The Department of Justice is also suing Abbott, stating that his order will increase the spread of COVID-19 and disrupt measures to help "asylum-seekers whose cases are pending," according to the lawsuit.
Abbott responded to the restraining order in a press statement on August 3.
"The Court's recent order is temporary and based on limited evidence," stated Abbott. "We look forward to providing the Court with the evidence to support the Governor's Executive Order to protect Texans."
"The Biden Administration has knowingly—and willfully—released COVID-19 positive migrants into Texas communities, risking the potential exposure and infection of Texas residents. The Governor's Executive Order attempts to prevent the Biden Administration from spreading COVID-19 into Texas and protect the health and safety of Texans."