Ted Cruz Calls Joe Biden, Kamala Harris 'Inhumane' After Video Shows Crying Child Abandoned at Border
Texas GOP Senator Ted Cruz called President Joe Biden and Vice President Kamala Harris "inhumane" on Thursday, tweeting a video showing an abandoned child crying at the U.S.-Mexico border.
The video, which has been circulating on social media, shows a child left at the border. The child can be seen yelling toward a couple after they abandoned him there. Fox News reported that the boy can be heard saying, "Here, here! No, no! Don't go, no!"
On Thursday, Cruz tweeted the video and wrote, "This video of a child being abandoned at the Texas-Mexico border is absolutely heartbreaking."
He added, "It's completely inhumane how Joe Biden and Kamala Harris are allowing human traffickers and cartels to exploit young, innocent children at our southern border."
As the video ends, Border Patrol agents can be seen assisting the child and moving him away from the area.
Since taking office, Biden and Harris have faced criticisms from many Republicans, including Cruz, for their administration's handling of the surge in migrants crossing the border.
While the Biden administration has stressed that the border is not open, the number of migrants crossing over from Mexico has significantly increased since the beginning of the year. According to data from U.S. Customs and Border Protection (CBP), Border Patrol agents encountered 178,622 migrants attempting to cross the border in April, including 13,962 unaccompanied children.
In April, the CBP released a similar video showing Border Patrol agents rescuing two young migrant girls after being dropped over a border wall in New Mexico. "Immediately after both children landed on the ground, two smugglers immediately fled the area and abandoned the helpless little girls on the north side of the international boundary line," the CBP said in the statement with the video.
This is not the first time Cruz has criticized Biden and Harris for their handling of the border situation. In April, Cruz led a delegation of senators to tour the southern border and called migrant facilities in the U.S. "grotesque and inhumane."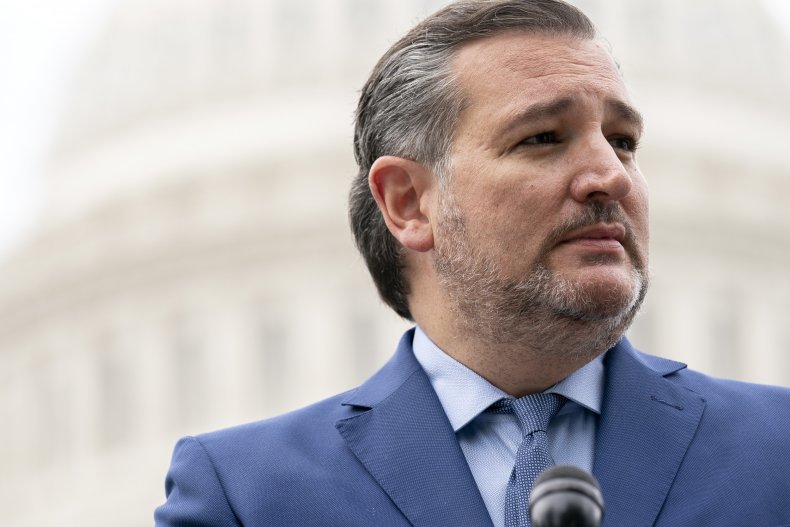 "Texans are mad and frustrated, and they should be," Cruz said during an April interview with Newsmax. "Over the last decade, I have been down to the border many times representing the great state of Texas. I've seen it bad before, but I've never seen it remotely as bad as it is now. I went with the Border Patrol agency, and we saw caravans of people hiking north from the Rio Grande River, kids walking alone, mothers with infants walking alone and coming up here."
On Wednesday, Texas Governor Greg Abbott vowed that state authorities will begin arresting all migrants illegally crossing the border into the U.S.
"I don't think this has ever happened before. We're about to change the way Texas addresses the challenges on the border. We're going to start increasing arrests," Abbott said while appearing on Fox News' Hannity.
"The law that I'm going to use will be legal ways in which Texas is going to start arresting everybody coming across the border," he continued. "Not just arresting them but, because this is not going to be aggravated trespass, they're going to be spending a half a year in jail, if not a year in jail, as well as other action that I will be announcing next week."
Newsweek reached out to Cruz and the White House for comment but did not receive a response in time for publication.