Ted Cruz Calls Voting Rights Bill 'Fraud Law' Allowing Dems to 'Manipulate and Steal' Elections
Republican Senator Ted Cruz of Texas on Wednesday night accused Democrats of attempting to "manipulate and steal" elections through the H.R. 1 For the People Act, which offers a sweeping expansion of federal voting rights.
With slim control of the House of Representatives, Democrats in the chamber this month pushed through the 791-page voting rights bill largely along party lines in a 220-210 vote. Democrats describe the expansive proposals as anti-corruption legislation that would ramp up voting rights by improving voter access and limiting gerrymandering. But Republicans have strongly opposed the bill, calling it a Democratic power grab.
In an appearance on Fox News' Hannity on Wednesday night, Cruz called the bill "dangerous" and alleged that Democrats would use it to "benefit from voter fraud."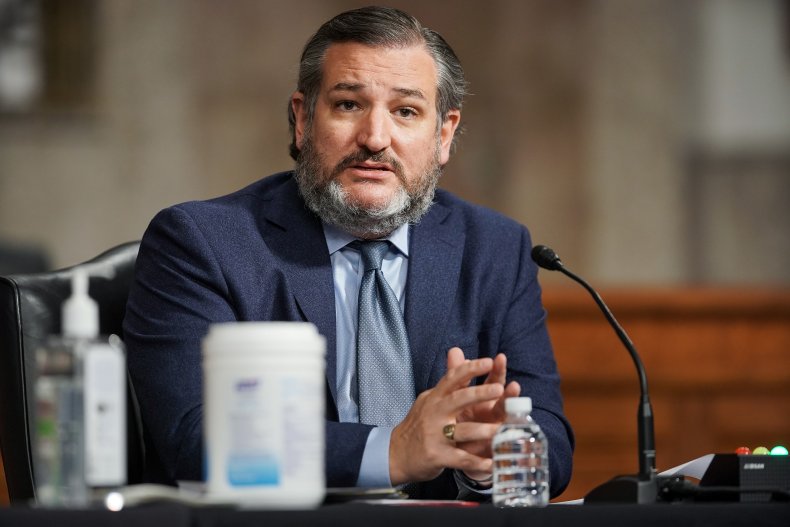 "I think H.R. 1 is a terrible policy, I would call it the universal fraud law. We came out of this last election where we saw multiple allegations of serious voter fraud and the Democrats and the media took on the talking points that voter fraud doesn't exist. That anyone who says it exists is somehow engaged in a conspiracy theory," he said. "Now with H.R. 1, the Democrats are seeking to lock in their advantage. They want mail-in ballots everywhere, they want no photo ID."
The bill includes measures to counter Republican efforts at the state and local level to limit voting access, soften voter ID laws and allow minors to preregister when they obtain a driver's licence to vote when they turn 18.
It also requires the U.S. Postal Service to facilitate registration updates for people changing their address and states to open up online voter registration systems—which most already have—as well as same day voter registration for federal elections.
"The Democrats have made an incredibly cynical decision, which is that they believe that they benefit from voter fraud," Cruz said. "They have the White House and both houses of Congress and they're trying to take this moment of time to lock in permanently by changing the rules so that they can manipulate and steal election results."
"H.R. 1 doesn't protect election integrity, it undermines it," he added. "The number one priority of Democrats is holding onto power."
Voting rights advocates have been pushing lawmakers to adopt the policies in H.R. 1 for years. The legislation seeks to increase access for voters, particularly people of color who find it difficult to navigate the system. In addition to rights for voters, the bill also contains provisions that would regulate campaign finance systems and enforce ethics rules for candidates.
Newsweek reached out to House Speaker Nancy Pelosi's representatives for comment.