Ted Cruz Chased From Restaurant By Anti-Kavanaugh Protesters: 'Do You Believe Survivors?'
Senator Ted Cruz was heckled out of a restaurant in Washington, D.C., Monday night by anti–Brett Kavanaugh protesters chanting "We believe survivors."
Footage has emerged of Cruz and his wife being targeted by demonstrators as they paid a visit to the Italian restaurant Fiola on Pennsylvania Avenue.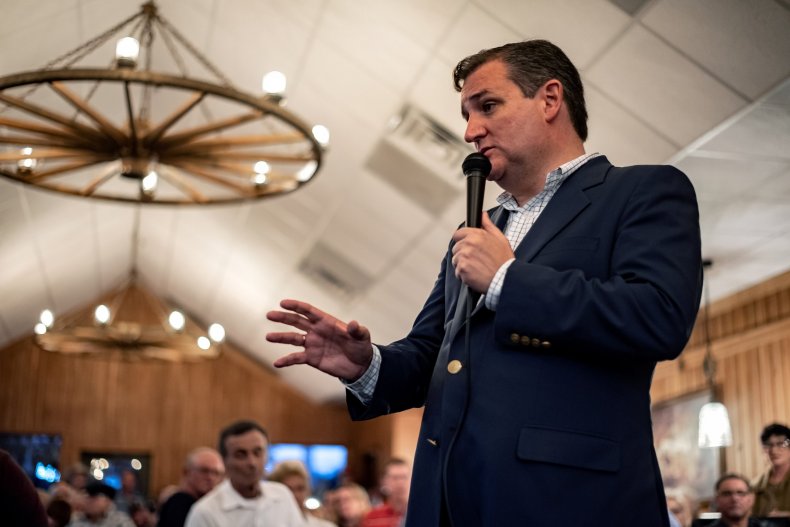 Cruz and his wife left the establishment as the chanting occurred, with footage showing the Republican asking the demonstrators to let his wife through as they attempted to get past the crowd.
A tweet posted by Smash Racism DC shared the video along with this text: "BREAKING. Activists just chased @TedCruz out of a fancy Washington DC restaurant, chanting "We Believe Survivors!" Cruz has been friends with creep Kavanaugh for 20 years. Now Cruz is on judiciary committee hearing his testimony. Fascists not welcome! #CancelKavanugh"
A later tweet added: "While our interruption does not compare in scale to the interruptions his actions as a Senator have had on millions of American lives, we hope that it reminds Cruz and others like him that they are not safe from the people they have hurt."
Another message said: "This is a message to Ted Cruz, Bret Kavanaugh, Donald Trump and the rest of the racist, sexist, transphobic, and homophobic right-wing scum: You are not safe. We will find you. We will expose you. We will take from you the peace you have taken from so many others."
Approaching Cruz in the restaurant, one protester asked, "Do you believe survivors, sir?"
The Republican is among the members of the Senate Judiciary Committee, which is set to hear testimony on Thursday from Supreme Court nominee Brett Kavanaugh and his accuser Christine Blasey Ford. Ford has alleged that Kavanaugh attempted to sexually assault her at a house party in the early 1980s, when they were teenagers.
In a letter sent to Senator Dianne Feinstein, Ford wrote, "Kavanaugh physically pushed me into a bedroom as I was headed for a bathroom up a short stairwell from the living room." She alleged that he and a friend "locked the door and played loud music, precluding any successful attempts to yell for help."
"They both laughed as Kavanaugh tried to disrobe me in their highly inebriated state. With Kavanaugh's hand over my mouth, I feared he may inadvertently kill me," she continued.
Kavanaugh has denied the allegation and another allegation made by a second woman, Deborah Ramirez, who claimed he exposed himself to her during a drinking game at college.
In a statement, Kavanaugh said: "The coordinated effort to destroy my good name will not drive me out. The vile threats of violence against my family will not drive me out. The last-minute character assassination will not succeed."