Ted Cruz Calls for Civility Amid Bomb Threats, Hours After Discussing Putting Beto O'Rourke, Hillary Clinton in Jail
Senator Ted Cruz on Tuesday called for political disagreements to be "civil" and for opponents to respect one another's "humanity" amid a wave of explosive devices being sent to Hillary Clinton, Barack Obama and CNN. Cruz's tweet came hours after he responded to a "lock him up" chant at one of his rallies by joking about locking up Beto O'Rourke, his opponent in the upcoming Texas Senate race, with Hillary Clinton.
"Violence is never OK. Reports of bombs sent to the homes of Obama, Clinton and Soros are deeply, deeply disturbing," Cruz tweeted. "America is better than this. Political disagreements are fine, even healthy, but we should always be civil and respect each other's humanity."
But Cruz struck a very different tone during a campaign stop on Tuesday.
"Well, you know, there's a double-occupancy cell with Hillary Clinton," Cruz said after one of his supporters shouted "lock him up. "Ya'll are gonna get me in trouble with that," he added.
The chant of "lock her up" was frequently shouted at rallies for Donald Trump during the 2016 presidential campaign, referring to Clinton and the investigation into her use of a private email server during her time as secretary of state. The chants continue to surface at his rallies. Trump has done nothing to quiet these chants, and has on occasion encouraged them.
Earlier this month, he said that former FBI Director James Comey "actually did Hillary Clinton a big favor, because she should be in jail."
CNN's office in New York was evacuated Wednesday morning after a suspicious package was found in the Time Warner Center building. The evacuation came shortly after the Secret Service reported that it had intercepted packages sent to the offices of Clinton and Obama. On Monday, a pipe bomb was found in the mailbox of major Democratic donor George Soros.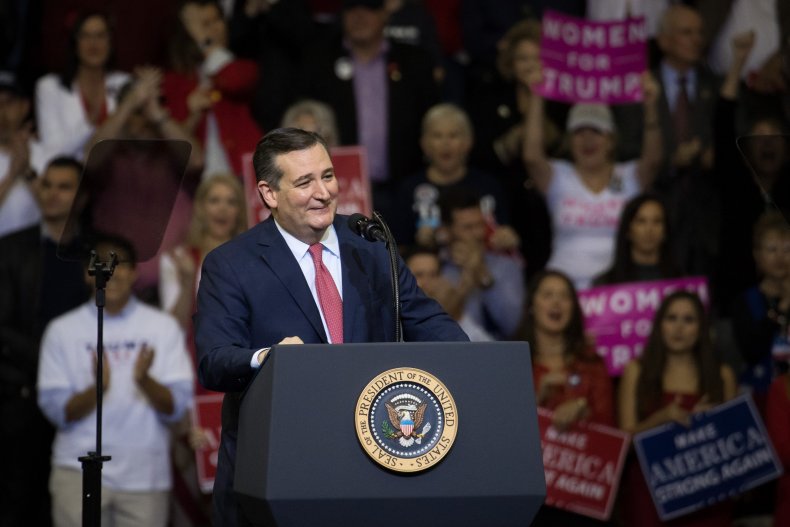 Despite those threats and Cruz's earlier tweet, he appeared to take a shot at the media during another campaign event Wednesday in Dallas.
"We had over 100,000 people sign up for that rally," he said, referring to the Trump rally for him in Houston. "There were a lot of tears. There was a lot of anguish. And that was just for the media," he reportedly told a group of 120 supporters.