Ted Cruz Says Democrats, 'Woke Media' Trying to Turn Military 'Into Pansies'
Republican Senator Ted Cruz has claimed that Democrats and the "woke media" are trying to turn the U.S. military into "pansies."
The Texas lawmaker used the homophobic term in a tweet attacking his political opponents and members of the press during a discussion about the starkly different recruitment campaigns of the U.S. and Russian militaries.
Cruz was criticized for the language in his post as well as for having shared what was termed a Kremlin "propaganda" video.
The debate was sparked by a widely shared video showing the U.S. and Russian campaigns side by side, contrasting the darkly lit, weapon-heavy footage released by Moscow with the Pentagon's animated clip, which aims to appeal to younger and more diverse audiences.
In his initial post retweeting the video on Thursday, Cruz wrote: "Holy crap. Perhaps a woke, emasculated military is not the best idea...."
That comment drew criticism for appearing to undermine the U.S. Army's message of inclusivity.
Dan Price, boss of Seattle-based company Gravity Payments, responded: "Hello Senator Cruz, As a CEO, I can tell you that diversity and inclusion inside any organization is a huge competitive advantage. I know you may be fearful of it, but it's what we need to take us forward and solve the challenges of the future."
Historian Kevin Kruse replied: "Do you have any other Russian propaganda videos you'd like to promote, senator?"
In response to his critics, Cruz tweeted late on Thursday: "I'm enjoying lefty blue checkmarks losing their minds over this tweet, dishonestly claiming that I'm 'attacking the military.'
"Uh, no. We have the greatest military on earth, but Dem politicians & woke media are trying to turn them into pansies. The new Dem videos are terrible."
This remark prompted a further flurry of criticism, with several social media users calling out the senator's "homophobic" choice of words.
The word "pansy" was a once-common slur for gay men and is defined by the Merriam-Webster dictionary as "offensive" and a "term of abuse and disparagement."
Radio host Michelangelo Signorile tweeted: "Ted Cruz, who let Trump call his wife ugly, and bowed before him, is calling people 'pansies.' And it's a homophobic term too."
Writer Jon Schwarz said: "Interestingly, the homophobic slur version of 'pansies' that Ted Cruz is using here doesn't come from the flowers. It's derived from the French word 'pensée,' the past participle of 'penser,' meaning to think. You can see why Cruz would embrace this as an insult."
Other Twitter users objected to the senator's comments about service personnel.
One wrote: "Hi Ted, no blue check here. Did serve 25 in the Army. We've served under every Administration, we will be okay. They aren't trying to do anything to us. How was Cancun?"—a reference to the senator's much-criticized trip to Mexico while a winter storm was battering Texas.
Another posted: "You're criticizing a video of a real service member simply explaining her journey into military service. These aren't Dem videos, they ARE service members sharing their experience and perspectives on service. You are so incredibly wrong on this. Shame on you!"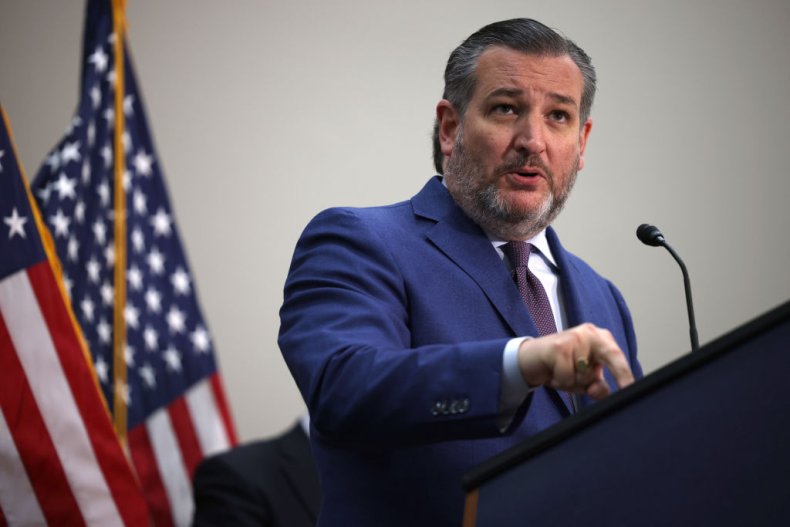 The word "pansy" also drew criticism when it appeared in a campaign ad for 2020 Senate candidate Donald Bolduc.
Bolduc, a military veteran and candidate for the Republican nomination in New Hampshire, said in the video: "I didn't spend my life defending this country to let a bunch of liberal, socialist pansies squander it away." He failed to make it through the GOP primary.
Newsweek has contacted Senator Cruz, the U.S. Army and the Modern Military Association of America, a non-profit that advocates for LGBT service personnel and veterans, for comment.