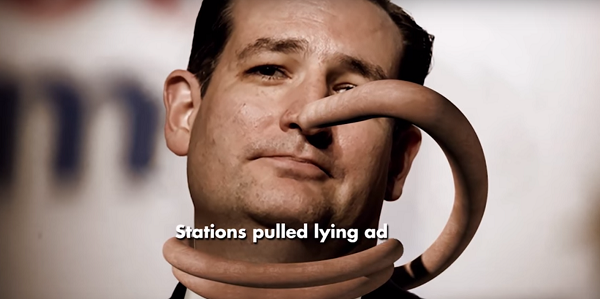 Be afraid of many things. Failure and rejection, chiefly. Snakes are in the top 10. But absent from your terror radar has been your nose growing and growing and wrapping itself around your neck. Until now, that is. On Thursday, a super PAC released the following ad, titled "Nose":
The ad was created by New Day for America, which supports Ohio Governor John Kasich for president. The PAC has raised about $10 million in support of the candidate overall, according to the Center for Responsive Politics.
As Donald Trump looks likely to sew up the Republican nomination soon, Cruz and Kasich squabble over the New York reality TV star's leavings. Kasich has said he won't drop out before the Wisconsin primary on April 5. Cruz, meanwhile, told reporters he can think of "no good explanation" why Kasich hasn't already dropped out, since his chances of becoming the nominee are a statistical impossibility.