Surging in Polls, Ted Cruz Goes to War With Wall Street Journal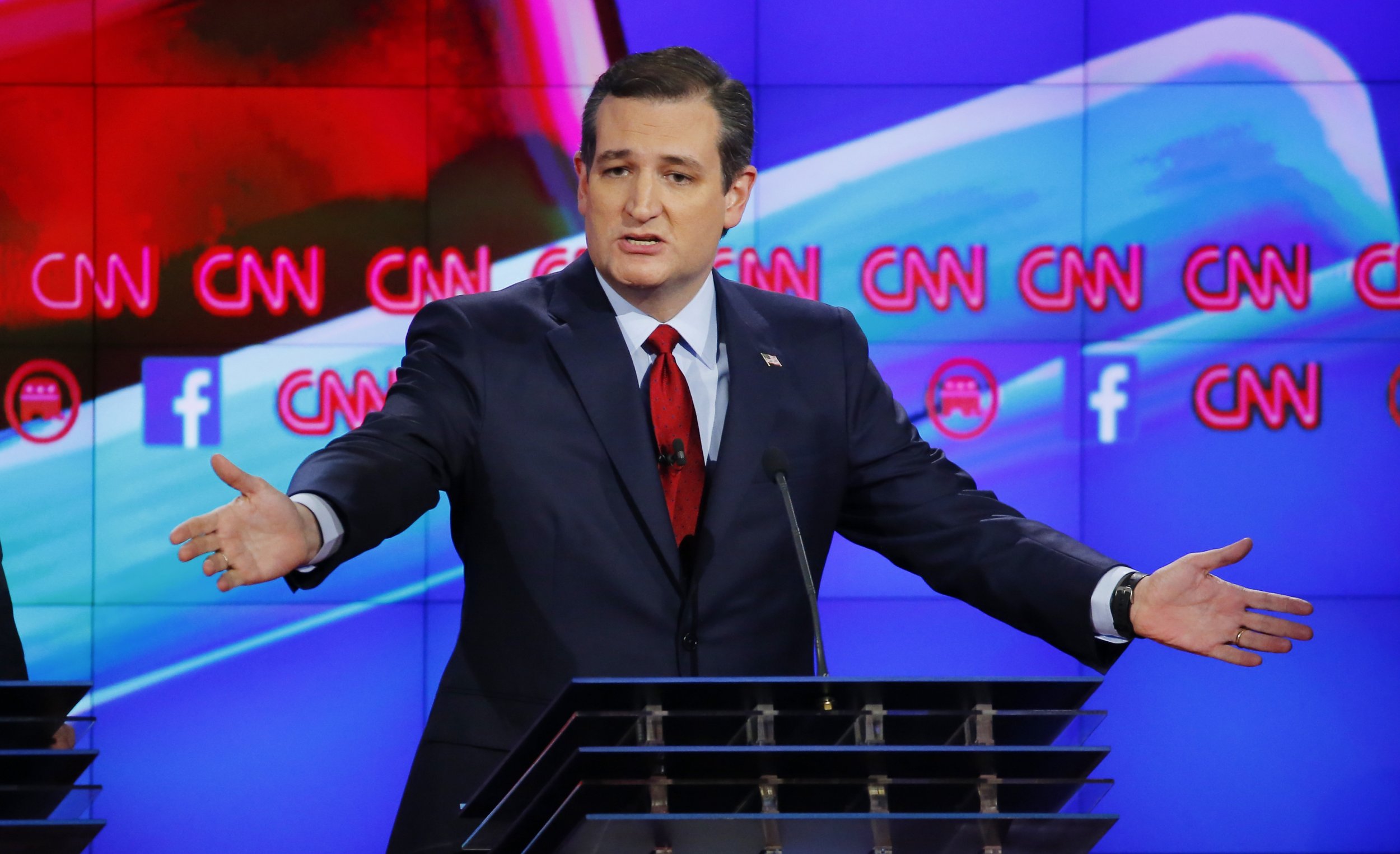 With the last debates of 2015 over and just a month and half to go before the Iowa caucuses, Senator Ted Cruz is trying to be more than just the hot GOP candidate of the moment.
His hold on Iowa is secure and strengthening. In the latest CBS poll from the Hawkeye State, Cruz has 40 percent of support from likely caucusgoers, with a nine-point lead over Donald Trump, the front-runner in national polling. Other polls have shown Cruz somewhere between 20 and 30 percent, but they all have him in first place. The fiery freshman senator from Texas is walking a tightrope between conventional conservatism and Trumpian reactionaryism, touting himself as the only true conservative in the GOP field. And now he's recently gone on the attack against a top center-right news outlet, The Wall Street Journal.
"For the next three months, the Journal should change their header to the Marco Rubio for President Newspaper, because their attacks—and it's going to keep coming because Marco fights for the principles they care about," Cruz recently said.
Those principles are supply side and mainstream conservative economics—the pro-business philosophy embraced by most prominent Republicans. However, like Trump, Cruz is going for a more populist tone, frequently attacking big banks and government spending. In 2012, he rode the Tea Party wave—inspired by anger over the Wall Street bailout following the 2008 financial collapse—to his seat in the Senate. Since then, the Journal has frequently criticized his extreme tactics, such as threatening government shutdowns, on its op-ed page.
It's significant for Cruz, who has a real shot at winning the party's nomination, to feud with the Journal. The paper tends to be an indicator for how the GOP runs in elections: Though the editorial board hasn't formally endorsed a presidential candidate since Herbert Hoover, the op-ed page almost always favors Republicans around general election time and often coalesces early around the eventual nominee. Prominent conservatives, Cruz among them, are frequently brought on board to write op-eds of their own. Speaking to Politico, a pro-Cruz pollster called it "one of the most respected and instructive daily reads in the center-right movement."
But Cruz isn't running a center-right campaign. One of his talking points on the campaign trail is his belief that Republicans have a better chance at winning by running a very conservative candidate rather than someone who strikes a more moderate tone, like past candidates Mitt Romney and John McCain. As for the Journal, many of the highly conservative potential voters flocking around Trump and Cruz might disagree that it's a center-right publication. In 2012, some public opinion data indicated that as many as 30 percent of conservatives think the Journal has a liberal bias.
That only goes to show the break between Cruz, Trump and their supporters and the party's mainstream. Populism is the flavor of this election, with Democratic candidate Bernie Sanders, Trump, Cruz and even retired surgeon Ben Carson—who refers to his campaign as "We the People"—dominating the headlines. According to a story in Politico, Cruz has said at fundraisers that he considers the opinions in the Journal on par with those of Hillary Clinton and Barack Obama—reinforcing his view that "the establishment" is a big-government bloc not limited to Democrats and liberals.
That could become important later on, since Clinton, one of the most establishment-backed candidates in recent history, seems to be the likely Democratic nominee. According to a recent story from Yahoo! Politics, some Democratic strategists view Cruz as an ideal matchup for Clinton in the general election, mostly because of his extreme positions on immigration and his reactionary rhetoric on refugees and terrorism. The conventional wisdom—and recent history—suggests that Republicans fail to attract key minority demographics in general elections, particularly Hispanics, as a result of their hard-line positions. After the 2012 general election, it was widely written that Romney's run to the right on immigration during the primaries cost him the general election.
Other strategists consider Cruz a threat to Clinton, based on his debating chops and tendency to fan anti-establishment flames while pivoting around positions that could be costly in certain states—such as his virulent anti-amnesty stance on immigration. And who knows? Maybe he's correct that going further to the right will turn out droves of conservative voters who might otherwise stay home.
If Cruz is the GOP nominee, he will try to turn the election into a tale of the insiders versus the outsiders, as Obama successfully did in 2008. If Trump's current national popularity is any indication, that could prove to be a winning position for many voters.