Ted Cruz, Jim Jordan Say Joe Biden's 'Don't Come' Border Message 'Too Late'
Republicans are continuing their border offensive against President Joe Biden as the administration grapples with surging arrivals at the southern frontier and the president calls on would-be migrants not to travel north.
Republicans have been calling on the White House to adopt more restrictive immigration policies to deal with the spike in the number of new arrivals, which has badly stretched border personnel and facilities.
The rising number of unaccompanied minors arriving is of particular concern, with more than 13,000 now in Customs and Border Protection custody.
In an interview with ABC News aired Wednesday morning, Biden urged migrants not to travel to the frontier. "I can say quite clearly: don't come over," Biden said.
But prominent Republicans say his words are too little too late. Leading GOP figures have been citing the border chaos as vindication of their tough immigration policies, and those of former President Donald Trump despite widespread concerns over human rights abuses at the border during his term.
Republicans are framing the situation as a border "crisis," a word the administration has tried to avoid while attempting to shift blame to the Trump administration.
Texas Sen. Ted Cruz has been at the forefront of such criticism. On Wednesday, the senator posted a statement to his website declaring Biden's warning "a completely insufficient response to a desperate crisis."
Cruz blamed Biden for the situation, citing his "halt in deportations, mass amnesty, and health care benefits for illegal immigrants, signaling to future illegal immigrants that if he became president the border would be wide open." He added: "And as a result, people came."
"This crisis is the direct result of President Biden's radical open borders agenda," the statement added. "Enough is enough. Sen. Cruz is calling on the Biden administration to reverse course and reinstitute border polices that put the health and safety of the American people first."
Ohio Rep. Jim Jordan was also dismissive of Biden's remarks. He told Newsmax TV on Wednesday: "When you tell basically everyone you're going to roll out the red carpet, and then people come and start walking down the red carpet—I forget who used that metaphor but I think it's appropriate—when that happens and now you say what he said then last night, again, I think it's not much and it's way too late."
"This is a crisis they created," Jordan added. "This is their policy. I don't think it should surprise anyone. This is in essence what they wanted. I think the real irony is...we have a wall around the Capitol to protect the politicians but we can't control the border to protect the country."
The graphic below, provided by Statista, illustrates the number of apprehensions at the southern border.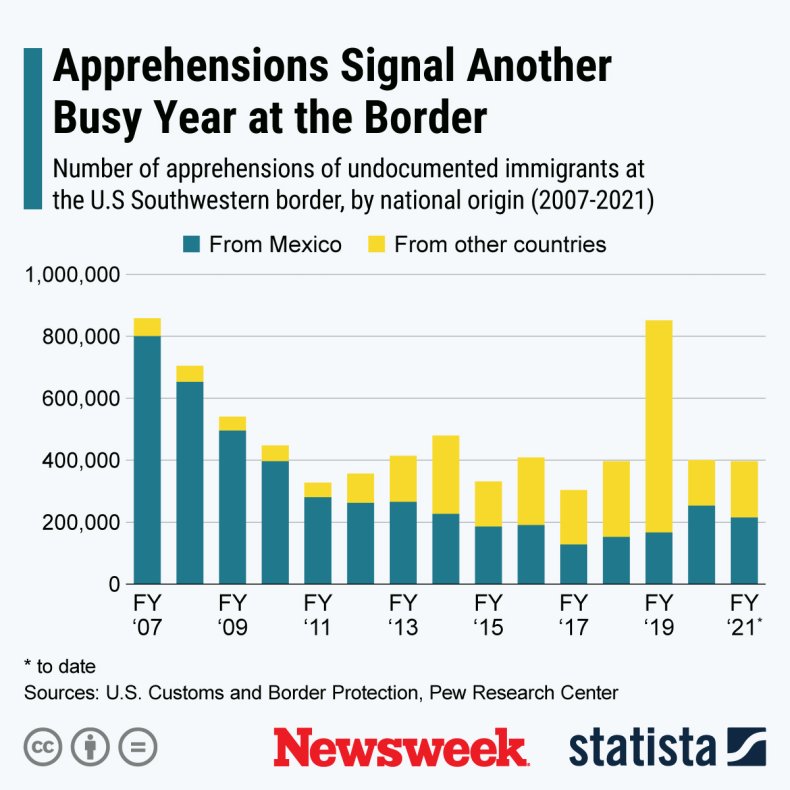 The Biden administration has blamed its predecessors for the chaos. Biden told ABC News: "You have to try and get control of the mess that was inherited," in reference to the Trump administration's divisive immigration tactics.
The president added that his administration will, by next month, have "enough of those beds to take care of these children who have no place to go."
White House Press Secretary Jen Pskai told reporters this week: "We recognize this is a big problem—the last administration left us a dismantled and unworkable system. And like any other problem, we are going to do everything we can to solve it."