Ted Cruz Explains to Jimmy Fallon Why He Will Win a Contested Republican Convention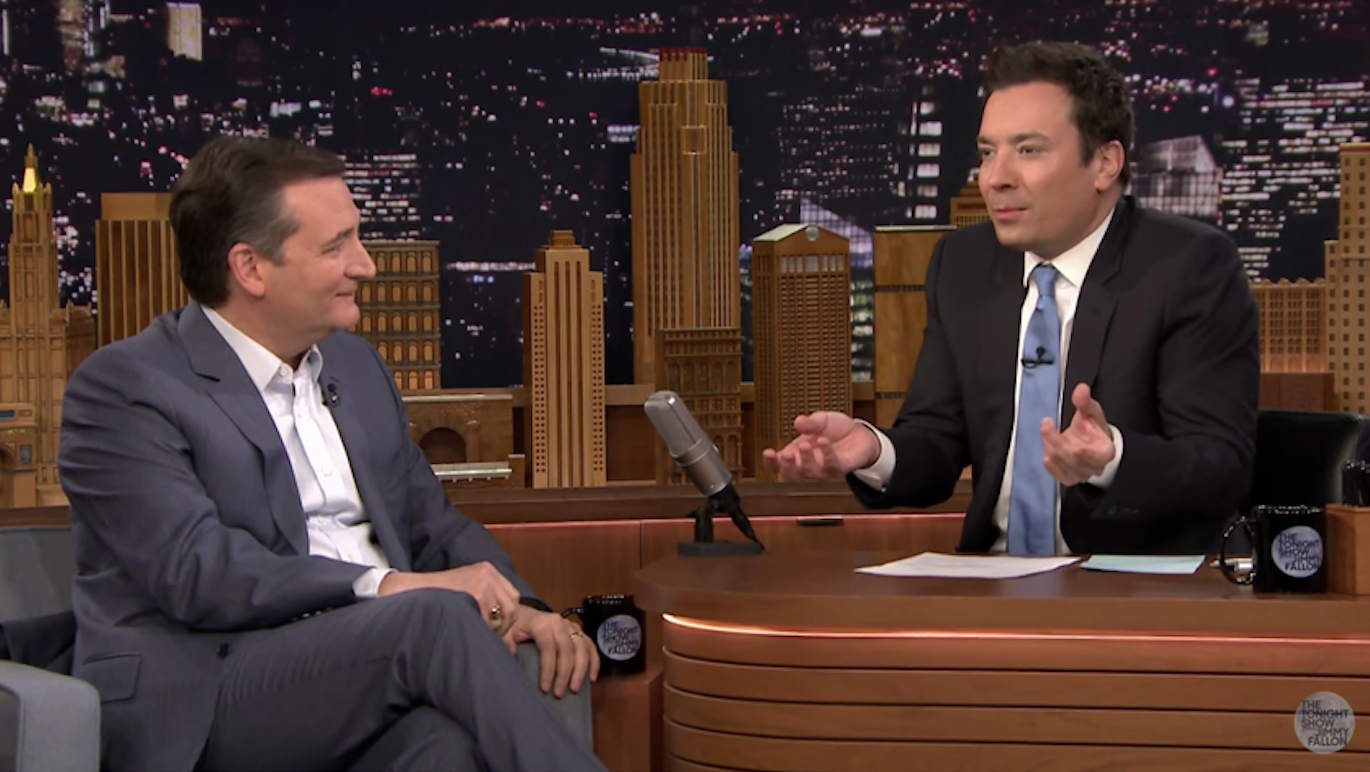 While Hillary Clinton and Bernie Sanders spent Thursday night battling it out on the debate stage, Republican hopeful Ted Cruz stopped by The Tonight Show for a much less stressful evening with Jimmy Fallon. (Although Fallon did ask Cruz, captain of his high school debate team, when he knew he had become a "master debater," before slapping his desk in delight.)
Unlike Seth Meyers, Jimmy Kimmel or Stephen Colbert, Fallon isn't capable of actually "grilling" any of his political guests about the issues. Instead, he dressed up like Donald Trump and staged a mock phone call to Cruz that was filled with cheap one-liners but nothing substantive. Fallon also dug up Cruz's high school yearbook to highlight how the future senator essentially predicted his entire career, from attending Princeton to getting a law degree from Harvard to becoming a politician. The only thing left for Cruz to achieve is becoming president.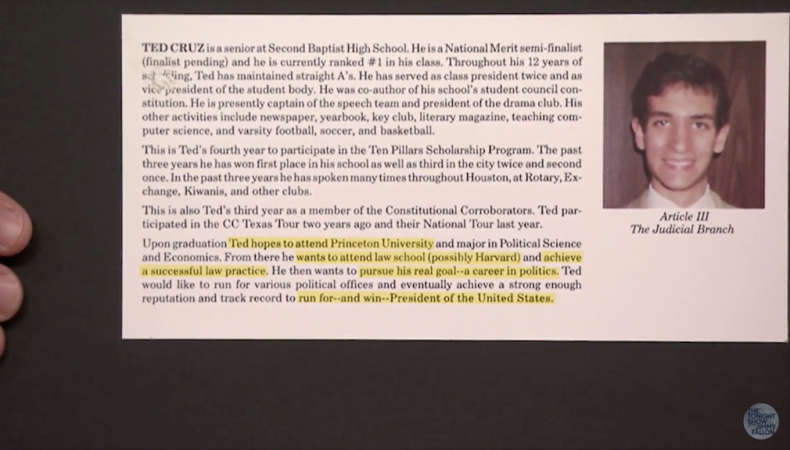 Pretty incredible, actually.
As for the election, Fallon brought up Cruz's dim prospects for a win in the upcoming New York primary, as well as the much brighter prospect of the party turning to a contested convention to determine its nominee.
"In all likelihood we are headed to a contested convention in Cleveland," Cruz said. "I'm going to come in with a bunch of delegates, Donald is going to come in with a bunch of delegates and neither one of us will have gotten a majority. It's going to be a battle to see who can earn a majority from the delegates who were elected by the people. If that happens, I think we're going to be in a much stronger position. I think Donald's highest total will be on the first ballot. One way to think about it is [asking] where do the [Marco] Rubio delegates and the [John] Kasich delegates go? I think they naturally come to us. I think we'll win a majority at the convention and then we'll go on and beat Hillary in November."
Fallon then weakly asked Cruz if he would support Trump in the general election should things not go as planned in Cleveland.
"I am working very, very hard not to have to answer that," Cruz responded, sending Fallon into another giggling fit. Once the host composed himself, he turned to the crowd.
"He's a master debater, you guys! He knows what he's doing!"