A Brief History of Ted Cruz and John Boehner's Tumultuous History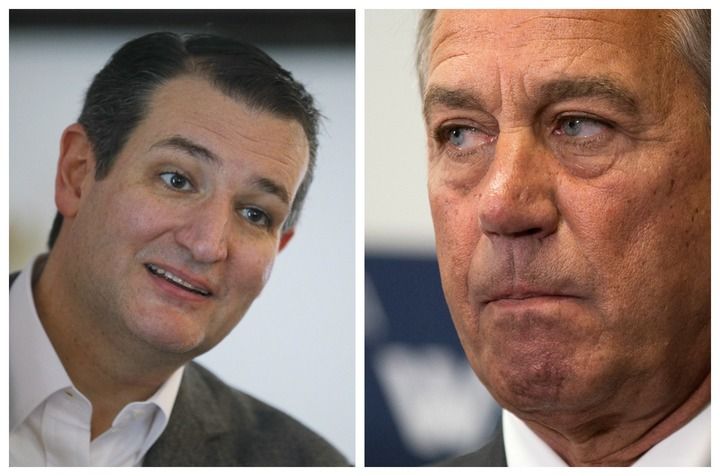 When Ted Cruz and John Boehner passively exchanged harsh words about each other this week, starting with the former House speaker calling the senator "Lucifer in the flesh" and leading the presidential hopeful to quickly fire back, neither quite mentioned one key point: that the two had worked on a legal case together nearly 20 years ago—a little known fact of their thorny history.
On Thursday, Cruz, 45, hit back at the ex-speaker, saying he had revealed his "inner-Trump," in that he pretends to be a Washington outsider. The Texas senator, who is deeply (and outrightly) disliked by many of his colleagues on Capitol Hill, encouraged voters to support Republican front-runner Donald Trump if they are content with the legacy of Boehner—who left Congress last fall as the least popular House speaker in three decades. Before a rally in Indiana Thursday, Cruz told reporters he hasn't spoken more than 50 words to Boehner throughout his entire life.
"I've never worked with John Boehner. The truth of the matter is I don't know the man," he said.
But that's not true. Despite Cruz's proclamation, their love story—er, rivalry—dates back almost two decades, before Cruz was a senator and ahead of Boehner serving as the country's top Republican leader.
It was the late 1990s: Boehner was a congressman from Ohio, and Cruz was a rising legal star who had clerked for Supreme Court Justice William Rehnquist. Cruz had not yet turned 30. Boehner was suing Democratic Representative Jim McDermott of Washington state for allegedly defying wiretapping laws, according to The Washington Post.
The case stemmed from an illegally intercepted telephone call that involved Boehner and other GOP leaders in December 1996. The call was about then-Speaker Newt Gingrich, who later admitted to a wrongdoing in an ongoing House ethics subcommittee investigation. A Florida couple intercepted the conversation from a police scanner and recorded it while Boehner spoke on a cellphone, then gave the tape to McDermott, who at the time was the chief Democrat on the House Ethics Committee. McDermott presented the tape to media outlets, including The New York Times. Boehner then sued McDermott, seeking punitive damages for violations of his First Amendment rights.
And who did Boehner hire for his legal team? None other than a fresh-faced Cruz, who at the time had finished two clerkships and was working with a law firm in Washington, D.C. Cruz, who worked at the firm for a year until 1998, was one of the attorneys who briefly defended Boehner during litigation against McDermott. The case dragged on for years, until in 2008 a judge ultimately sided with Boehner, awarding him more than $1 million in legal fees. McDermott was forced to step down.
Toward the beginning of the decade-plus legal process, Boehner sent a fundraising letter asking for political contributions to help fund his federal lawsuit, according to a June 1998 article published by The Seattle Times—a topic Cruz was quoted on.
"The fund-raising letter is much ado about nothing," Cruz, representing Boehner, said in 1998, according to The Seattle Times. "Congressman McDermott has consistently attempted to delay the litigation and drive up the expense. It is reasonably expected that Congressman Boehner will use the means at his disposal to raise the funds to pursue this lawsuit."
Fast-forward to George W. Bush's 2000 presidential bid: Cruz worked as a domestic policy aide on the campaign—a role that led him to cross paths with his future wife, Heidi Nelson, who worked on the campaign's economic policy. This marked what was perhaps the turning point in Cruz's political career, when he transitioned from a potential insider within the Bush administration to an anti-establishment crusader, after he failed to earn a job in the White House following the successful presidential campaign. Instead, Cruz landed at the Federal Trade Commission, where he worked until he became solicitor general of Texas in 2003.
"Through mistakes of my own, I put the fault nowhere other than myself, I burned some bridges on that campaign," Cruz told Politico about his failure to assume a role in Bush's White House. "I chalk it up to youth and immaturity."
As a senator and presidential candidate, Cruz is now an outspoken critic of Republican congressional leadership, and has developed a reputation as Boehner's nemesis. In September 2013, he faux-filibustered Obamacare for more than 21 hours in an attempt to defund the Affordable Health Care Act—at one point famously pausing to recite Dr. Seuss's Green Eggs and Ham, because it was his young daughters' bedtime. He had pushed House Republicans to oppose any compromise that would have kept federal services functioning, and then became the pariah of his party for the 16-day government shutdown in October 2013. He made even more enemies when he took to the Senate floor last July to accuse GOP Senate Majority Leader Mitch McConnell of lying.
And in 2014, former Tonight Show host Jay Leno asked the speaker during his first appearance on the program about Cruz.
"Ted Cruz used to be my attorney a long time ago," Boehner told Leno. "Good guy. Not that I always agree with him, but he's a good guy."
Boehner has gone on the record admitting that Cruz made his role as House speaker difficult. Cruz on Thursday told reporters that he reached out to Boehner to collaborate during the 2013 shutdown, but said the speaker refused his offer.
There have been other colorful moments between the two: At a fundraiser in Colorado in August, Boehner said he was content that Cruz's presidential campaign keeps "that jackass" out of Washington, two attendees told The Daily Caller, and just last month, he first dubbed Cruz "Lucifer," while simultaneously encouraging Paul Ryan, his successor as the top House Republican, to run for the GOP presidential nomination. Ryan has sworn he won't campaign in the current election.
And when Boehner announced last fall that he would step down from his role as speaker, Cruz applauded his resignation. Upon hearing the news, he asked a crowd of social conservatives to converge on the country's capital more often.
"You want to know how much each of you terrify Washington?" he said to the crowd gathered at the Values Voter Summit in September 2015, according to The Washington Times. "Yesterday, John Boehner was speaker of the House. Y'all come to town, and somehow that changes."