Joe Biden Approves Texas Disaster Declaration as Winter Storm Leaves 6 Dead
A winter storm ravaging Texas and other southern states has already led to icy roads, traffic deaths, power outages, frozen pipes and circumstances most of the Texans and southerners have never seen in a lifetime. And it's only getting colder.
Last Thursday, there was a 133-car pileup in Fort Worth that took the lives of six people. There was a fiery pileup Sunday afternoon in Oklahoma City. Oklahoma. Along the Texas Gulf Coast, all of the counties are in a freeze warning, and up to 2 inches of snow are expected in places like Galveston Beach.
The temperature in Dallas had already dipped to 12 degrees by 7 p.m. local time Sunday, and they were expected to keep falling to just 7 degrees overnight with continual snowfall.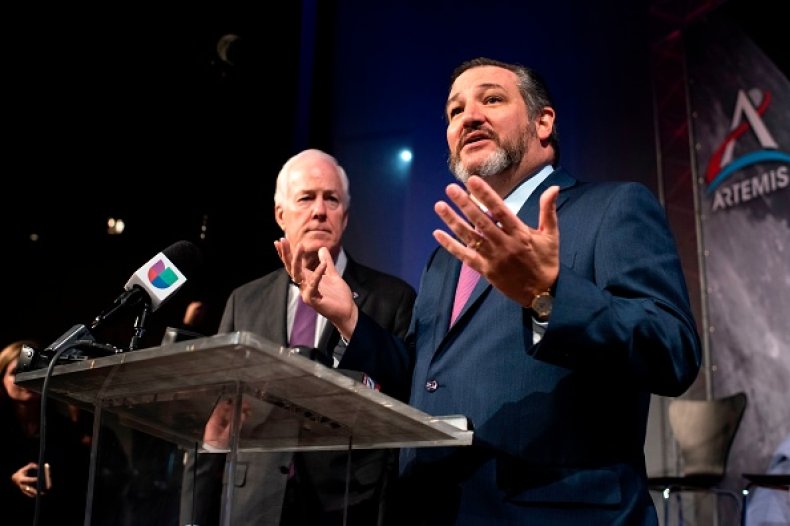 On Monday, it's supposed to get even colder with a high of 18 degrees and an overnight low of 3—and this doesn't even account for the wind chill.
In the Texas panhandle, Sunday night's low is expected to reach minus-9 degrees in Amarillo. In the Golden Triangle, which is the southeastern part of part of the state next to southwest Louisiana, temperatures have already dipped below 32, and they're in a winter storm warning with snow forecast to fall overnight.
Out in El Paso, the temperature is already below 20 degrees on Sunday night.
ERCOT, which manages the Texas power grid, has stated there could be rolling blackouts as they anticipate the frigid Arctic-like temperatures to put a strain on the power system.
Texas Republican senators Ted Cruz and John Cornyn urged President Joe Biden to approve an emergency declaration request submitted by Texas Gov. Greg Abbott, who has declared a state disaster for all 254 counties in the Lone Star State.
"It is our understanding that the State of Texas, through the Office of the Governor, has made a formal request for an emergency disaster declaration as a result of severe winter weather that began on February 11, 2021 and will continue throughout the entirety of the state for several days," Cornyn and Cruz wrote in a letter to Biden.
On Sunday night, not long after the Texas senators sent their letter, the White House responded.
"Today, President Joseph R. Biden, Jr. declared that an emergency exists in the State of Texas and ordered federal assistance to supplement state and local response efforts due to the emergency conditions resulting from a severe winter storm beginning on
February 11, 2021, and continuing."
The White House went on to say that funding measures will include mass care and sheltering, and FEMA is authorized use necessary equipment and resources to help ease the impacts of the winter weather emergency.
"The Governor and local officials have informed us that the severity and magnitude of the storm is beyond the response capabilities of the state and local government," Cornyn and Cruz wrote to the president. "Prolonged sub-freezing temperatures, strained energy capacity, and treacherous roadways are just a few of the current dangers faced by all Texans. In the last three days, there have been 11 crash-related fatalities as road conditions deteriorate. More than 23,000 Texans have lost power, and frozen pipes have impacted water distribution across the state."
Temperatures began dropping in Texas on Thursday, and they have fallen over the last three days. The heavy sleet and snow started Sunday, and it's expected to get heavier throughout the night as the storm intensifies and moves north and east toward Oklahoma, Arkansas, Louisiana and then the other neighboring states.