Ted Cruz Jokes About Fleeing Winter Storm, Tweets Newsom: 'Cancun Is Much Nicer Than Cabo'
Texas Senator Ted Cruz on Tuesday evening appeared to reference his controversial early-2021 trip to Cancún while responding to a tweet that criticized California Governor Gavin Newsom for traveling to Mexico for a Thanksgiving vacation with his family.
"Cancun is much nicer than Cabo," the Republican senator wrote in the tweet, seeming to compare his vacation destination choice in Mexico with that of Newsom's.
Newsom's office announced earlier this week that Lieutenant Governor Eleni Kounalakis would serve as acting governor while the Democrat is out of the country. His office told Newsweek the trip to Mexico marks the first time Newsom has traveled out of the U.S. since the start of the coronavirus pandemic nearly two years ago.
Newsom is expected to return to his state this weekend, according to the Associated Press.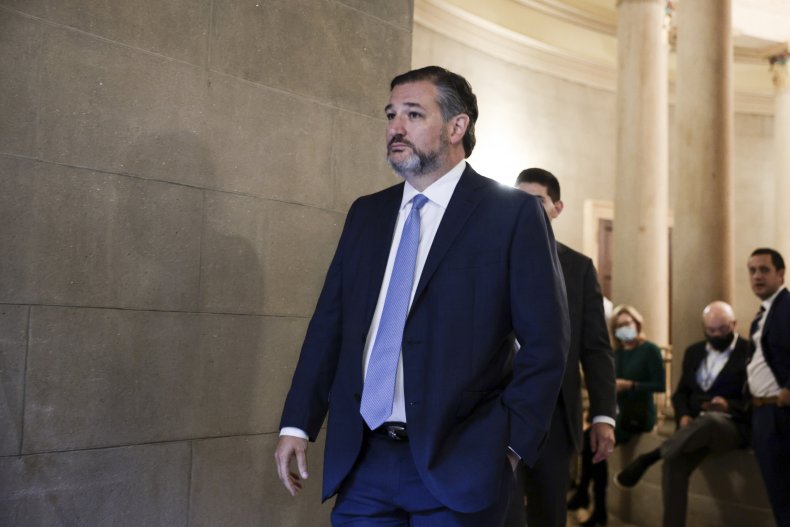 Kevin Kiley, a state lawmaker who was one of several Republicans who ran against Newsom during the state's gubernatorial recall election in September, criticized Newsom for his decision to leave the state in a blog post earlier this week. Kiley mentioned Newsom's recent decision to extend California's state of emergency through the end of March 2022.
Newsom first ordered a state of emergency on March 4, 2020. Less than three weeks later, under Newsom's orders, California became the first state to order a lockdown in response to concern about the virus's spread.
"With California in the throes of a 'State of Emergency,' Governor Newsom is vacationing in Mexico for the next week," Kiley tweeted on Monday. On Tuesday evening, Kiley wrote in a separate tweet, "It's true Gavin Newsom is not currently our Governor. He's abdicated the throne to the Lt. Governor until he's done vacationing in Mexico."
Cruz retweeted Kiley's second tweet along with his comment comparing Cancún to Cabo.
Newsom's office told Newsweek the governor will be spending time with his family during his Thanksgiving trip, which comes after spending nearly two years navigating the state through the pandemic and following his victory in the gubernatorial recall election.
Earlier this year, Cruz was criticized for traveling to Cancún as Texas battled freezing temperatures amid a February winter storm that triggered power outages across the state. He later told reporters the trip was "obviously a mistake," according to the AP.
Cruz's tweet about Newsom's trip to Mexico is not the first time the senator has revived discussion of his February Cancún trip. In early October, Cruz retweeted a post by the Republican National Committee that said President Joe Biden was "running away from all the problems he has caused" by taking a vacation.
"Cancun is lovely this time of year," Cruz tweeted in response to the GOP's post about Biden's October trip.
Correction 11/24/21, 5:35 p.m. ET: This article has been corrected to reflect that Gavin Newsom's office confirmed with Newsweek that the governor was vacationing in Mexico.